Sidney J. Watson Arena
The hockey teams skated their first games on their new home ice in January 2009.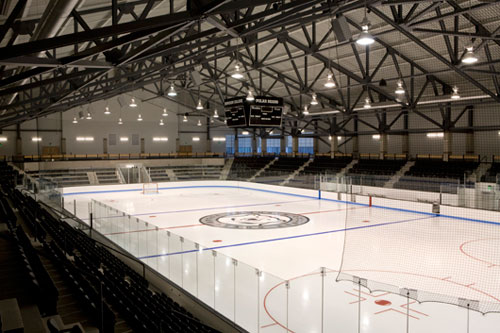 Completed: 
01-20-2009
Architect:
Bear Mountain Design Collaborative, Ltd. - Woodstock, VT
Contractor:
Pro Con, Inc. - Manchester, NH
The new 70,520 square foot ice arena is adjacent to Farley Field House and has a seating capacity of 1,900. It features a 90-ft. by 200-ft. ice surface and greatly improved locker rooms with more space for changing, equipment storage, athletic offices, and training facilities. The combination of a concourse area and seating in the interior provides great views and proximity to the action. Its designers say it has the best and most energy efficient refrigeration system, dehumidification system, seating design and home team accommodations of any Division III collegiate arena. In July 2009 Watson Arena was awarded LEED (Leadership in Energy and Environmental Design) certification by the U. S. Green Building Council making it the first newly constructed LEED-certified hockey arena in the country.
Awards: 2009 - U. S. Green Building Council LEED Certification