Park Row Apartments
The Park Row Apartments consist of four 22-bed upperclass residence halls west of Chamberlain Hall, along Park Row.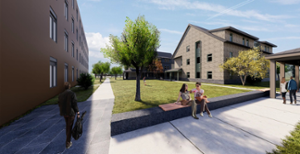 Completed: 
08-30-19
Architect: 
Lavalee Brensinger Architects - Manchester, NH
Contractor: 
Wright-Ryan Construction - Portland, ME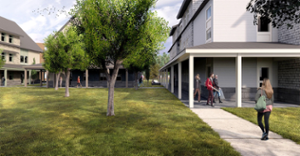 The suite-style units are in blocks of four, six and eight students with single bedrooms, a kitchen, and large common areas for eating and socializing. Each structure is three stories high and roughly 11,000 square feet. The buildings were developed to achieve Passive House certification with thick, or "super" insulation, triple-pane windows, and efficient air-exchange systems, leading to a 50 percent reduction in their energy use. Each residence is fully accessible with elevator access to each floor. One of the four buildings has a full basement for student programming and storage. Laundry facilities are on the third floor. The houses feature a covered porch that runs along the length of the building.
Awards: 2020 - AIA New Hampshire Excellence in Architecture Honor Award