America Reads and Counts Tutoring Program
The America Reads and Counts (ARAC) program provides Federal Work Study eligible students the opportunity to be literacy and math tutors in local elementary and middle schools.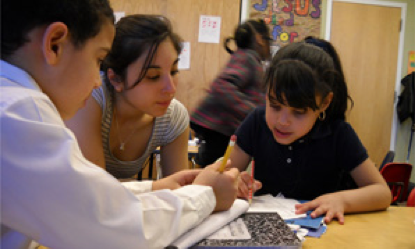 Overview
Bowdoin students work closely with classroom teachers to help students reach their learning potential. Tutors might spend time working one-on-one with students, running small-group tutoring sessions, or working alongside teachers in the classroom. This is a great chance to work closely with students to increase their academic achievement and confidence. 
The McKeen Center provides training for new tutors and helps them get oriented in their new positions. In addition to tutoring time, ARAC tutors are required to attend a training at the beginning of the year, participate in periodic meetings throughout the semester, submit regular journals, maintain good communication with their classroom teacher(s) and the McKeen Center, and complete program evaluations.
History
In 1997, President Clinton signed the America Reads Challenge Act to ensure that every student can read proficiently by the 3rd grade. In response to a 1994 study that showed 40% of 4th graders reading below the basic level of reading, the America Reads Challenge sought to mobilize public and private resources to help all children read well. In 1999, America Counts was initiated to improve student achievement in mathematics, especially in grades 4-8, in order to be prepared for advanced coursework in high school.
How to Get Involved
Reading and math tutors are needed to help students of all abilities. If you are interested in being an America Reads and Counts tutor please complete an online application on the Student Employment website at the beginning or end of the fall semester. Because America Reads and Counts is a federally funded program, all tutors must be Federal Work Study eligible. If you do not know if you are eligible, contact the Student Aid Office.