Writing and Rhetoric
Communication takes many forms at Bowdoin. The support that we offer for writers and speakers is equally diverse.
We understand that there are many ways to communicate, multiple approaches to teaching writing, and more than one writing process.
The Writing and Rhetoric program works both with students and faculty, working to create a dynamic conversation about writing and speaking at Bowdoin.
Now Accepting Writing Assistant Applications!
Do you enjoy 

writing

, reading others' papers, talking 

a

bout ideas, or earning money? Maybe 

a

ll of the 

a

bove? If so, please consider 

a

pply

ing 

to

 

be

 

a

 

Writing

 

Assistant

 by filling out 

a

n 

a

pplication on or 

be

fore Sunday, November 1. Click here for application form.

A
pplicants should 
be
 first-year students, sophomores or juniors who read perceptively, write well, 
a
nd communicate clearly 
a
nd constructively with others.  If selected 
a
s 
a
Writing
Assistant
, you must enroll in 
English 2805
, which meets remotely during
Spring 2021
. This course, which is by permission of instructor only, is reserved for the new cohort of 
Writing
Assistant
s in training. Work in the 
Writing

 Center
be
gins
Fall, 2021
. 
Writing
Assistant
s 
a
re paid for their work. They 
a
lso profit from their tutorial experience by gaining perspective on their own 
writing
a
nd 
a
cquiring skills 
a
nd 
a
 credential valued in many professional settings. 

Expectations: 

• Tutor 
a
t least 2 hours/week (with opportunities 
to
 work more) 
• Tutor students in 

a

n 

a

ssigned 

Writing

 Project course on two papers/semester (roughly 8-10 hours twice 

a

 semester, which you set 

a

ccording 

to

 your schedule) 
• Participate in 

Writing

 

Assistant

 meetings (2-3/semester) 

Questions: Contact
Meredith McCarroll
The Writing Project
Designed to strengthen writing skills through working with peers, this program is based on three premises:
Writing clearly about a subject helps you know it;
Writers need feedback from readers;
Peers can give especially helpful feedback because their own experience as students gives them a firm understanding of the needs of their fellow writers.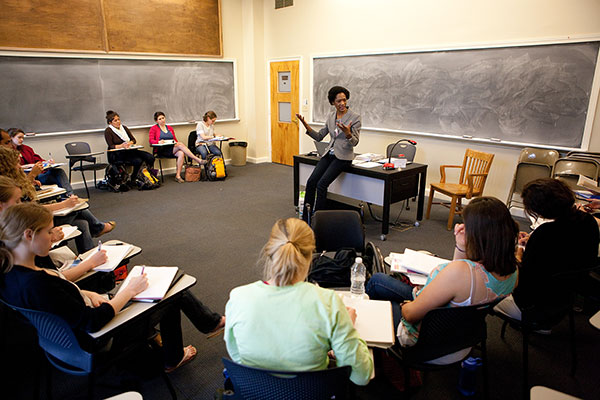 First-Year Writing Seminar
The First-Year Writing Seminar is designed to help introduce students to what it means to undertake serious intellectual work at the college level. The seminars provide small class settings where students can engage with a particular topic, a professor, and their peers.
Each fall, Bowdoin offers over thirty-five first-year writing seminars on topics that traverse the Bowdoin curriculum. Students choose and register for seminars during orientation in conversation with their faculty advisor. They provide an opportunity for in-depth study of a subject of mutual interest, as well as a place to develop college-level skills of critical thinking, both reading and writing. The development of such skills is a central feature of first-year writing seminars. All first-year writing seminars involve frequent writing practice, individualized feedback on writing, and an assignment structure that teaches students how to draft and revise.
Additionally, the seminars provide both an introduction to library research and an overview of the expectations of academic honesty and citing sources. This opportunity to learn and practice academic writing is both an independent goal of first-year writing seminars, and an additional means through which faculty can introduce their discipline and help students to engage with a particular subject.