Writing Center
A student resource that offers assistance with writing on a peer-to-peer basis.
What do we do? 
The Writing Center offers one-on-one writing assistance to writers in any course and at any phase of the writing process. Students can reserve a conference or drop in during open hours. Walk-in clients will be welcomed as time permits on a first-come, first-served basis. Normally held in the Baldwin Center for Learning and Teaching on the first floor of Kanbar Hall and in the H-L Library, conferences are being held online for the Spring 2021 semester. 

Information About The Writing Center
Sundays-Thursdays, 6:00-10:00 p.m.
Fridays, 9:00-11:00 a.m. and 1:00-3:00 p.m.
If at all possible, schedule your appointment early enough that you still have time—at least a day—to revise your draft after the conference.
Please arrive on time so that you don't lose your slot.  If you are more than 10 minutes late, a waiting writer may take your slot.
Tips on How to Have a Successful Conference
Bring a copy of the assignment with you. You will be asked to upload, or copy-and-paste it into the online appointment platform at the time of your appointment.
Bring a draft, outline or list of ideas.
Take charge! Come to the conference with an idea of what you want to work on. 
The Writing Center is run by students for students... so take advantage of this unique opportunity to get some helpful feedback from your peers!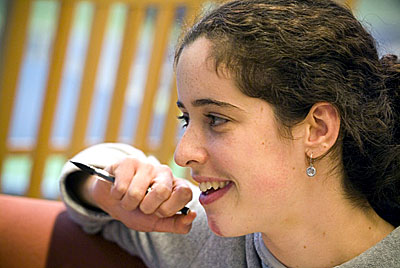 Student Testimonies:
"He gave me wonderful feedback and helped me identify weaknesses and strengths."

"My ideas coming into the conference were pretty scattered and I got ideas about how to tie them together and narrow my focus."
"In terms of organizing, the Writing Assistant provided me with several ideas as to how to go about structuring my thoughts."