Student Jobs
There are many student job opportunities at the Baldwin Center for Learning and Teaching. This page describes the available positions and how to apply.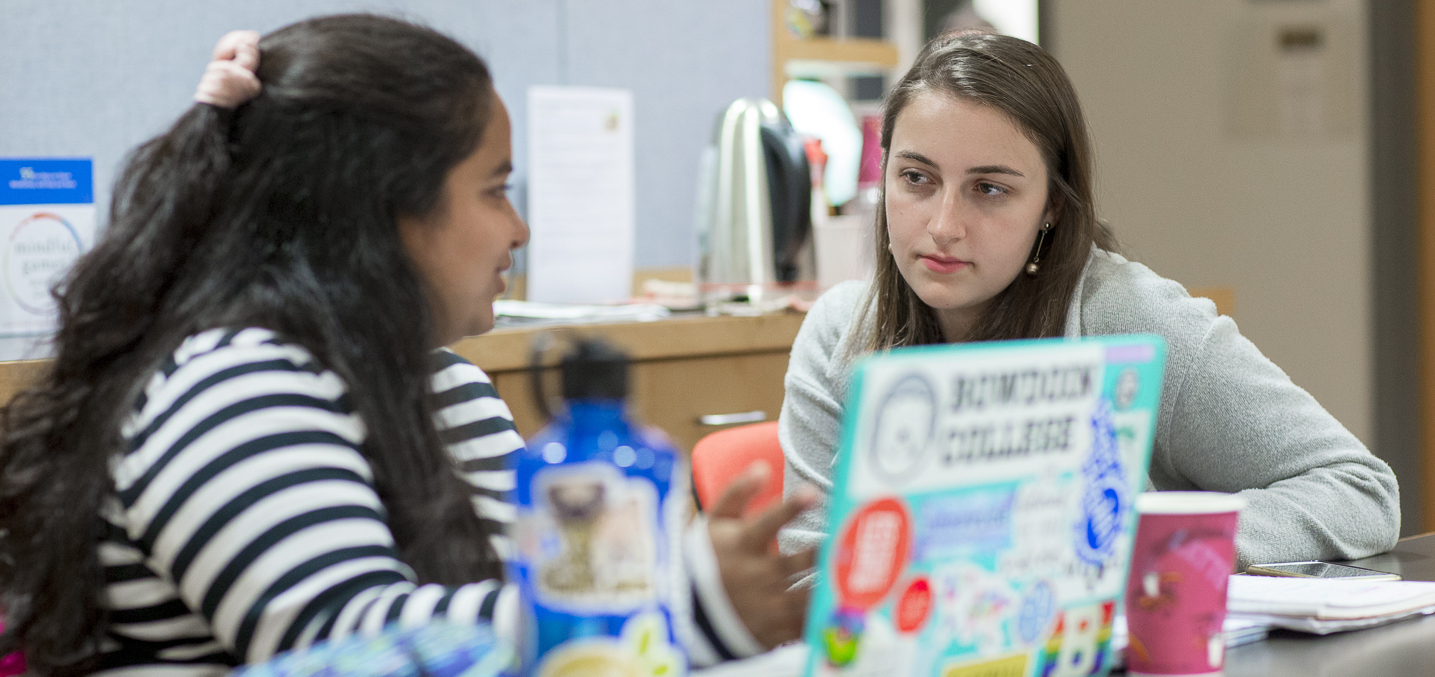 Academic Peer Mentor - 
Do you want to help your peers thrive and succeed at Bowdoin?
Do you want to support your peers in dealing with the demands of College life?
Do you want to share your effective learning and study strategies with others? 
The Academic Peer Mentors are peers who work with Bowdoin students committed to discovering strategies and approaches that will best help achieve their personal academic goals. Mentors work with individual students and small groups, and might be asked to facilitate workshops and study groups.
Applicants for academic mentor positions must be in good academic standing. Motivation, interest, enthusiasm, openness to diversity and the ability to maintain strict confidentiality are essential characteristics of successful mentors. Mentors are required to commit a minimum of 3 hours per week throughout the semester.
Learn more about the position with Spring 2022 Academic Peer Mentors Izzy Miller'23 and Idaly Morales Sandoval '24!
Academic Peer Mentor Application Process
Academic Peer Mentors are hired in April and participate in training in August. Stay tuned for our job posting in the spring or get on our list, and we will inform you as soon as we post an open position. For more information, contact Tina Chong, Assistant Director, Baldwin Center, Academic Mentoring and Coaching, at t.chong@bowdoin.edu. 
---
The Writing Project: Writing Assistant
NOTE: Hiring for the Writing Assistant position is currently on pause. 

Writing Assistants work one-on-one with other students to revise writing and empower writers. 
Writing Assistant Selection Process
Applicants should be first-year students, sophomores or juniors who read perceptively, write well, and communicate clearly and constructively with others. If selected as a Writing Assistant, you must enroll in English 2805. This course, which is by permission of instructor only, is reserved for the new cohort of Writing Assistants in training. Work in the Writing Center begins the next Fall. Writing Assistants are paid for their work. They also profit from their tutorial experience by gaining perspective on their own writing and acquiring skills and a credential valued in many professional settings.
Expectations
Tutor at least 2 hours/week (with opportunities to work more)
Tutor students in an assigned Writing Project course on two papers/semester (roughly 8-10 hours twice a semester, which you set according to your schedule)
Participate in Writing Assistant meetings (2-3/semester)
---
Baldwin Center for Learning and Teaching: Front Desk Manager
Often the first contact a Bowdoin student has when entering the Baldwin Center in H-L Library 112, BCLT Front Desk Managers are the face of the BCLT! These workers are knowledgeable about the Center's various programs so that they can be responsive to student and faculty visitors to the Center. They work with student staff when tutoring, mentoring and the Writing Center are in session to create a welcoming, well organized hub of academic activity. They have a genuine interest in helping others and an outgoing, friendly, approachable, upbeat attitude. Front Desk Managers may also support BCLT student and faculty events. Working independently most of the time, the Front Desk Managers have evening shifts when programming is being held, and are required to attend BCLT training. Safe Space training is highly recommended.
BCLT Front Desk Manager Application Process
Openings for Front Desk Managers will be listed on Workday. Want more information about the job? Stop by the BCLT or send an email to Lisa Flanagan, Associate Director of the Baldwin Center, lfanag2@bowdoin.edu.
---
The Quantitative Reasoning Program: Q-Tutors
Job Summary
Q-tutors are expected to hold drop-in hours for one night a week from 7:00 – 10:00 PM in the Baldwin Center for Learning and Teaching (BCLT), HL 112.  Students can sign up for tutoring appointments using the BCLT scheduling tool.  Q-tutors list math and science courses they can provide help with and are expected to monitor the schedule and be prepared to help students for each appointment.  Q-tutors must fill out an online report form for each appointment and ask the student to fill out a brief survey.  Training is provided for all aspects of the job including teaching and learning strategies.  To apply please fill out the Qualtrics survey indicating courses you are able to tutor in.
Associated Competencies
Innovation and Creativity (Problem Solving), Flexibility and Adaptability (Collaboration and Inclusiveness), Critical Thinking and Quantitative Reasoning, Verbal Communication (Active Listening, Interpersonal Skills), Collaboration (Build Trust), Professionalism and Work Ethic (Manage Time, Focus on Student, Be Accountable), Digital Literacy (Leverage Technology, Navigate Online Systems), Leadership (Mentor, Set Goals, Motivate Others), Initiative (Resourcefulness)
Job Responsibilities
Fill out Qualtrics survey listing courses you can assist in.
Attend all trainings on logistics and teaching and learning.
Treat all students with respect.
Meet all students where they are in the learning process and help them to overcome challenges.
Use active listening skills to support student learning.
Be creative in engaging students with their work, helping them to become better critical thinkers and problem solvers.
Monitor the online scheduling tool and submit reports after each session.
Ask all students to fill out brief survey after each appointment.
Maintain complete confidentiality regarding all student information.
Job Skills and Qualifications
Q-tutors must be in good academic standing and have a B or better in any course they are tutoring.
Kind and supportive demeanor, compassionate, enthusiastic, and patient.
Ability to motivate and encourage.
Flexibility in thinking with a high tolerance for ambiguity.
Strong interpersonal and active listening skills.
For more information, you may want to contact Eric Gaze, Director, egaze@bowdoin.edu, or ask an experienced Q-Tutor about the position.
---
Peer Tutoring in the Languages
If you are skilled in a foreign language and are interested in being a peer language tutor, let the Department Chair know. Language tutors are hired as Learning Assistants. The Learning Assistant hiring process begins approximately midway through the semester prior to the semester in which you will be working.