Student Employment Opportunities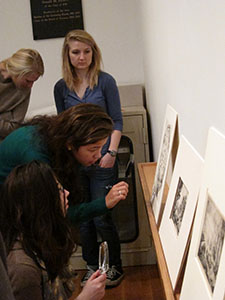 Throughout the year the Bowdoin College Museum of Art offers various paid employment opportunities for Bowdoin College students. These can include curatorial work and museum education, and positions in the Museum Shop.
Student Assistants to the Curator are hired for the academic year, and work one-on-one with a museum staff member on exhibition and collections research, contributing to upcoming shows by researching and writing labels for works of art, among many other curatorial duties. 
Student Education Assistants are trained to interpret the Bowdoin College Museum of Art's wide-ranging collection, and are hired during the summer and academic year. They provide guided tours of the Museum's galleries and exhibitions to groups of all ages, plan and lead Family Saturday activities and develop educational resources. During the summer, these students also assist in other museum departments, helping the curators and registrars with exhibition and collection research.
Students may also work as Assistants to the Gift Shop Manager. Duties include greeting and orienting visitors to the Museum, answering questions about the Museum and the College, and handling retail operations.

Openings for these positions and many more are regularly posted on the Bowdoin College Student Employment website.
Learn about past projects for Student Employees:
Read student reflections on their internship experience:
Student Accomplishments:
For additional information contact: 
Elizabeth Humphrey, Curatorial Assistant and Manager of Student Programs
ehumphr2@bowdoin.edu
(207) 725-5098