Published August 28, 2023 by Bowdoin College Museum of Art
Thank you to the Museum's Summer Student Assistants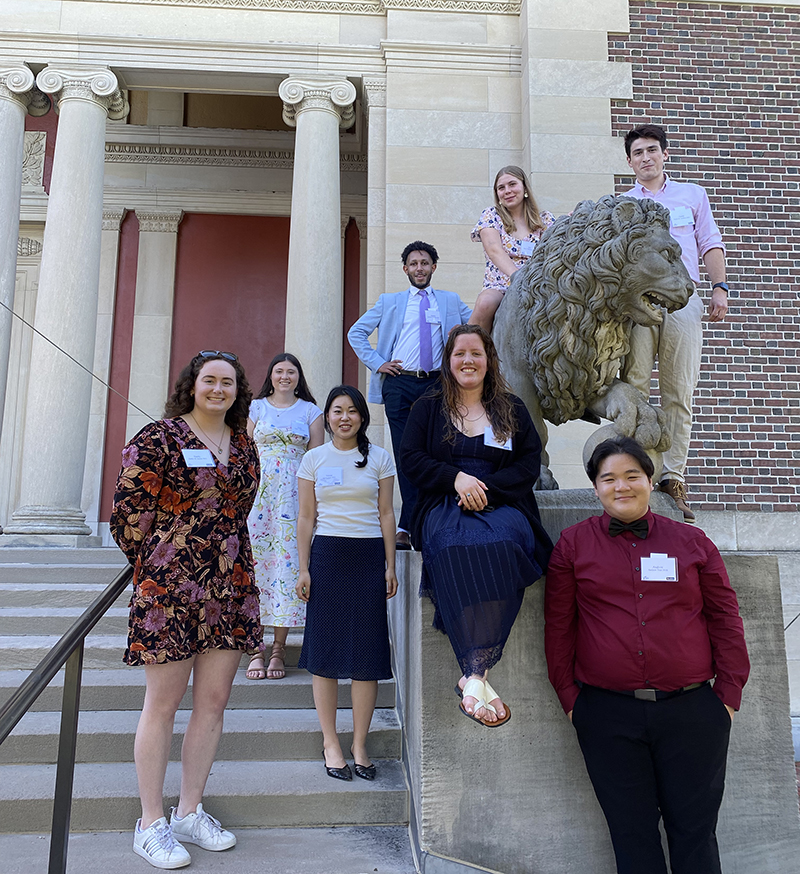 This summer, the Museum hosted a dynamic cohort of nine student assistants, a record-breaking number for the internship program since the pandemic. Across curatorial, educational, and digital projects, the students made valuable contributions to our work this summer and enjoyed memorable moments both inside and outside the BCMA. Of note, they bonded with peers through field trips to the Farnsworth Art Museum, the Center for Maine Contemporary Art (CMCA), and the Colby College Museum of Art. They also connected with local artists through studio visits at Brunswick's Fort Andross. Daily tours and family activities inspired by current exhibitions, including People Watching: Contemporary Photography Since 1965, have likewise been a highlight of the interns' summer at the BCMA.
The team of Student Curatorial Assistants, included Olivia Bell '25, Sammy Dereje '25, Emily Jacobs '23, Zoe Peterson '25, and Emily Pratt '24. Each worked closely with members of the curatorial team on a slate of upcoming exhibitions.
Olivia Bell, a Mathematics and Economics interdisciplinary major and an Art History minor from New York City, assisted Co-Director Frank Goodyear on an upcoming exhibition on Gordon Parks. Specifically, the project highlights the influential American photographer's time in Maine, which remains largely unknown. Said Bell about her experience, "throughout this summer I have not only been able to expand my knowledge of Parks' work and use my research skills, but additionally learn more about working in a museum and collaborate with the BCMA staff and my fellow summer intern."
An Economics and Sociology double major with a Music minor from Washington, D.C., Sammy Dereje worked with Co-Director Anne Collins Goodyear on the forthcoming retrospective of artist William T. Williams's drawings. Working alongside fellow intern Zoe Peterson, he researched objects in the BCMA's collection related to Williams's artistic practice. "Delving into my project on the William T. Williams exhibition has been an incredible experience this summer," Sammy shared. "Working closely with everybody involved with the BCMA from my fellow interns to curators to artists themselves has helped me develop a deeper understanding of and appreciation for the role of visual arts in our communities."
Zoe Peterson is an Earth and Oceanographic Science and Art History double major from Boise, Idaho. She likewise cites her close collaboration with Sammy and Anne Goodyear as a highlight of her research on the Williams project. The pieces Sammy and Zoe have identified will result in a special exhibition in the Museum's Becker Gallery. Reflecting on her internship, Zoe said: "It was a very special experience to be given such control over what will be displayed in the Becker Gallery in the upcoming William T. Williams show, and really helped me strengthen and trust my eye as an art historian, as well as give me invaluable experience behind the scenes of a museum. "
Emily Jacobs, an Art History major and Anthropology minor from Los Angeles, California, supported several upcoming exhibitions, including Currents: Art Since 1875, and The Book of Two Hemispheres, which examines the artistic response in Europe and the United States to Harriet Beecher Stowe's Uncle Tom's Cabin. In addition, Emily assisted BCMA Curator Casey Braun and Andrew W. Mellon Postdoctoral Curatorial Fellow Sean Kramer on efforts related to various academic initiatives. The Museum has been a huge part of my Bowdoin experience, and it has been nothing short of an honor to work here this summer, Emily reflected. "The Book of Two Hemispheres project brought me into the Special Collections and Archives department where I got to research materials related to Stowe and her famous novel.Getting to engage with those archives firsthand was definitely a highlight of the summer!
A double major in Physics and Art History from Marblehead, Massachusetts, Emily Pratt focused her research this summer on supporting the forthcoming exhibition Without Apology: Asian American Selves, Memories, Futures, which opens this December. Jointly curated by five faculty members across different departments, Without Apology includes both objects from the BCMA's permanent collection and external lenders that celebrate and complicate Asian American narratives. "I have been incredibly grateful for the opportunity to work as a BCMA intern this summer, working with Casey Braun and Sabrina Lin on the upcoming Asian American art exhibition," said Emily. "This has been a valuable experience that has allowed me to work with a number of amazing people and to familiarize myself with the museum world. It has been fascinating to delve deeply into the works which will be included in this exhibit."
In addition, Yewon Kim '24 and Mer Feero '23 have had the special opportunity to go beyond the BCMA's walls, which was made possible by a generous off-campus internship fund. While they worked as Student Curatorial Assistants, Yewon and Mer also gleaned valuable insights into the relationship between art and community.
Yewon Kim, a Mathematics major and Cinema Studies minor from South Korea, worked closely with Lewiston-based artist Tanja Hollander on her "Ephemera" project. As Tanja's studio assistant, Yewon experienced first-hand not only the creative vision of her practice, but also the business side of being an independent artist and engaging with the local community. "I had a wonderful time with Tanja this summer, learning various approach to visual storytelling," Yewon shared. "What stood out to me the most was uncovering the intricate layers that define an artist's identity. It's more than just about imagination and craft; it's a journey of self-sufficiency and responsibility, where constant communication with the wider world becomes paramount."
A Biology minor from Waterville, Maine, Mer Feero spent her summer on Monhegan Island. In addition to supporting the Monhegan Museum, Mer also collected scientific and interpretative materials for the BCMA's forthcoming exhibition on art and ecology on the Island, jointly curated by Frank Goodyear and Barry Logan, Samuel S. Butcher Professor in the Natural Sciences. Mer remarked, "Getting to explore the community and natural wonders of Monhegan Island through art and the artists who work here has been a once-in-a-lifetime experience. It feels important to be contributing to both the upcoming BCMA Monhegan exhibit and the museum here on the island with my work. I hope to have a lasting, positive impact in this community by helping to marry art and science—two subjects which are already deeply intertwined."
This summer's two Education and Shop Assistants, Gavin Sychterz '25 and Andrew Tran '26, worked closely with Curatorial Assistant and Manager of Student Programs Sabrina Lin and the entire Museum gift shop staff. Together, Gavin and Andrew developed family resources and innovative crafts inspired by the summer exhibitions and welcomed members of the public into the Museum.
A Biology major and Anthropology minor from Bangor, Maine, Gavin Sychterz enjoyed interfacing with the local Brunswick community. In addition, he developed an interactive web resource entitled "Looking Closer: A Collection without Labels." Reflecting on his time at the Museum, Gavin said, "I have had a fantastic summer working as an Education and Shop assistant for the BCMA. Not only did I learn valuable new skills, I was also welcomed into an amazing community which supported me throughout."
Andrew Tran, an Art History and Biochemistry double major from Spring, Texas, likewise spent his summer focusing on efforts around community outreach and engagement. Andrew's interest in the BCMA resulted in an innovative podcast series, "Walker Wisdom," which features in-depth conversations with staff members to showcase the diverse roles and responsibilities within the museum field. "This past summer provided me a unique opportunity to familiarize myself with the organization of various museum institutions, engage youths to experience art in different ways, and connect with individuals that I would not have met under usual circumstances," Andrew shared. "I will never forget the warmth of the BCMA office and the comradery among my fellow interns as I continue with my academic pursuits."
It has been a true pleasure and privilege to work with our nine students this summer. On behalf of the Museum, we express our deep appreciation for the enthusiasm, warmth, and good cheer they have brought to the BCMA this summer. We look forward to welcoming them back to campus and to the galleries this fall!
Sabrina Lin
Curatorial Assistant and Manager of Student Programs