K-12 Outreach Program
Looking, Thinking, and Learning is the Bowdoin College Museum of Art's Visual Literacy Program. This outreach program is offered to both public and private schools throughout Maine utilizing the Museum's permanent collections as well as the temporary exhibitions to teach K-12th graders to be visually literate.
Children who are visually literate use what they observe and what they know to form conclusions about art and other visual media. The program strives to familiarize children with a vocabulary of art words, as well as the tools to discuss and respond to art. Visual literacy has become an increasingly relevant part of statewide educational curriculums as public schools work to align their classrooms with the standards prescribed by the Maine State Learning Results.

Today, art is used to illuminate a variety of disciplines including history, literature, language, and science.  Our Visual Literacy Program has been created to engage students of all ages and varying interests to learn about different cultures and beliefs, as well as to master their critical thinking skills!

To arrange for a guided tour at the Museum, please complete the tour form.
Teachers and chaperones are responsible for their groups. To make your visit as enjoyable as possible, please refer to our Teacher and Chaperone Guidelines.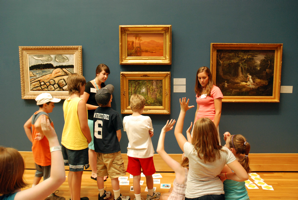 Bowdoin College Museum of Art
9400 College Station
Brunswick, ME 04011
(207) 725-3275
Maps and Directions
Google Map
Traveling to Bowdoin 
Parking Map (PDF)
Campus Map
Bowdoin College Museum of Art is a member of The Maine Art Museum Trail.