Published April 26, 2023 by Bowdoin College Museum of Art
Community Open House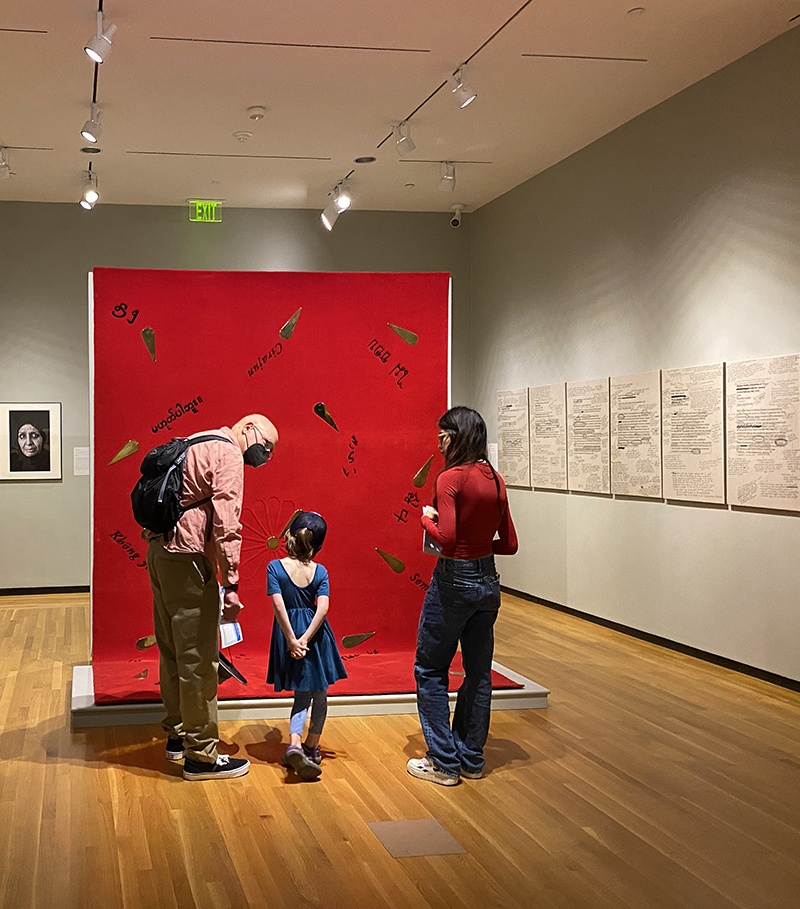 On Saturday, April 15, staff and students at the BCMA welcomed almost a hundred visitors into the Museum for a special Family Saturday and Community Open House. This spring program marks an exciting collaboration between the Museum and Multilingual Mainers, an initiative that fosters early language learning and intercultural communication directed by Associate Professor of Romance Languages and Literatures Margaret Boyle. In conjunction with the current exhibition Turn of Phrase: Language and Translation in Global Contemporary Art, this joint event invited families and young learners to celebrate multilingualism through the visual arts.
Established in 2017, Multilingual Mainers is a partnership between Bowdoin undergraduates and Pre K to 2nd grade students at Kate Furbish Elementary, where Bowdoin students facilitate teaching in diverse languages ranging from Arabic to Spanish. Last summer, Boyle featured works of art from the BCMA's collection during her summer institute "Identity and Multilingualism through Picture Books."
"We are thrilled for another opportunity to partner with BCMA and open the doors of the Museum to local children, families and educators through interactive, hands-on learning. I am so grateful for the hard work of the student curators attending to multilingualism and the rich array of languages in our home community," Boyle shared. "It was a joy to observe many Kate Furbish Elementary students interact with their Multilingual Mainers student-teachers in a new contex. Many were seeing Bowdoin and the Museum for the first time in person."
The event represents ongoing efforts from the Museum's education team in seeking more ways to connect with community audiences—a constant conversation between Sabrina Lin, Curatorial Assistant and Manager of Student Programs, and her team of Education Assistants Joseph Park '25, Sinclaire Ledahl '23, and Rania Janmohamed '25. Working closely with the eight Student Ambassadors, they have been brainstorming options for fun, accessible resources for young audiences and families. This Open House created a great opportunity to consider the tangible ways we can reach audiences across age groups and backgrounds.
For example, Park designed family guides in both Spanish and English, encouraging children to explore artworks on view by activating their bilingual thinking. "As someone who is studying Hispanic Studies and Education, this was a great way to use my academic interests in order to create multilingual programming and resources for families to use in [Turn of Phrase]," Park said. 
"I grew up speaking Korean at home and am studying Spanish at college, so I enjoyed speaking to families in languages other than English. It was great to see students recognize the languages they are learning through Multilingual Mainers in the art at the Museum," he added.
These student-led activities took direct inspiration from the works of art on display. For example, Student Ambassador Julia Smart '25 was drawn to Yanagi Yukinori's piece Loves Me, Loves Me Not (1997) and taught children to make colorful origami flowers, which featured words and sayings in various languages on each petal. Meanwhile, Alex Kruse '26 considered how we read and translate different writing systems by guiding young learners through a decoding exercise.
Other activities featured on Saturday included a communal mural as visitors entered the Museum, on which children were invited to write "hello" in languages they know or draw symbols that represent greetings to them. Witnessing the enthusiastic responses, Aleena Nasruddin '26 said: "I was impressed by the amount of languages the kids knew, and I was also ecstatic that the kids genuinely wanted to visit the museum. I also loved talking to families in the Brunswick area and connecting with new people through art."
In addition, the program showcased the rich cultural diversity and linguistic skills within Bowdoin's student body. Student Ambassador Alexandra Camargo '25, who is also a participant in Multilingual Mainers and teaches Spanish at Kate Furbish Elementary, added that it was especially meaningful to see the College, the Museum, and local schools "come together to celebrate cultural and linguistic diversity."
Sinclaire Ledahl '23, who helped to launch the Student Ambassador program last spring along with Ramiro Storni '23 and Jane Wang '23, echoed her joy in connecting new audiences with the BCMA. "I was so excited to be welcoming local students into the Museum during this event, especially because making museum spaces more engaging for children is work I see myself continuing to pursue after Bowdoin," she said. "I loved that I got the chance to do educational work with children in my role as a Museum Education Assistant, which is often more focused on the campus community."
We are grateful for the opportunity to collaborate with Multilingual Mainers and look forward to continuing working together and welcoming more community members to the BCMA!
Sabrina Lin '21
Curatorial Assistant and Manager of Student Programs