Published October 27, 2021 by Bowdoin College Museum of Art
Introducing Museum of Art Academic Year Interns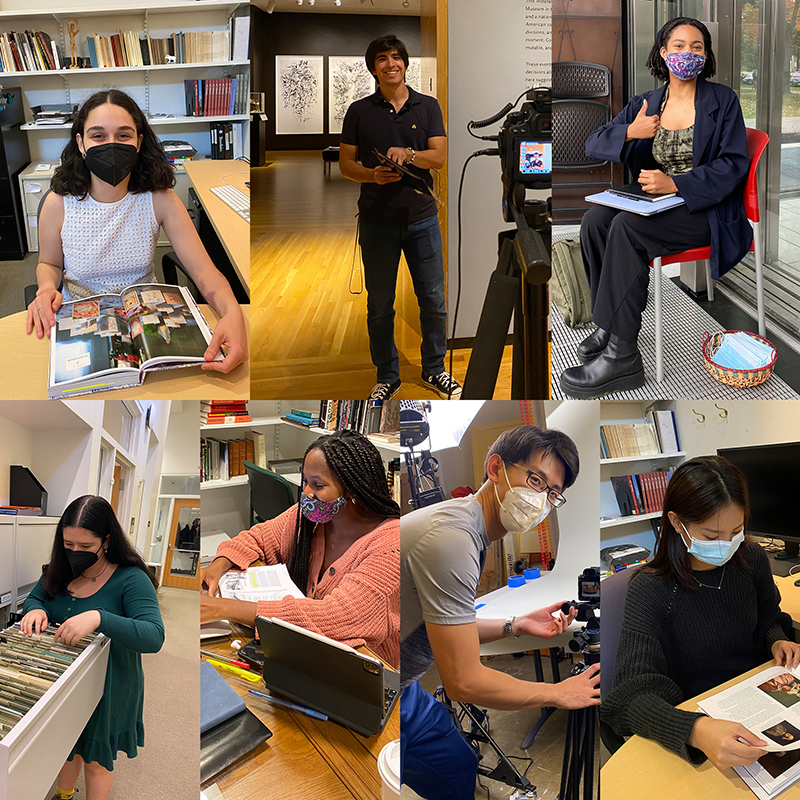 Introducing Museum of Art Academic Year Interns
 With the fall semester well underway, we are delighted to introduce seven Bowdoin student employees who are working here. The interns bring diverse interests and varied perspectives to the Museum, and their contributions are indispensable to every aspect of our daily work.
The three student assistants to the curator are: Elisha Osemobor '22, Lucy Siegel '22, and Andria Polo Brizuela '22.
Elisha Osemobor, an Art History major and Francophone Studies minor from Stamford, Connecticut, is assisting Co-Director Anne Collins Goodyear on an upcoming exhibition on Helen Frankenthaler and Jo Sandman. Her research contextualizes the two female artists and their avant-garde practice in response to the legacy of Abstract Expressionism. This past summer, Elisha completed an internship at The Met Cloisters, where she researched medieval tavern iconography and engaged with the museum education program.
Lucy Siegel is an Art History and Government double major from Katonah, New York, assisting Sean Burrus on his forthcoming exhibition Antiquities in America. Lucy has provided crucial support for researching the provenance of objects in the Museum's collection, as well as information on the history of Antiquities law. Previously, Lucy has conducted an internship at the Center for Art Law, New York in 2020 ; she hopes to practice art law in the future and pursue work related to the intersection of art and politics.
Andria Polo Brizuela, a double major in Visual Arts and Neuroscience from Miami, Florida, is working as a Curatorial and Digital Media Assistant this semester. Under the supervision of Anne Collins Goodyear, Andria is assisting with the upcoming exhibition Cherry Hill: Model Home, which highlights the work of Jona Frank. A noted photographer, Frank sensitively explores themes of young people's self-discovery and burgeoning identities. Andria also applies her knowledge of photography to her work with Sean Burrus on collection imaging and digitization projects.
Building on his work from the summer, Cheng Xing '23 returns to his role as the Digital Media Assistant alongside Andria. Cheng is a Computer Science and Math double major originally from Beijing, China. This semester, he is working closely with Sean Burrus on the Museum's imaging efforts and the continual enrichment of our digital resources. In addition to 3D scanning and modelling art objects, Cheng is also a frequent presence at BCMA events, documenting special moments such as our fall "Student Night at the Museum."
 We are also thrilled to welcome two Education Assistants this fall, Ramiro Storni '23 and Jane Wang '23, who collaboratively assist Sabrina Lin '21, the Museum's curatorial assistant and manager of student programs.
Ramiro Storni, from Miami, Florida, is a double major in Art History and Computer Science. Ramiro has made invaluable contributions to a variety of educational programs so far, such as leading special tours for Homecoming Weekend, a welcome event for new faculty, as well as hosting Virtual Family Saturdays. Ramiro has previously interned at the Museum of Graffiti, Wynwood Florida in 2020. This summer, he completed a Gibbons Fellowship with Assistant Professor of Art History Dana Byrd, applying data and network analysis to art history scholarship. 
Jane Wang is an Economics and Art History double major originally from Shanghai, China and San Diego, California. Jane spent this summer interning at a contemporary art museum in Shanghai, where she helped to plan multiple public education programs and lectures. While she is still exploring options for her career path, Jane has a strong interest in modern and contemporary art. Together, Jane and Ramiro will provide innovative ideas for education programming and campus outreach, including developing and spearheading the new Student Ambassadors Program.
Lastly, the Museum is grateful for the work carried out by our Museum Shop Assistant, Amira Oguntoyinbo '24. From Chapel Hill, North Carolina, Amira intends to double major in Art History and Digital and Computational Studies. This semester, she assists with welcoming daily visitors to the Museum, checking vaccination records upon entry, and providing information on current exhibitions. Along with Liza Nelson and the rest of the gift shop staff, Amira has been a warm and welcoming presence for members of the community and campus alike.
The Museum is excited to welcome the seven students to our 2021–2022 academic year intern cohort. We look forward to working with them in the coming months and seeing their individual projects and contributions unfold.
Sabrina Lin '21
Curatorial Assistant and Manager of Student Programs