Recognition and Awards
Recognition for your hard work!
Student Employment Appreciation Week — April 12-18, 2020
The National Student Employment Association (NSEA) designates one week each year for universities and colleges across the country to recognize the substantial contributions of students who work in on-campus jobs.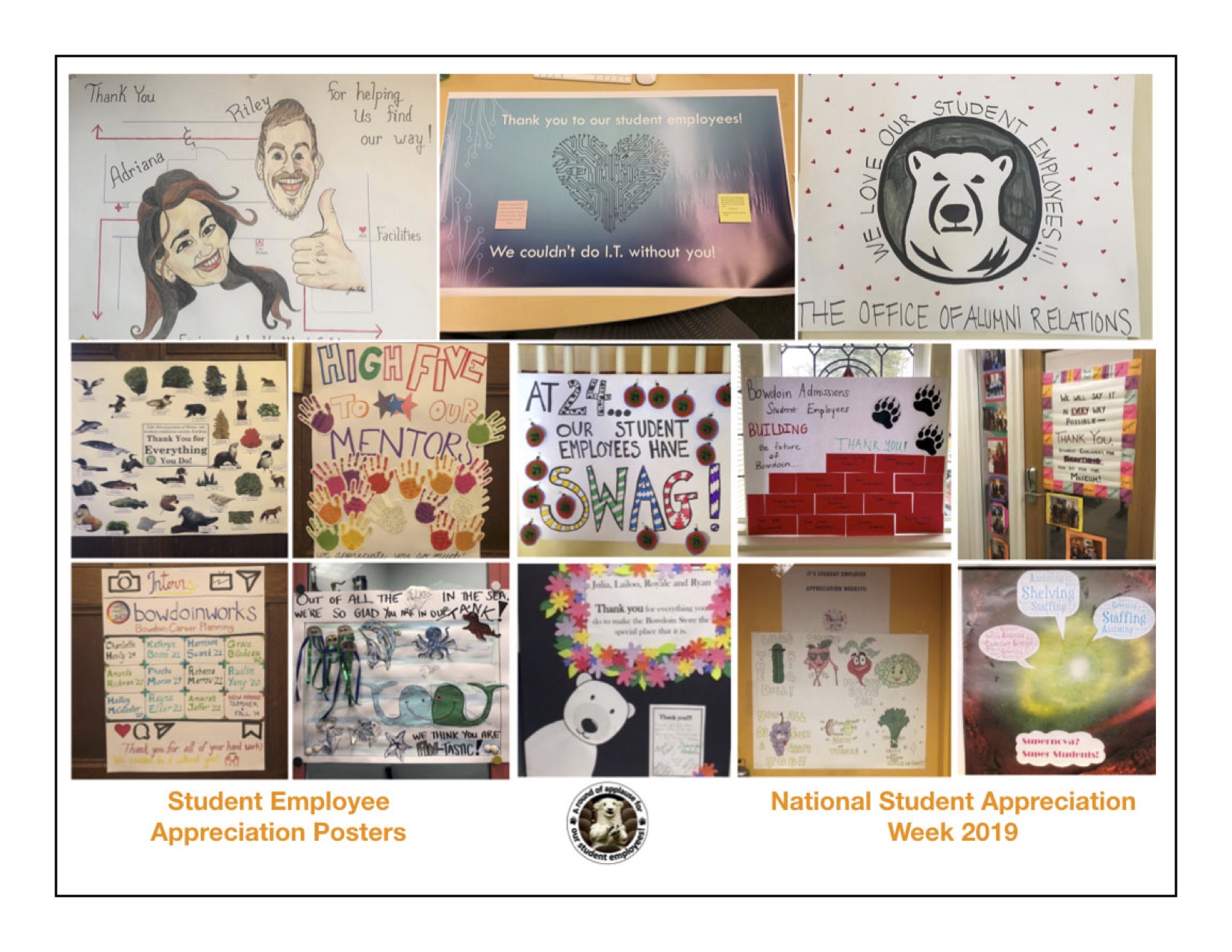 Student Employee of the Year and Rookie of the Year Awards
Students perform invaluable work for departments across the Bowdoin campus with dedication, initiative, and enthusiasm. Bowdoin strives to recognize and appreciate the students who contribute to the operation of the College through their work on campus. In addition to the Student Employee of the Year Award, we recently introduced a new award category, Rookie of the Year.
2019 Winners
Student Employee of the Year 
Ben York, H-L Library (ILL)
Rookie of the Year
Nico Hibbard, Admissions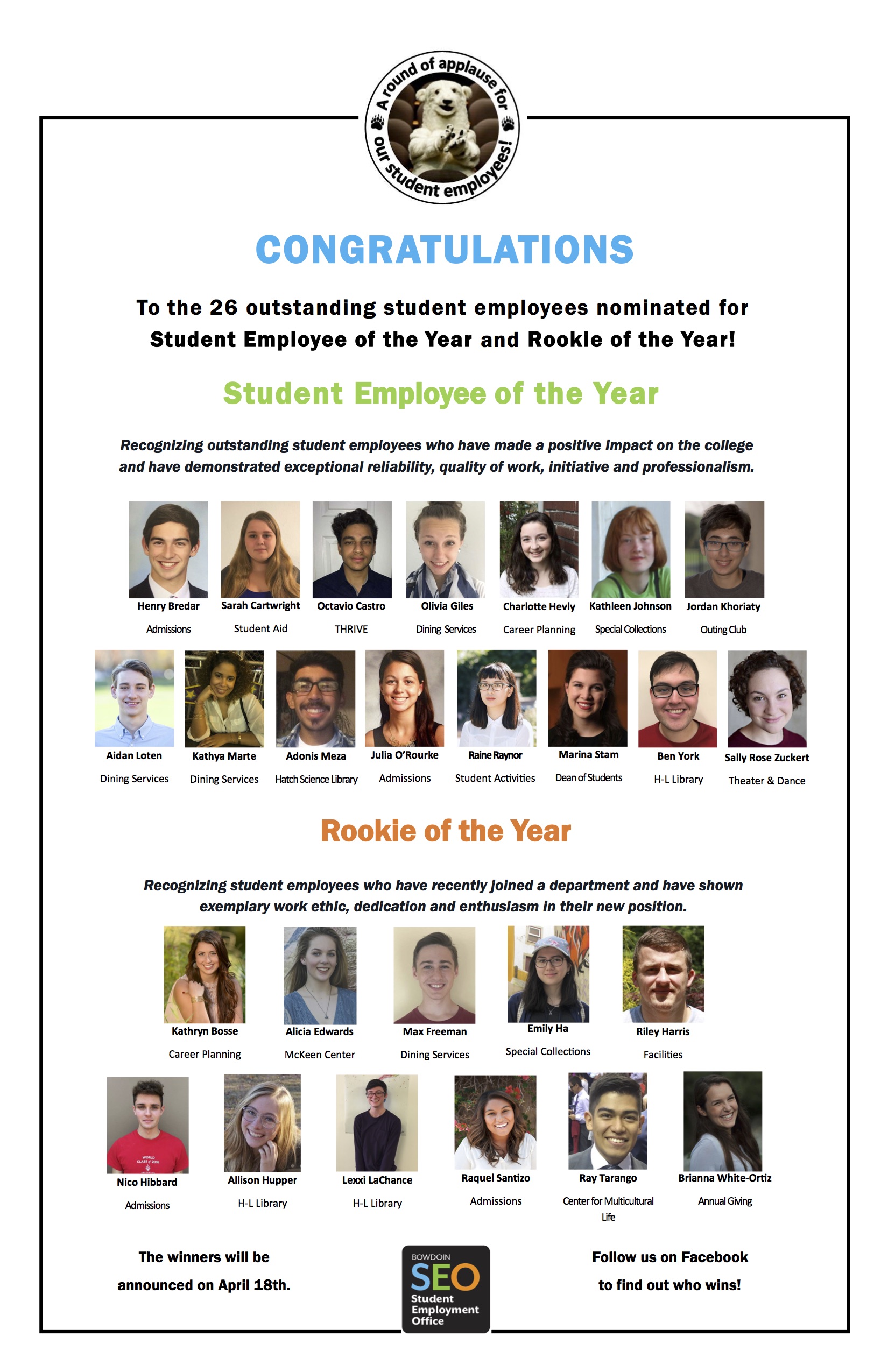 Appreciation Reception Recap
On April 18, 2019, twenty-six nominees for Student Employee of the Year and Rookie of the Year along with their supervisors convened in Moulton Union's Main Lounge.  Nominations were submitted from over 15 departments across campus.  This event provides a platform for supervisors to show appreciation for and celebrate their dedicated and extremely talented student employees. 
Bowdoin's Associate Director of Student Employment, Meredith Haralson, kicked off the reception by giving opening remarks and expressing gratitude for each nominee's excellent work.  With over 1300 students working on campus, the nominees truly stand out as a model of an employee who exemplifies professionalism and strong work ethic.  Supervisors expressed appreciation for students by creating festive posters and heart-felt videos shown at the ceremony celebrating the nominees.
This year's Rookie of the Year award went to Nico Hibbard, a sophomore, who works in the Admissions office and has spearheaded the curation of the social media presence for the department.  Nico's creative vision is his greatest asset to the role and his ability to work independently and responsibly make Bowdoin's social media account stand out among other schools.  His supervisor wrote, "He brings new skills and perspective to our office that allows us to extend our outreach to students across the world through social media, and has enabled alumni and current students to learn more about current aid and admissions policies."
The Student Employee of the Year award went to senior Ben York, from Hawthorne-Longfellow Library.  Ben stands out for his enthusiasm, attention to detail, integrity, initiative, communication skills and warm personality making him a valued colleague of the department.  In the words of his supervisor, "Ben is the quintessential professional.  His work ethic is impeccable.  He has an intuitive sense of how to communicate professionally with coworkers, library patrons, supervisors, colleagues at other libraries, etc., and demonstrates this daily in his verbal, phone and email interactions.".  Over the four years he has worked in H-L, he has learned nearly every area of operation in the library and therefore can manage the work across nine different positions with his wealth of technical knowledge and ability to tackle any issue.  Ben's supervisors feel an immediate sense of relief whenever he's working knowing that the job will be done completely and professionally.
Thank you, Bowdoin student employees, for your hard work and dedication; Bowdoin would not be the same without you!