Pedestrian Safety
Pedestrians are encouraged to stay alert and be aware of their surroundings. The simple act of crossing the street may be one of the most perilous things you will do each day. Always use marked crosswalks. Remember to press the button to activate the flashing yellow lights - available at most crosswalks near campus.
Hundreds of times a day members of the Bowdoin community step into the path of thousands of motor vehicles. Those vehicles are driven by anonymous drivers, some good and some bad, some with licenses and some with suspended licenses, some sober and some who may be under the influence of alcohol or drugs, and some who may be distracted by an electronic device. 
Bowdoin students, faculty, staff and visitors use nearly 30 crosswalks surrounding our campus. Although pedestrians in crosswalks legally have the right-of-way, it is important to remember that drivers cannot yield unless they see you. The law states, "A pedestrian may not suddenly leave a curb or other place of safety and walk or run into the path of a vehicle that is so close that it is impossible for the operator to yield." 
Friday is the most dangerous day of the week for pedestrians.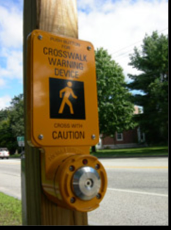 In Maine, people 15-24 account for nearly a quarter of all pedestrian crash victims. Most crashes involving pedestrians occur between 4pm and 6pm. Drivers usually claim that they did not see the pedestrians in time to avoid striking them. Never assume that drivers can or will stop. 
Pedestrians need to be visible and never assume the vehicle is going to stop; make eye contact with drivers and wait for vehicles to stop before crossing. Please use the pedestrian-activated crosswalk warning devices wherever they are available, day or night. When the device is pressed, flashing lights are activated.