The Bowdoin Shuttle and Local Transportation
The Bowdoin Shuttle call 207-725-3337 or visit Shuttleapp.bowdoin.edu provides safe and convenient transportation for students within a one-mile radius of campus. The Bowdoin Shuttle operates seven days-a-week when the College is in academic session.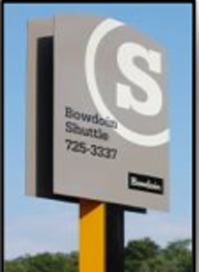 Hours of Operation
Sunday through Wednesday: 6:00 p.m. - 1:00 a.m.
Thursday, Friday and Saturday: 6:00 p.m. - 1:30 a.m.
Alcohol is not permitted in the Bowdoin Shuttle. The shuttle will not transport highly intoxicated,  disorderly, or disruptive people. Please be courteous and respect fellow passengers.

 Bowdoin Shuttle Stops
30 College Street (parking lot behind 32 College Street)
52 Harpswell (front driveway)
Boody-Johnson House (driveway)
Brunswick Apartments (Park Row between Bldgs G and H)
Coffin Street (crosswalk leading to Coffin Street parking lot)
Coles Tower Circle
Druckenmiller (east entrance facing Harpswell Road)
Edward Art Center (South Street main entrance)
Farley Field House/Lubin Squash Courts
Fort Andross (front lot by main entrances)
Gibson Hall (Park Row)
Hannaford Supermarket, Maine Street
Harpswell Apartments
Helmreich House (the north parking lot)
Howard Hall (South Street)
Howell House (shuttle will stop in the driveway)
Joshua's/Maine Street (Gardiner Savings Bank parking lot just south of Joshua's Tavern)
MacMillan House (Quinby House driveway)
Mayflower Apartments (Belmont Street in front of main entrances)
North Campus Circle (Polar Bear Statue)
Bowdoin Orient (Rhodes Hall rear lot)
Outdoor Leadership Center (parking lot off Harpswell Road)
Pine Street Apartments (rear parking lot)
Quinby House (driveway off Maine Street)
Reed House (driveway off Booty Street
Seadog Brewing Company, Topsham
Searles Science Building (Park Row)
Smith House (driveway)
Stowe Inn (front lot off Federal Street)
Train Station (bus stop on Station Ave. in front of depot)
Visual Arts Center (Park Row)
Walgreen/Maine Street (parking lot on the north side of the building)
Planes, Trains, Buses, and Taxis
The Bowdoin Shuttle: This free shuttle provides safe and convenient transportation within a one-mile radius of campus. The Shuttle operates 7 days a week while the College is in Session. The hours of operation: Sunday-Wednesday 6:00 p.m. – 1:00 a.m., Thursday-Friday 6:00 p.m. – 1:30 a.m. The Bowdoin Shuttle (aka Safe Ride) can be reached at (207) 725-3337.
Bowdoin Student Government (BSG) Shuttle: The BSG Shuttle takes students to Freeport and Portland on Fridays, Portland on Saturdays, and Freeport and the Maine Mall (South Portland) on the first Sunday of every month – for a fee of $5. BSG

also

provides free taxi rides on Tuesdays and Thursdays from 11:00 p.m. to 1 a.m., and Fridays and Saturdays 11 p.m. to 2 a.m. within a one-mile radius of campu

Brunswick Link:

is an affordable option to get around town without having to drive or rely on other methods of transportation. They are committed to reducing their carbon footprint. The bus also has the capacity to carry up to 2 bicycles, at no additional charge. The fare is $2 for a single ride or $5 for all day passes.

The Brunswick Link

map and schedule can be found on their website.

Brunswick Taxi: The Brunswick Taxi (207-729-3688) provides rides in Brunswick, Bath, other surrounding towns, and Portland. BSG

also

provides free taxi rides on Tuesdays and Thursdays from 11:00 p.m. to 1 a.m., and Fridays and Saturdays 11 p.m. to 2 a.m. within a one-mile radius of campu
Bus and Train:
Car Rentals: You can rent a vehicle from Enterprise Car Rental located at 166 Pleasant St.
Non-emergency Transportation: Bowdoin's Office of Safety and Security will provide on-campus and in-town transportation for students with non-emergency medical needs. Health Services provides taxi vouchers for routine student medical appointments.
Portland Jetport Transportation: Brunswick Taxi (207-729-3688) single fare is $60.00 multiple riders will split cost and Metro Breez Express Service.
Polar Bear RideShare App: Find other Bowdoin students who are going where you want through the RideShare app.
Yellow Bike Club: The Yellow Bike Club (YBC) mission is simple: to provide an affordable means of communal transportation for the Bowdoin Community in a healthy and environmentally friendly (carbon-free) way, and in the process, help alleviate parking and traffic issues on campus and in Brunswick. The YBC grants its members access to a Yellow Bike with maintenance and storage included during the year. As a YBC member, you save the stress of repairing and storing your own bicycle, but still enjoy convenient and emission-less transportation. And with Bowdoin's flat campus and Brunswick's official status as a Bicycle Friendly Community, biking is the best way to get around.