Bowdoin Shuttle and Transportation
The Bowdoin Shuttle (207-725-3337) provides safe and convenient transportation for Bowdoin students within a one-mile radius of campus.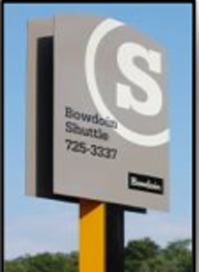 The Bowdoin Shuttle operates 7 days a week when the College is in session.
Hours of Operation
Sunday - Wednesday: 6 p.m. - 1:00 a.m.
Thursday -  Saturday: 6 p.m. - 1:30 a.m.
Alcohol is not permitted in the Bowdoin Shuttle.
Bowdoin Shuttle Stops
30 College Street (parking lot behind 32 College Street)
52 Harpswell (front driveway)
Boody Johnson House (driveway)
Brunswick Apartments (Park Row between Bldgs G and H)
Coffin Street (crosswalk leading to Coffin Street parking lot)
Coles Tower Circle
Druckenmiller (east entrance facing Harpswell Road)
Edward Art Center (South Street main entrance)
Farley Field House
Fort Andross (front lot by main entrances)
Gibson Hall (Park Row
Hannaford Supermarket
Harpswell Apartments
Helmreich House (the north parking lot)
Howard Hall (South Street)
Howell House (shuttle will stop in the driveway)
Joshua's/Maine Street (Gardiner Savings Bank parking lot just south of Joshua's Tavern)
MacMillan House (Quinby House driveway)
Mayflower Apartments (Belmont Street in front of main entrances)
North Campus Circle (Polar Bear Statue)
Orient Offices (Rhodes Hall rear lot)
Outdoor Leadership Center (parking lot off Harpswell Road)
Pine Street Apartments (rear parking lot)
Quinby House (driveway off Maine Street)
Reed House (driveway off Booty Street
Seadog Brewing Company, Topsham
Searles Science Building (Park Row)
Smith House (driveway)
Stowe Inn (front lot off Federal Street)
Train Station (bus stop on Station Ave. in front of depot)
Visual Arts Center (Park Row)
Walgreen/Maine Street (parking lot on the north side of the building)
Planes, Trains, Buses, and Taxis
Transportation Options will provide you with information about other transportation options offered in our area.