Workplace Safety
Have you experienced an injury in the workplace?  Do you have an illness that arose out of your work at the College?  Have you noticed a campus safety hazard that could potentially cause an injury?  Workplace safety is important to everyone at Bowdoin College!
Workplace Safety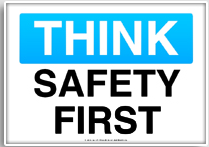 The College strives to ensure a safe working environment for all employees. If you see an unsafe situation - "an accident waiting to happen" - please report it to your supervisor immediately. Prevention is key in reducing the opportunity for employees to be involved in workplace accidents.
If you are injured at work, the College has the right to ask you to seek medical attention with an occupational health provider. Costs associated with your injury will be covered by Workers' Compensation insurance. If you have any questions about a workplace injury, contact Human Resources for assistance.
What should I do if I get injured at work?
If you are hurt or injured in the course of your duties, notify your supervisor immediately. (S)he will assess the need for medical intervention, notify Human Resources, and fill out the Supervisor's Accident/Incident report. You will be responsible for completing an account of what happened using the Accident/Incident Report Form for Employees.  Please read and become familiar with the Employee Guidelines for Reporting Injuries.
What if I am the supervisor of an employee who is injured in the workplace?
Supervisors should immediately assess the situation and determine if the employee needs medical attention and follow up care. You are responsible for notifying Human Resources and completing the Accident/Incident Report Form for Supervisor. You also are responsible for addressing any unsafe condition that led to the accident. Please read and become familiar with the Supervisor's Guidelines for Reporting Injuries.
2021 - 2022 Campus Safety Committee
Matthew Caiazzo, Dining Service
Jeffrey Cosgrove-Cook, Library
Holly Fitzmaurice, Housekeeping
Michael Grim, Grounds
Deborah Infante, Dining Service
James Kelley, Treasurers Office
Tuyet Matthews, Development
Michael Roux, IT
Tamara Spoerri, HR, Ex Officio
Kristin Steinman, Human Resources, Chair
Charly Wojtysiak, Environmental Health & Safety
What if I see another employee's accident?
If you or other employees actually witness a workplace accident, it is helpful to have your written account of what happened.  Human Resources will ask you to complete a Witness Statement.
Do you have the ergonomically correct equipment in order to do your job safely?
Check out our ergonomic resources for tips and tools on how to organize your workstation, stretch safely, and even borrow ergonomic furniture and tools for a trial run before making a purchase.