Health and Wellness
The College is committed to establishing a work environment that promotes healthy lifestyles, decreases the risk of disease, and enhances the quality of life. Through health promotion, educational programming, and a full array of athletic and recreational facilities available for use, employees have unique opportunities readily available to them.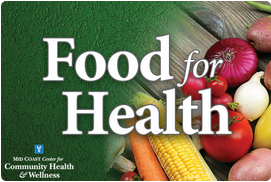 Upcoming Community Events
Monthly series provides cooking demonstrations and education showing how chronic diseases can be prevented, treated and even reversed with a plant-based diet for an over-all healthier lifestyle.
March 20 at 5:30pm
Craig Hawkins, MD, of Mid Coast Medical Group - Urology for a discussion on men's health. Learn about common conditions of the prostrate, including discussion on prostate cancer and erectile dysfunction.
April 9 at 6:30pm
Food and Inflammation: What you should know about certain foods


May 14 at 6:30pm
The Impact of Diet and Lifestyle on Congestive Heart Failure
Mid Coast Center for Community Health & Wellness
329 Maine Street (former Parkview Hospital)
Each session is FREE. For more information, please call (207) 373-6585, no need to RSVP.