Competencies and Associated Skills
Job descriptions identify the competencies essential for each position.  Students can select jobs based on an interest in further developing targeted competencies. 
In partnership with Career Exploration & Development (CXD), competencies and skills are identified in student job descriptions and grouped to match the SkillScan categories.  Supervisors will identify the primary competencies for each student job.  Detailed information about the competencies/skills, demonstrated behaviors and examples by level are available through the links below.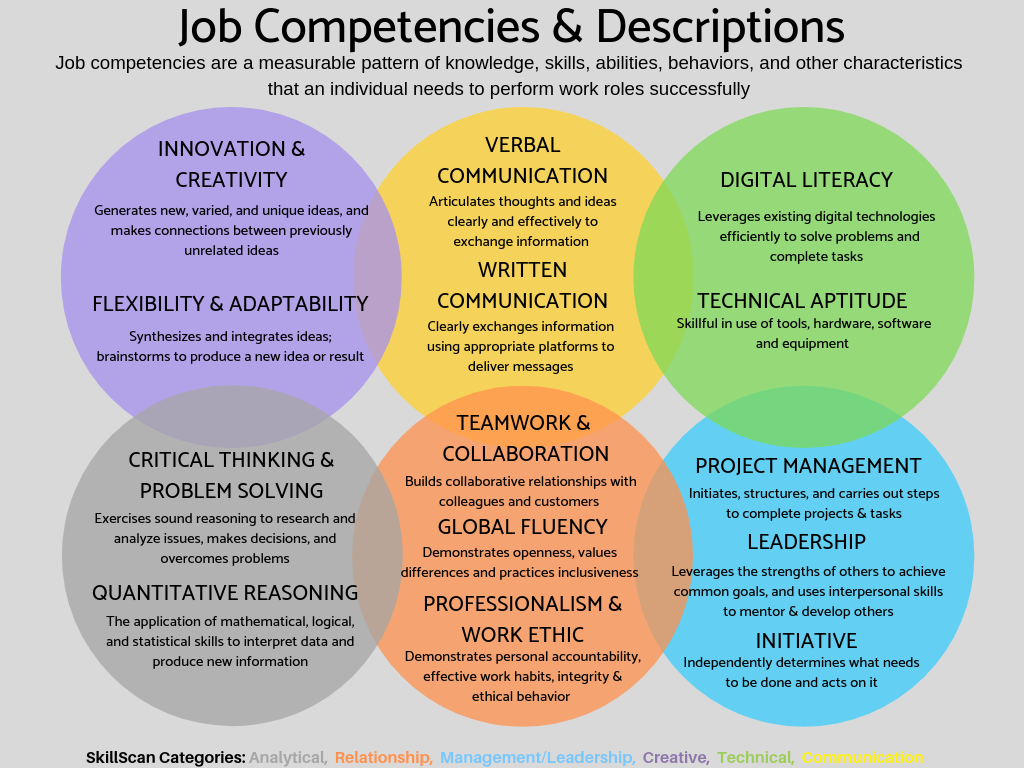 Innovation & Creativity - Generates new, varied, and unique ideas, and makes connections between previously unrelated ideas.
Flexibility & Adaptability - Synthesizes and integrates ideas; brainstorms to produce new ideas or results; able to adjust or change to best meet the needs of the situation or environment.
Verbal Communications - Articulates thoughts and ideas clearly and effectively to exchange information.
Written Communication - Clearly exchanges information using appropriate platforms to deliver messages.
Digital Literacy - Leveraging existing digital technologies ethically and efficiently to solve problems, complete tasks and accomplish goals.
Technical Aptitude - Skillful in use of tools, hardware, software and equipment. 
Critical Thinking & Problem Solving - Exercises sound reasoning to analyze issues, make decisions, and overcome problems.  Ability to obtain, interpret, and use knowledge, facts and data.
Quantitative Reasoning -  The application of mathematical, logical and statistical skills to interpret data and produce new information.
Teamwork & Collaboration - Builds collaborative relationships with colleagues and customers.  
Global Fluency - Demonstrates openness, values differences and practices inclusiveness. 
Professionalism & Work Ethic - Demonstrates personal accountability and effective work habits, e.g., punctuality, working productively with others, and time management. 
Initiative - Independently determining what needs to be done and acting on it.
Leadership - Leverages the strengths of others to achieve common goals, and uses interpersonal skills to coach and develop others.
Project Management - Initiates, structures, and carries out steps to complete projects and tasks.