Comment Cards
Comment Cards are sent via Polaris.
What is a Comment Card?
Comment Cards are sent by course instructors to provide feedback on a student's progress or standing in a course to highlight achievement/improvement or to note concern, e.g., poor grades, poor attendance, problems with deadlines, lack of participation.
Who receives Comment Cards?
Comment Cards are directed to the student, and copies are sent to all instructors for that course, as well as the student's advisor(s), Dean, and coach, if applicable.
Why should instructors send Comment Cards?
There are many reasons for poor performance, and, it is often the case that a student who is struggling in one course is struggling in others. Sharing information enables advisors and Deans to intervene, determine what is going on, and direct students to the appropriate resources on campus. Often, academic advisors and Deans do not learn that a student is struggling until the end of the semester when the student comes up for academic action, i.e. probation or suspension. Yes, students bear the primary responsibility for seeking help, but sending a Comment Card allows advisors and Deans an opportunity, hopefully early in the semester, to help the student get on track.
How to Send a Comment Card
To send a Comment Card to a student in your class:
Log in to Polaris
On the "Faculty" page, go to "My Class Lists" and select the course
Click on the yellow notecard icon  next to the student's name
The default email client on your computer will launch a message auto-filled with the appropriate recipients which should not be changed:

From: you, the instructor
To: the student
Cc: all course instructors, the student's academic advisor(s), and Dean
Bcc: Athletic Department's Administrative Coordinator, Dean of Students Office's Administrative Coordinator, and the secure Comment Card inbox
Subject: Comment Card for Student's Name 

Enter your comments in the body of the email. Please try to be constructive yet direct; let the student know what they should do upon receiving this information
General information regarding Comment Cards is included at the end of the message and should not be removed.

Below is an example of a Comment Card: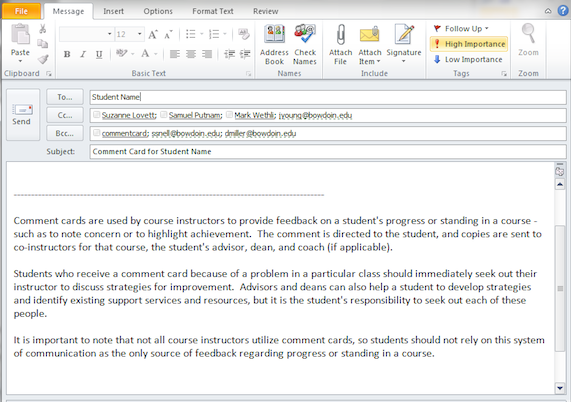 Note: if you are using Apple Mail, the Comment Card email will display extra semicolons ";" in the CC lines. Please delete these before sending your Comment Card.
The Comment Card function will only work if your computer's mail client is set up to be Thunderbird, Outlook or Apple mail.

If you have any questions, please contact the IT Service Desk at (207) 725-3030 or help3030@bowdoin.edu.