Tillotson Room
The Tillotson Room is used by the Department of Music for larger classes, small concerts, and ensemble rehearsals.
In October 2004, Gibson 101 was dedicated to former Music Professor Frederic Erle Thornlay "Tilly" Tillotson and renamed The Tillotson Room. In an effort to update the audio/visual equipment and increase the utility of the room, it was extensively renovated in the summer and fall of 2004.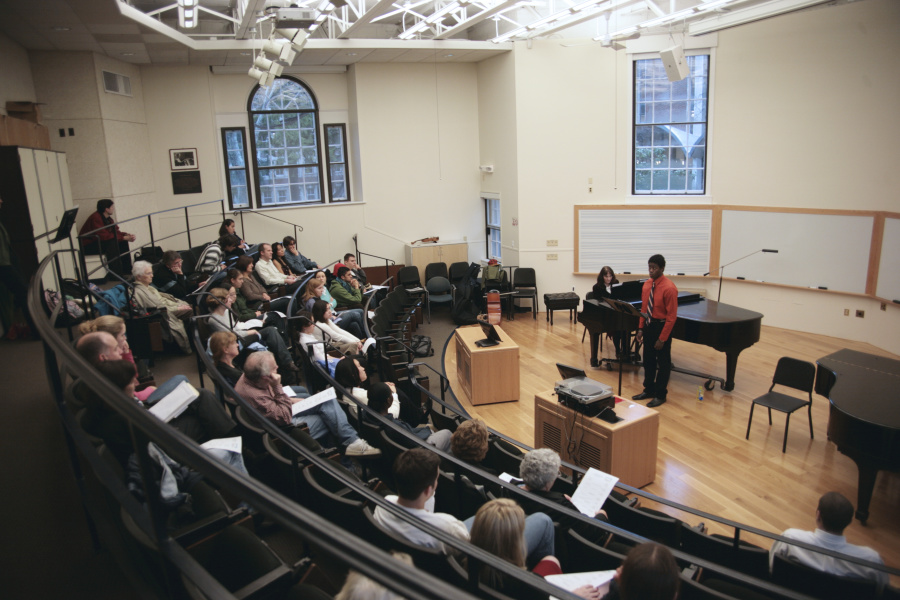 Structural Renovations
The wooden floor was raised by about two feet, creating a much larger stage area and improving accessibility.
Some permanent seating was removed and stackable rehearsal chairs were provided to increase flexibility of classroom configurations and improve ergonomics for musicians in rehearsal.
68 seats 

2 cabinets with touch-screens, which control newly installed components including CD player and recorder, Cassette, DVD, and VHS players
Retractable motorized projection screen, window blinds, and microphones
Canister lamps and some stage lighting