Middle Eastern Ensemble
The Middle Eastern Ensemble, formed in 2006, performs music from the Arab world, Turkey, Armenia, and the Middle East more generally. 

(Music 2705/2706)
The Middle Eastern Ensemble's (MEE) music ranges from the contemplative to the danceable. MEE is open to students who read music and who play string or wind instruments, piano, accordion, or who are willing to learn Middle Eastern percussion (the percussion section is limited, and is first come first serve). Bowdoin owns an oud, a qanun, some frame drums, riqqs, and tablas (dumbeks). Ensemble instruction is provided for all percussion instruments. Students wishing to play the oud or qanum must have prior experience.
Eric LaPerna
Co-Director of Middle Eastern Ensemble
(207) 725-3321

Amos Libby
Co-Director of Middle Eastern Ensemble
(207) 725-3321
Performances
MEE performs at least one concert per semester, often in collaboration with the Bowdoin Belly Dance ensemble, or with other World Music ensembles on campus.
Course Credit 
Two consecutive semesters of participation in an auditioned ensemble for credit fulfills the Visual and Performing Arts (VPA) distribution requirement. Returning students need not normally audition again. All ensembles count for one-half credit per semester.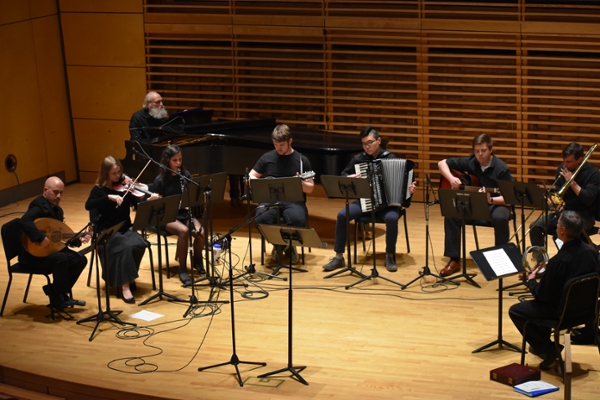 Listen
Audio recording of the Middle Eastern Ensemble (MP3)
Some concerts are streamed live and archived footage may be available as well at "Bowdoin Talks."