Resources and Opportunities
From teaching English on a Fulbright fellowship in Germany to conducting research on campus, the German department is committed to fostering a deeper understanding of German culture, history, and society.
Study Abroad!
The German department encourages all German majors to study in Germany or Austria. Studying in a German-speaking country is the best way for students to become literate in the language and gain a better understanding of the culture. 
Students have the opportunity to study at various programs matching their academic interests and level.
39 percent
German majors and minors comprise 39 percent of English teaching assistant awards at Bowdoin (2017-2018).
Proven Success
The German department has been incredibly successful in promoting student research and achievement. In fact, the department has consistently produced one of the largest numbers of Fulbright Fellows and winners of German and Austrian government fellowships in the nation.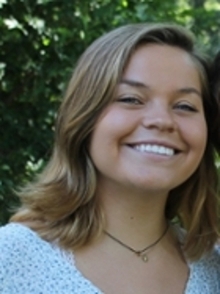 Sabina Hartnett
Major(s): Mathematics, German, Computer Science
Fulbright English Teaching Assistant
Sabina, who completed a senior thesis using computational methods to analyze the language used in German newspapers to reference migrant populations, graduated with a degree in German as well as computer science and mathematics. Sabina will spend the 2018-2019 academic year teaching English in Germany as a Fulbright English teaching assistant. After previously participating in a monthlong exchange in Baden-Wurttemberg, spending a semester abroad in Berlin, Germany, and working as a teaching assistant for the German Department, Sabina has cultivated a deep interest in German language and culture. Upon returning to the U.S., Sabina hopes to pursue a graduate degree in data science.