Associate Professor of German and Chair of German Department
Jill Suzanne Smith is an Associate Professor of German at Bowdoin College in Maine. She is the author of the book Berlin Coquette: Prostitution and the New German Woman, 1890-1933 (Cornell University Press, 2013).
Her research and teaching focus on gender and sexuality, Jewish studies, and the city of Berlin from the Wilhelmine era to the present. She is currently working on a book-length study on the representations of Weimar Berlin in contemporary German and American popular culture.
Research and Teaching Interests
German literature, intellectual history, and culture, 19th & 20th century
Gender & sexuality studies
German-Jewish Studies: German Jews in the 19th and 20th centuries, literary and artistic representations of the Holocaust
Fin-de-Siècle Berlin & Vienna
The Weimar Republic: popular fiction, art, and film
Language pedagogy, curriculum development, teaching with technology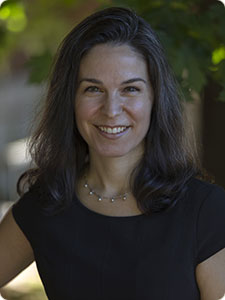 Education
PhD, Germanic Studies, Indiana University
PhD, Minor in Jewish Studies, Indiana University
MA, Germanic Studies, Indiana University
BA, German, Amherst College