Center of Excellence
Klein aber Fein (small but excellent) was the snappy phrase used when The American Association of German Teachers (AATG) bestowed the National Center of Excellence distinction upon us in 2017.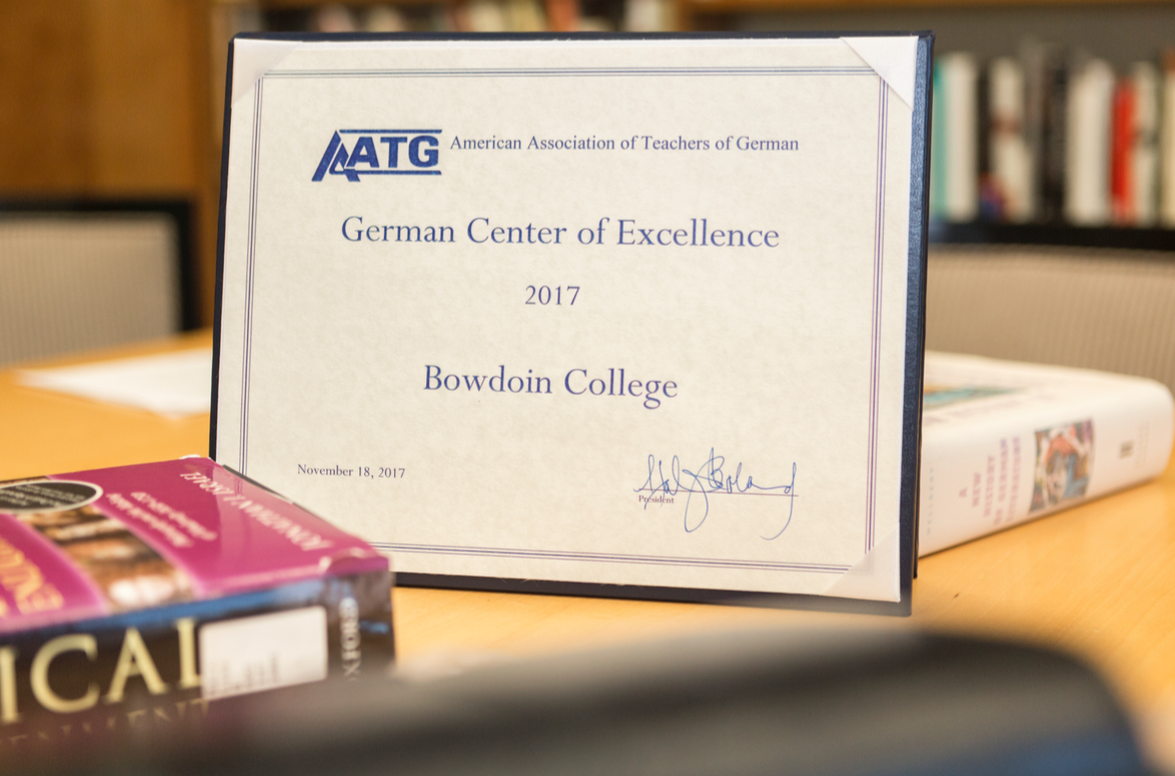 Since then, our great students, three permanent and dedicated faculty members, and colleagues at Bowdoin College have worked in tandem to pay it forward, striving to provide an even better inclusive environment for study on and off campus, marked by various avenues for student engagement, exploration of career opportunities for all our students, and success stories that chronicle lives beyond Bowdoin. Here, we cite from the award notification and invite you — prospective and current students, parents, and our alumni/ae family world-wide — to explore and comment on the stories featured on the entire German Department website.
AATG judged our curriculum to be "most impressive." We have "a clear, articulated sequence of instructional programming that is standards-based and reflects current methodologies. Outcomes at each instructional level are clearly articulated and diverse learning styles are respected through varied instructional and assessment techniques. The materials used in the program are culturally authentic and interdisciplinary connections have been established."
The award committee praised that ours "is truly a program that is designed to meet the needs of students." We value student feedback and cherish an excellent rapport with colleagues and programs across campus, frequently collaborating on extracurricular and special events to map interdisciplinary connections between German Studies and other departments on campus.
In praising support "from the administration, professional colleagues, parents and students, and has strong ties to the wider community," the award committee singled out faculty's ongoing professional involvement and development at many levels, their collaboration and self-evaluation, making for a program that is "well established and growing."