Schiller Coastal Studies Center Vessels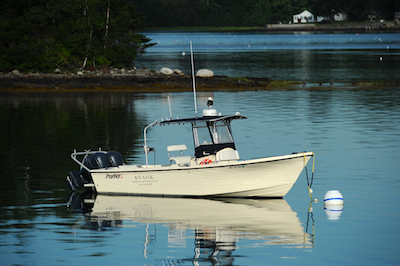 The Schiller Coastal Studies Center has a fleet of vessels available for research and education purposes. A full-time captain operates the 28-foot R/V A.O.K. (donated to the SCSC in 2014). Additionally, the SCSC has two 21-foot boats, a 16-foot Maritime Skiff, and a 13-foot Dauntless Whaler. All of the operations and vessel safety is overseen by the coastal studies marine operations manager. Small boats are available through the manager with a boating safety certificate and completion of a field session check-off.
R/V A.O.K.
28' Parker center console with a touch-screen chart plotter/GPS and associated Garmin radar. Houses the latest VHF radio with digitally select channel/DSC. For equipment, a starboard-side hauler and a stern taffrail to keep any nets from fouling with the motors. There is a custom table with room for a couple of computers and a 400watt, 12V to 110V power inverter to plug into. All of the vessel's safety gear is in compliance with United States Coast Guard Commercial Fishing Vessel Safety Exam. All of the vessels are also under the Maine Department of Marine Resources Special License for the collection of marine organisms for research and education. The vessel can carry up to ten people including the captain and one crewmember.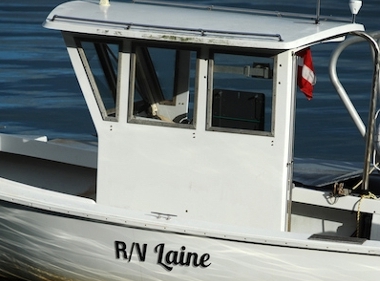 R/V Laine
21' Seaway (earth and oceanographic sciences), the vessel has an electric windlass design with a davit to haul sampling equipment on the starboard side. The vessel has an 7-foot, nine-inch beam and is used close to the Colleges docks in Harpswell Sound; primarily heads to the research buoy and ties off the buoy for sampling and instructional purposes. The vessel is equipped with a VHF radio, chart plotter, paper charts, and necessary safety gear for up to four persons.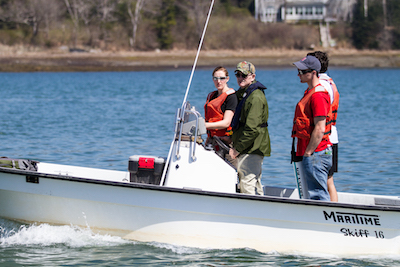 Maritime Skiff
16' Skiff with a 40hp Yamaha. The vessel is a great working platform for sampling and going into the shallow estuarine. Houses a center console with ample deck space. Low freeboard allows for easy access of gear and persons.
The vessel has a VHF radio, chart plotter, paper charts, and the necessary safety gear ideally for two to three persons.
Parker
21' Parker with 150hp Yamaha. The vessel is utilized for biological sampling primary in river estuaries. It has a beam of eight feet, six inches and drafts approximately fifteen feet. The vessel has a VHF radio system, chart plotter, paper charts, and all the necessary safety gear for up to six people.
Dauntless
13' Dauntless Whaler with a 50hp Honda. The vessel is used in the shallows for sampling. The vessel is equipped with a handheld VHF radio, paper charts, and safety gear for two persons.

For individuals interested in operating Schiller Coastal Studies Center vessels, you must complete the online Boating Safety Course as well as schedule a "comment cruise" with the marine operations manager.