Institutional Grants
The Department of Visual Arts encourages students to take advantage of the various research and funding opportunities offered by the College, several of which are ideal for Visual Arts students.
Bowdoin offers a number of opportunities for Visual Arts students interested in furthering their study in art. Due to its creative students and highly engaged faculty, the Visual Arts department has achieved notable success in receiving grants, fellowships, and awards to support artistic production and research into new techniques.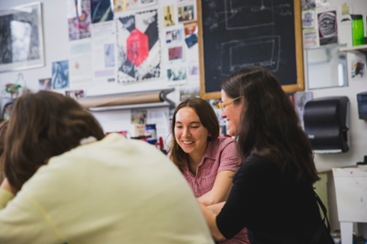 Grua O'Connell Research Award
In 2007, Peter J. Grua '76 and Mary G. O'Connell '76 generously created an endowed fund to support, regardless of discipline, faculty-mentored student research. Awards from this fund support:
student travel that will substantially enhance students' honors projects or research being conducted under the mentorship of a faculty member (e.g., travel to library/archive or to another location to conduct research, or travel to a conference to present results)
students' research expenses, such as purchasing of books and equipment, publishing research results, or any combination of these expenses
Normally, these awards will not exceed $2,000.
Alan M. Christenfeld Fellowship
Established in 2011 with a gift from Alan M. Christenfeld '73, this fund supports undergraduate research with a preference for work in the social sciences and humanities. Students typically carry out 8, 9 or 10 weeks of research over the summer. Students are given a stipend of $480 a week during the research. 
Recent Projects
Surdna Foundation
An undergraduate research fellowship program originally established in 1959, this fund was renamed in 1968 to recognize the gifts of the Surdna Foundation. This fellowship is awarded to highly qualified students and is meant to facilitate full time research for 8, 9 or 10 weeks during the summer.
Students interested in applying must apply in February of their junior year. The application is written by both the student and the faculty mentor supervising the project.
Recent Projects
Nellie C. Watterson Fellowship
The Nellie C. Watterson Summer Fellowship in the Creative and Performing Arts was established in 2007 by Paul and Jennifer Korngiebel, classes of '88 and '87 respectively, to honor Professor William Watterson and his mother. The Watterson Summer Fellowship is designed to foster summer research and learning by students in the creative and performing arts. This may be accomplished through faculty-mentored and/or structured training in the creative or performing arts (including music, theater and dance, the fine arts, creative writing, and film studies). Fellowship recipients may study under the direction of a Bowdoin faculty member; however, opportunities that cannot be adequately replicated under the direction of a Bowdoin faculty member, yet are deemed essential to a student's academic program, may also be undertaken with support from this fellowship. Examples of such opportunities include, but are not limited to, participation in major summer festivals, pre-professional training, or internships.
Recent Projects