McKee Photography Grant
The McKee Photography Grant, supported by the McKee Fund for Photography, is an endowed fund established in 2003 to augment the photography offerings within the Visual Arts Department at Bowdoin College.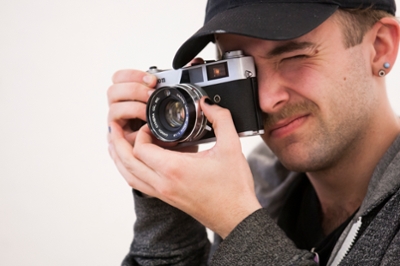 It is intended to support one student photography project annually during the summer months and a public lecture and exhibition of the project upon completion in the fall.
The grant consists of up to $1,000 to allay expenses, such as supplies and travel associated with the project. The funds will not be used to provide a stipend.
Proposed projects must engage with the photographic medium. It is expected that a cohesive body of photographs be developed over the course of the summer. The grant is intended to encourage the student to work independently with advice, even if from afar, from a faculty member to execute a long-term photographic project outside of the context of the classroom.
Monday, April 10th
Application Deadline
Wednesday, April 19th
Awardees Announced
Eligibility
First-years, sophmores, and juniors
Selection
A committee comprising of the current photography faculty and the Visual Arts Department Chair will review the applications. Selection criteria for an award include the proposal's effective articulation of central questions driving the project, a full consideration of the specific ways the student intends to explore these questions, and the feasibility of completing the proposed project during the summer. Applications should indicate technical proficiency in relevant photographic technologies, and the proposal should indicate how access to any necessary resources or facilities might be obtained. Proposals should be as detailed and specific as possible and emphasize an exploration of stated themes.
Requirements
Grant recipients are required to:
Prepare a fall exhibit of their summer work in the Edwards Center for Art and Dance.
Give a public presentation about the project during the fall semester.
Turn in a paragraph about the project and web-ready photographs for the Visual Arts department website.
Narrative proposal, no more than 1500 words in length. The proposal should explain:

topic or problem to be examined
student's background on the proposed project
methods to be used
expected outcome by summer's end
proposed budget (up to $1,000), as detailed as possible, outlining intended use of funds

Link to online portfolio of 20 images (Picasa, Blogspot, Flickr, etc.) to allow the committee to familiarize itself with the student's previous photographic work.
PDF copy of the student's Bowdoin transcript (via Polaris).
Recommendation from a faculty member outside the Visual Arts Department.
Faculty advisor: note from faculty member stating a willingness to oversee the project during the summer.
Email applications to Professor Mike Kolster (mkolster@bowdoin.edu) by 5:00 pm on the application deadline.