Off-Campus Study
All students should have access to off-campus study. That's why Bowdoin allows you to take your financial aid with you if you decide to study away.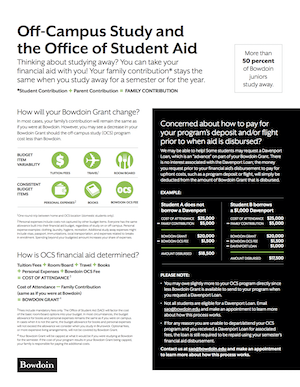 Once you determine your off-campus study program(s), the Office of Off-Campus Study notifies the Office of Student Aid so we can adjust your financial aid to reflect the cost of your chosen program(s). Your family contribution remains the same as if you were on campus, and your scholarship is adjusted according to the cost of the program. However, we cap your Bowdoin scholarship at what it would be if you studied on campus, so your family will be responsible for the difference if you choose a program that is more expensive than Bowdoin. We strongly recommend meeting with your student aid counselor if you are considering studying away so you fully understand how financial aid will work with your chosen program(s).
The College charges a $1,500 off-campus study fee for each program in which you participate. This is added to your cost of attendance when your aid is adjusted to reflect the cost of your program. Your aid will first cover this $1,500 fee, and the rest will be available to pay for your program.