Professor of Earth and Oceanographic Science, Associate Dean for Academic Affairs
Dr. Rachel Beane is the Anne T. and Robert M. Bass Professor of Natural Sciences in the Department of Earth and Oceanographic Science at Bowdoin College.  She is recipient of the National Association of Geoscience Teachers Neil Miner teaching award for "exceptional contributions to the stimulation of interest in the Earth Sciences" and the Bowdoin College Sydney B. Karofsky teaching prize for her "ability to impart knowledge, inspire enthusiasm, and stimulate intellectual curiosity."  She enjoys teaching and mentoring undergraduate students at Bowdoin.
With support from the National Science Foundation and Bowdoin College, she has conducted research on volcanic rocks in New Zealand and the western U.S., subduction zone metamorphic rocks in Russia, Kazakhstan and Greece, and igneous and metamorphic rocks in Maine.  Her approach is to use mineral compositions and textures to interpret solid earth processes using a combination of methods including field work, light microscopy, and scanning electron microscopy (EBSD, CL, EDS, and BSE). She welcomes collaborations with Bowdoin students. She is a fellow of the Geological Society of America.
Prof. Beane is associate dean for Academic Affairs at Bowdoin College for which her primary foci are faculty development and mentoring, and faculty diversity initiatives.  She leads national professional development workshops for science educators through the National Association of Geoscience Teachers and On the Cutting Edge, an NSF funded project focusing on geoscience faculty development.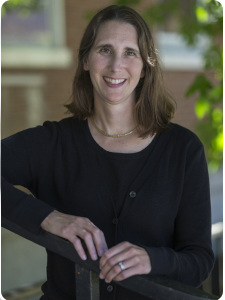 Education
PhD, Stanford University, 1997
BA, Williams College, 1993