Anne T. and Robert M. Bass Professor of Natural Sciences
Prof. Rachel Beane is recipient of the National Association of Geoscience Teachers (NAGT) Neil Miner teaching award for "exceptional contributions to the stimulation of interest in the Earth Sciences."
Prof. Beane enjoys teaching and mentoring undergraduate students at Bowdoin. She holds an endowed chair as the Anne T. and Robert M. Bass Professor of Natural Sciences in the Department of Earth and Oceanographic Science and has been honored with the Bowdoin College Sydney B. Karofsky teaching prize for her "ability to impart knowledge, inspire enthusiasm, and stimulate intellectual curiosity."  
She is a geologist who interprets processes that have shaped our Earth.  She has conducted mineral, volcanic, and tectonic research in New Zealand, Russia, Kazakhstan, Greece, western U.S., and Maine, with grant funding from the National Science Foundation (NSF) and Bowdoin.   Her approach is to use mineral compositions and textures to interpret solid earth processes using a combination of methods including field work, light microscopy, and scanning electron microscopy (EBSD, CL, EDS, and BSE). She is a fellow of the Geological Society of America.
Prof. Beane served as the college's associate dean for Academic Affairs (2016-20) focusing on faculty development and mentoring.  She co-developed and led workshops for faculty search committees with an aim to mitigate bias and broaden faculty diversity. She led a committee that designed mentoring structures to enhance faculty support. She guided the college's departments and programs to develop learning goals and co-chaired the educational effectiveness standard for the college's reaccreditation. She also served as Acting Director of the Baldwin Center for Learning and Teaching. She currently chairs Bowdoin's Council of Mentors.
She leads national professional development workshops for science educators through the National Association of Geoscience Teachers and On the Cutting Edge, an NSF funded project focusing on geoscience faculty development. She was the lead convener for the annual Workshop for Early Career Geoscience Faculty: Teaching, Research, and Managing Your Career – a five-day workshop for 70 faculty from institutions across the U.S. emphasizing strategic planning and a holistic approach to career development. More recently she has led workshops on "Building Strong Departments" and "Supporting the Success of All Students." Her recent open-access articles related to faculty development and science education research are: 
Uneven increases in racial diversity of US geoscience undergraduates 

Over the past 20 years, the proportion of US geoscience undergraduate degree recipients from racialized groups has increased threefold, more than for graduate degrees. Much of this progress currently is concentrated at relatively few universities. We have work to do to make our discipline more accessible, inclusive, and equitable for students everywhere.

Design and Impact of the National Workshop for Early Career Geoscience Faculty. 

More than 1,000 faculty members have attended this national workshop that employs a "whole faculty" approach to support the transition into academic careers. Survey data indicate the workshop has been effective at promoting evidence-based teaching strategies and a community of practice

Probing the National Geoscience Faculty survey for reported use of education practices that support inclusive learning environments in undergraduate courses. 

Analyses of survey data showed faculty use of inclusive education practices associated with four categories - geoscientist representations, curricular choices, learning strategies, and career pathways - differ based on their communication with colleagues, institution type, and course type (introductory or major).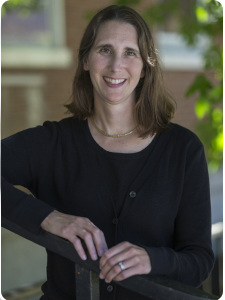 ---
Education
PhD, Stanford University, 1997
BA, Williams College, 1993