Published May 04, 2022 by Rebecca Goldfine
What do Volcanoes and Inclusivity Have in Common? Professor Rachel Beane.
Bowdoin geologist Rachel Beane studies the mineral, volcanic, and tectonic forces that have shaped the earth. She is also stepping up to address a persistent problem in her field: its lack of racial and ethnic diversity.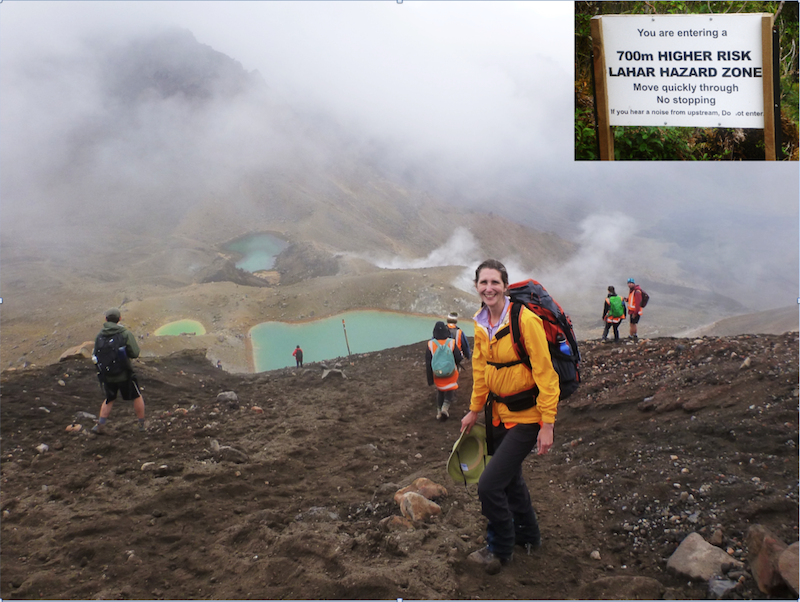 Over the course of her career, Beane has published widely on the ways in which the composition and textures of rocks or fragments of rocks—even microscopic crystal structures—can reveal clues into massive geological processes, like earthquakes and supervolcanoes. 
More recently, she has also turned her scholarly attention to racial and ethnic trends in her field. The geosciences, or earth sciences, remain one of the least diverse disciplines in the sciences.
Since 2019, Beane has written several articles in academic journals (see below) about how faculty can cultivate diversity and foster a student's sense of belonging in their classrooms. Additionally, she has led faculty workshops across the nation on attracting and supporting students who have been historically excluded from the geosciences. 
Her work is not just ethical, it is also seen as increasingly urgent. Indeed, geologist Pranoti Asher of the American Geological Union (AGU) argues that a more diverse population of scientists is "critical for the survival of our geoscience enterprise." 
For one, there are currently many more job openings than applicants in the range of careers that fall under the geosciences—from atmospheric science to petroleum geology. Some of the employment needs are driven by a growing call by businesses, municipalities, and nonprofits for more climate change and environmental consultants, as well as for industry experts on mining and petroleum extraction.
Perhaps more importantly, the complexity of environmental problems facing humanity also requires broad participation. "If we are going to solve the problems on the earth, we need diverse perspectives and we need different approaches," she added.
A Sense of Justice
Beane's diversity, equity, and inclusion work has been gaining momentum since 2017, when she led her first workshop for geoscience faculty on "Supporting the Success of ALL Students." But she looks further back in her life and credits an experience she had as a teenager for setting into motion her efforts in this area.
As a high school student in Iowa, Beane participated in Anytown, a one-week youth leadership and social justice program run by the National Conference for Community and Justice (NCCJ). (At that time, NCCJ was called the National Conference of Christians and Jews, which was established in 1927 to address acts of bigotry.)
After Beane completed the program, she returned several times as a counselor. "It was so powerful," she said, and gave her the language and confidence to speak out against discrimination and racism. "Part of what I took from that was the director telling us, 'You will know when it is your time to step up.' We all made a commitment to ourselves that we would do this work when it was needed."
For the next couple of decades, Beane focused on her scientific research and career. She majored in geology at Williams College and earned her PhD from Stanford in geological and environmental sciences. She joined the Bowdoin faculty in 1998.
At the time, she was the first female professor in the College's geology department, as it was then called. Several years later, after earning tenure, she was the only female geologist with tenure in the state of Maine. (Today Bowdoin's earth and oceanographic science department has four female faculty.)
Her years of being the sole woman in a work space filled with men gave her firsthand knowledge of the discomfort and alienation that can arise from being seen as an outsider or interloper. "Being a woman in this field where there is a lot of discrimination and harassment, and having experienced that myself, I wanted to be part of changing it," she said.
Concrete Action
The American Geological Union describes Beane as being on the "leading edge of the effort" to help geosciences faculty gain the skills to broaden participation in their departments and support students from many racial and ethnic groups. 
In some of her articles, webinars, and workshops, Beane lays out a road map for change. She broadly categorizes the steps faculty can take into past-, present-, and future-oriented actions:
The Past: Professors succeed when they can link what they want students to learn to what students already know. "In teaching, we want to draw from and make connections to students' prior knowledge—which can be their interests or experiences," she said.
She cites the example of building a lesson plan around national parks—which not every student will have had the chance to visit. So in addition to focusing on mountains and parks, faculty can ask questions about air pollution or lead in public water districts that might have made a student or their family ill. 
The Present: For present actions, she emphasizes "active learning," in which professors ask students in class to work in pairs or groups to collaboratively solve problems. This approach is an alternative to the question-and-response method.
In that model, "you have a few students who respond to questions and get the practice of speaking in the discipline—and there is a language to each discipline," she said. "But if you create opportunities for students in pairs or small groups, they all get the chance to practice. They all have the opportunity have their ideas heard."
The Future: For future-focused actions, Beane recommends that geoscience faculty begin talking about possible career paths to first-year students in introductory classes, rather than waiting to discuss it with more advanced students in upperclass seminars. 
"If we look forward in terms of what are the questions they want to be working on once they graduate, and if we can connect that within a field—either within geosciences or another field—then we have helped to broaden the questions we ask, how we approach them, and who wants to be part of and is attracted to the work," she said.
Articles and workshops by Rachel Beane and collaborators on diversity, equity, and inclusion in the earth and environmental sciences:
Beane

, R., Baer, E., Lockwood, R., Macdonald, R.H., McDaris, J., Morris, V., Villalobos, J., & White, L., 2021.

 

Uneven increases in racial diversity of US geoscience undergraduates.

 

Communications Earth & Environment

, 2: 126.

Over the past 20 years, the proportion of US geoscience undergraduate degree recipients from racialized groups has increased threefold, more than for graduate degrees. Much of this progress currently is concentrated at relatively few universities. We have work to do to make our discipline more accessible, inclusive, and equitable for students everywhere.

Beane

, R., McNeal, K. and Macdonald, R. H., 2019.

 

Probing the National Geoscience Faculty survey for reported use of education practices that support inclusive learning environments in undergraduate courses.

 

Journal of Geoscience Education, 

v. 67, p. 427-445.

Analyses of survey data showed faculty use of inclusive education practices associated with four categories - geoscientist representations, curricular choices, learning strategies, and career pathways - differ based on their communication with colleagues, institution type, and course type (introductory or major).

Macdonald, R. H.,

 

Beane

, R., Baer, E., Eddy, P., Emerson, N., Hodder, J., Iverson, E., McDaris, J., O'Connell, K., and Ormand, C., 2019.

 

Accelerating Change: The Power of Faculty Change Agents to Promote Diversity and Inclusive Teaching Practices.

 

Journal of Geoscience Education.

Faculty professional development that promotes diversity and inclusion is one way to move evidence-based practices into wider use. An example of this approach is the SAGE 2YC professional development program, in which faculty change agents learn and practice strategies during workshop sessions, implement changes in their own teaching, and then work in teams to lead workshops in their region under the auspices of the national program. Increased adoption of a change agent approach to faculty development will support the creation and sharing of additional resources, leading to wider diffusion and implementation of inclusive teaching practices.
Webinars:
Workshops:
Being an Inclusive Geoscientist.

 Co-facilitator for University of Texas at Austin Workshop.  May 10-11, 2021.

Diversity, Equity, and Inclusion in the Earth and Environmental Sciences

: Supporting the Success of All Students.

 

Lead convener. 

University of Illinois at Chicago, April 10-12, 2019.
Supporting the Success of ALL Students: Broadening Participation of Underrepresented Groups in the Geosciences. American Geophysical Union annual meeting workshop, New Orleans. 

Beane

, R., Ebanks, S., Macdonald, H., and Weissman, G., 2017