Professor of Earth and Oceanographic Science, Associate Dean for Academic Affairs
Rachel's research uses mineral compositions and textures to understand solid earth processes. Research early in her career focused on pressure-temperature-time paths of subduction zone metamorphism with a field focus in the Ural Mountains, Russia. Her current research focuses on exploring the connections between below ground magma chamber processes and above ground large volcanic eruptions with field areas in the western United States and New Zealand. With Bowdoin students, she also studies Maine's bedrock geology.
Awarded the 2003 Sydney B. Karofsky Prize. The prize recognizes the faculty member who "best demonstrates the ability to impart knowledge, inspire enthusiasm, and stimulate intellectual curiosity." As part of the prize, she delivered the Honor's Day Address 2004.
Elected and honored as Geological Society of America Fellow in 2017.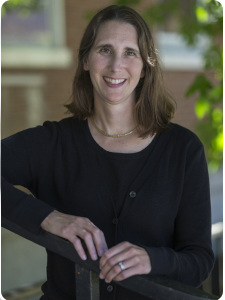 Education
PhD, Stanford University, 1997
BA, Williams College, 1993