Published November 19, 2018 by Tom Porter
National Teaching Honors for Geologist Rachel Beane
Faculty and staff at the Department of Earth and Oceanographic Science turned out recently to honor a colleague who has earned a prestigious national teaching prize. Anne T. and Robert M. Bass Professor of Natural Sciences Rachel Beane won this year's Neil Miner Award, presented annually since 1953 by the National Association of Geoscience Teachers.
Addressing colleagues gathered in the auditorium at the Roux Center for the Environment on Friday November 16, 2018, department chair Phil Camill paid tribute to Beane. "If you were to ask Bowdoin students, staff, and faculty to associate a name with the following traits: exceptional contributions to the stimulation of interest in the earth sciences, concern for personal excellence in effective teaching, an unselfish outlook on life, and inspiring to fellow teachers as well as students, chances are that person would say, 'Oh you're talking about Rachel Beane.' Well it just so happens those qualities are also the criteria for the Neil Miner Award," said Camill, who is the Rusack Professor of Environmental Studies and Earth and Oceanographic Science.
As well as teaching and mentoring at Bowdoin for the past two decades, Beane has also played a big part on the national stage, developing workshops and webinars for aspiring professors from coast to coast. "Rachel Beane has contributed in a huge way to the professional development and scholarship of literally thousands of geoscientists," said Associate Professor of Earth and Oceanographic Science Emily Peterman, who first encountered Beane before coming to Bowdoin. Similarly, Assistant Professor Michèle LaVigne recalled avidly consuming Beane's webinars as a postdoctoral student. She said she remembered thinking at the time, "who is this Rachel Beane at Bowdoin College's earth and oceanographic science department, and how can I be a part of it?"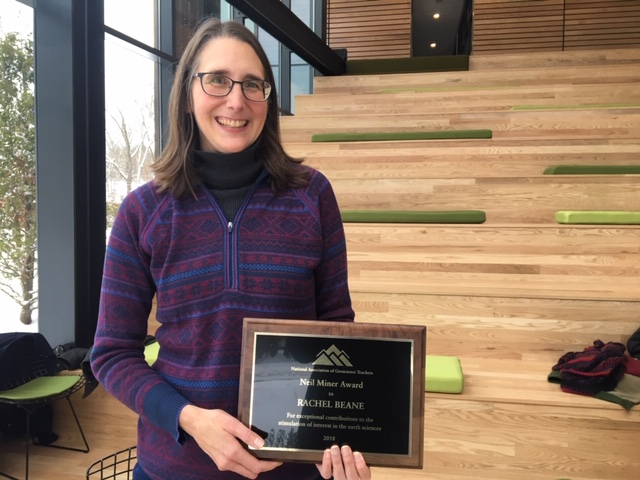 Beane, who is the first Bowdoin faculty member to win the Neil Miner Award, also said a few words, paying tribute to her colleagues and her students. "I wouldn't be the teacher I am without the support of the department and the feedback I've received while developing as a teacher." While at Bowdoin, Beane said she has been allowed to perfect "teaching methods that, when I started here twenty years ago, were a little outside the norm of a lecture-based class." Beane, who is also Associate Dean for Academic Affairs, is a geologist whose research uses mineral compositions and textures to understand solid earth processes.