Organic Garden
The Bowdoin Organic Garden has been an integral part of the College's sustainability mission since 2005.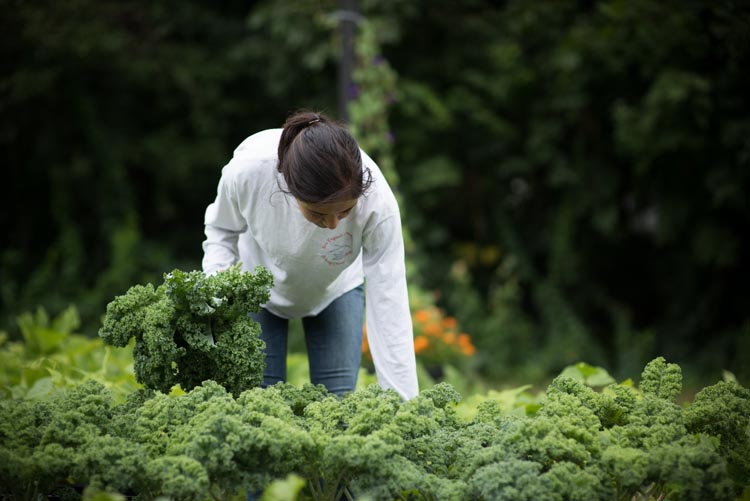 The Organic Garden has been an integral part of Bowdoin since 2005 and was initiated by a group of committed students with assistance from several staff members and faculty.  In addition to growing vegetables, fruit and flowers for use in the dining halls, it also provides agricultural experiences and events for the college community. The Bowdoin Organic Garden presently comprises approximately an acre and a half of land divided between 2 on-campus locations
Bowdoin has a robust environmental and agricultural curriculum with many professors taking advantage of the proximity of our living, breathing, growing garden for hands-on learning.  The college has just announced a brand new biology academic concentration called Ecology, Evolution and Marine Biology (EEMB) and the garden will be a willing participant in many curricular offerings.
Many student groups, as well as staff and faculty, participate at the farm on a weekly basis, including members of the student Organic Garden Club.  Specific tasks for student involvement include: tapping campus maple trees for sap, maple syrup making, seeding in the greenhouse, adding soil amendments and compost, transplanting, irrigating, weeding, harvesting, vegetable cleaning and delivery, cooking, and of course, eating.  These simple tasks connect students with new ways of thinking and allow them to experience each step in producing food, from holding the seeds until it shows up on their plates in the dining hall.  Through the garden they have an opportunity to gain a real appreciation for small-scale organic agriculture.  The garden provides a framework to see broader implications around food, by connecting daily decisions about what we eat with its effects on the local community.  During the season, our volunteers make regular donations of produce to the MidCoast Hunger Prevention Program's Soup Kitchen and Food Pantry.
The Organic Garden has an active presence on campus and sponsors over 20 events and activities each year.  Event highlights include: maple syrup boiling on the quad, al fresco summer dinners in the garden, garden produce sales, cider pressing, and winter wheat threshing at the new barn.  Garden staff visit Bowdoin classrooms, sit on panels, participate in environmental programs, and work closely with student organizations.  Off-campus, our staff is welcomed at workshops, movie screenings, organic conferences, and environmental and agricultural festivals.  
Bowdoin Dining Service is well versed in using seasonal whole foods and markets the organic garden produce on their website, in the dining halls and retail operations, and during special "locavore" meals for the students and campus community.  Over the years, our chefs have found or created recipes that feature the unusual variety of vegetables, including heirlooms, which are grown there.  They are experimenting with ways to extend the use of organic garden vegetables by freezing, pickling and cold cellaring.  The Dining bakeshop processes close to 200 pie pumpkins every year for desserts, breads and holiday pies.
In 2014, we expanded to a new location on campus that serves as our home base and has increased visibility as well as on-campus collaborations.  The new property at 52 Harpswell Road has ½ acre of growing space and an historic barn.  The barn now serves as a gathering space for student programming as well as for garden storage and curing produce.  The new garden's central location opens up academic research possibilities for faculty and students, allows more consistent student and community volunteering, and encourages new connections with the greater Brunswick community.