Organic Garden
The Bowdoin Organic Garden has been an integral part of the College's sustainability mission since 2005.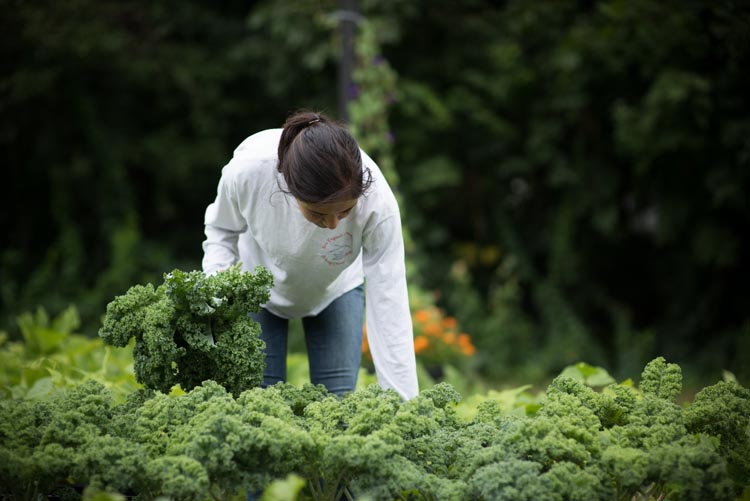 When your hands are in the soil, working alongside a close friend or someone you just met, conversation tends to flow. The Organic Garden has been an integral part of Bowdoin since 2005. Growing vegetables, fruit, and flowers for use in the dining halls is only part of the gardens' purpose. The Organic Garden also provides a space to build community through shared work, agricultural experiences, and educational events.
Many students spend time at the garden on a weekly basis, especially members of the student Organic Garden Club.  Work at the garden changes seasonally and could include tapping maple trees and boiling sap for maple syrup, seeding in the greenhouse, adding compost to garden beds, transplanting, weeding, and harvesting. These tasks help connect students with their food and the land.
After having a few different locations over the years, the Organic Garden has settled into 2 plots on campus: the corner of Coffin Street and South Street, and 52 Harpswell Road totaling a ½ acre of row crop growing space, a propagation greenhouse, a burgeoning medicinal garden, and an historic barn. 
Certified organic by the Maine Organic Farmers and Gardeners Association (MOFGA) organic practices and no-till principals are central the operation of the garden. Permanent raised beds ensure minimal soil disturbance and have helped build the soil from very sandy to a loose and rich loamy texture. Perennial plants are incorporated into the garden system and help to create pollinator and beneficial insect habitat throughout the garden. These growing practices ensure the soil will stay healthy for many years to come.
The Organic Garden has a strong connection with Bowdoin's Dining Services. This partnership is critical to the efficacy of the program. The garden staff and dining team collaborate on what to grow annually. Good communication ensures accurate harvest sizes to match dining hall needs. Dining hall chefs, with their culinary experience, incorporate the Organic Garden's bounty into delicious garden-to-table entrees and salads for the students and staff to enjoy.