Talented Students Provide a Feast of Music
Published by Rebecca Goldfine
The end of the semester is always a wonderful time for music lovers, who can expect concerts for days.
After months of work, student musicians perform a steady stream of recitals from late November to mid-December.
This year, the Department of Music presented final concerts starting November 20 with the Bowdoin College Concert Band, which performed a program "celebrating the music of women composers."
The department's Middle Eastern Ensemble put on a lively show November 28, followed by back-to-back Jazz Nights by student ensembles on December 1 and December 2. All of these shows took place in Studzinski Auditorium in Kanbar Hall.
The Bowdoin Chamber Choir entranced a full house in the Chapel on December 3. The first of two chamberfests, featuring student Chamber Ensembles, was on December 5, followed by the Symphony Orchestra on December 6 and December 7. Chamberfest 2 performed again on December 8. 
Students played a midday recital Thursday, December 8, as well as a "Lunchbreak" recital December 9. The Music Finale Student Recital occurred a few hours later in the afternoon.
Beyond the Department of Music ensembles, the student-led a cappella groups—Bear Tones, Miscellania, Ursus Verses, Longfellows, Meddiebempsters, and BOKA—also performed December 7. Each group sang two songs at their annual holiday show. They shared the stage in Pickard Theater with student dance groups Arabesque, VAGUE, Obvious, and Polar Swing.
The Bowdoin Middle Eastern Ensemble, directed by Eric LaPerna, performed music this year from the Kef tradition. Kef is a style of Armenian and Anatolian folk music brought to the US by Armenians during the diaspora of the early twentieth century. Kef is party music often played at Armenian picnics, dances, and celebrations.
Darbouka: Kianne Benjamin '24, Aminata Harley '23, Fatima Kunjo '25
Duff: Jack Garza '23
Harp: Moana Gregori '26
Violin: Adelaide Hocking '24
Trumpet: Ben Israel '25
Riqq: Maya Lamm '24 
Upright bass: Robin Shurmur '26
Cello: Selima Terras '26 
Flute: Finn Torres '25
Harmonium: Pranav Vadlamudi '26
Acoustic guitar: Colin Vernet '25 
Tarogato: professor Frank Mauceri
Qanun: Duncan Hardy, guest artist
Bowdoin's symphony orchestra, directed by George Lopez, performed an evening of powerful Romantic music including Smetana's tone poem "The Moldau" and other beautiful works, with a grand finale of Schumann's dramatic 4th Symphony in D minor. The orchestra this year is made up of students and two community members.
Violin 1: Julia Duvall '23, Paris Wilson '23, Sydney Cox '23, Jimmy Song '25, Karin van Hassel '24, Timothy Ignacio '26, Carolina Weatherall '25, Lia Scharnau '26, Young Seo '26, Matteo Silva '26
Violin 2: Bjorn Ludwig '23, Charlie O'Brien '23, David Garcia '25, Jonathan Lerdau '25, Meadow Jennings '26, Eliana Gonzalez '26, Ainsley Morrison '26, Noemi Guzman '26, Sara Defor '25
Viola: Ethan McLear '23, Nancy Xing '24, Brendan Hill '25, Francesca Kusserow '24, Katie O'Connell '26,
Cello: Ari Geisler '23, Rory Kliewer '24, Jasmine Jia '25, Ashwini Sahasrabudhe '25, Zain Padamsee '23, Carolina Bragg '26, Lierin Peterson '26
Bass: Joshua DeScherer, Alyson Ciechomski 
Flute: Anya Workman '25 (flute/piccolo), Joanne Du '24, Vanny Nelson '23
Oboe: Darien Gillespie '24, Alexis Mullen '23, Alex Kitay '23
Clarinet: Isabelle Lee '25, Alec Rothkowitz '26
Bassoon: Arjuna Sivapala '25
French Horn: Zoe Becker '25, Shira Gersh
Trumpet: Isaac Cooper '23, Lorenzo Hess '23, Lars Sorom '26
Trombone: Miles Benson '26
Harp: Lierin Peterson '26
Percussion: Alex Gouthro '26, Jack Frohling '26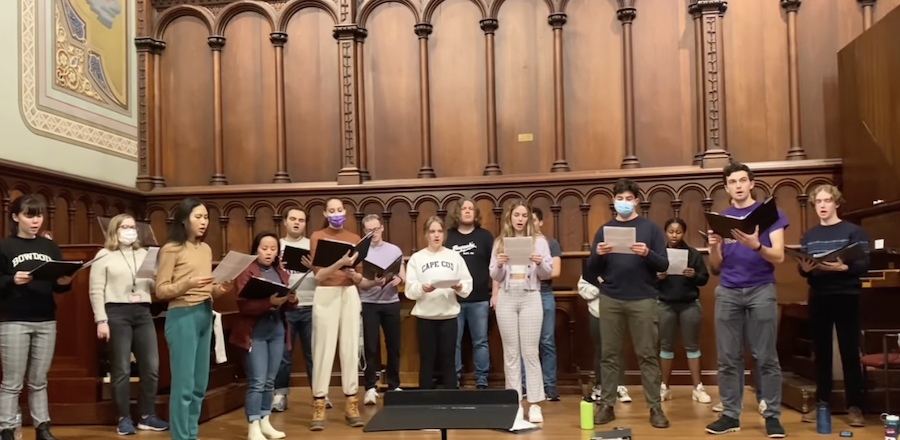 The Bowdoin Chamber Choir, under the direction of Jeff Christmas (with assistance from Logan Gillis '23), sang a program featuring works from choral giants Giovanni Pierluigi Palestrina and Healey Willan while also exploring new works by Rosephanye Powell, Sarah Quartel, Andrew Balfour, and Kathleen Allan. "Through these works we explore themes of gratitude and joy while also finding our way to reverence, reflection, and loss," Christmas said.
Watch a short rehearsal video.
Sopranos: Camille Beaulieu '25, Katalina Echavarri '24, Sydney Morrison '26, Ai Lee Woods '26, Sophia Hirst '24
Altos: Logan Gillis '23, Lia Scharnau '26, Rachea McDonald '26, Emma Hatt '22, Conger Zhang '22
Tenors: Philip Bonanno '23, Augie Segger '23, Brendan Hill '25, Sam Lakritz '23
Bass: Chunwen Ko '25, Thomas Mazzuchi '23, Jacob Goodman '26, Ben Sachs '26, Will Tran '26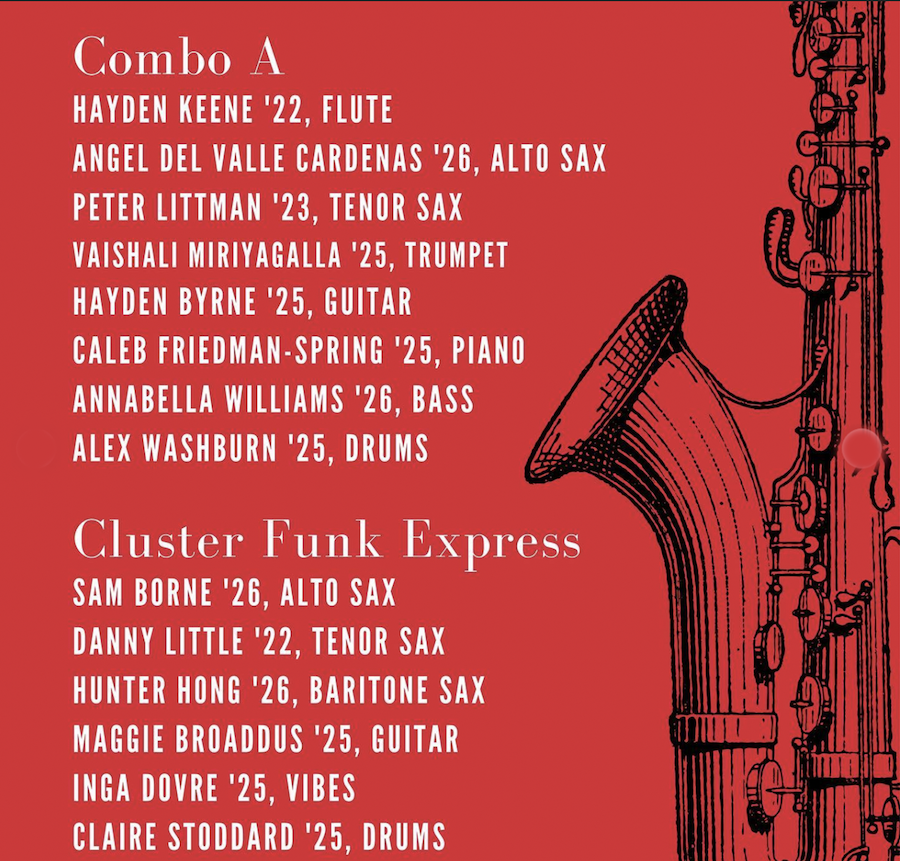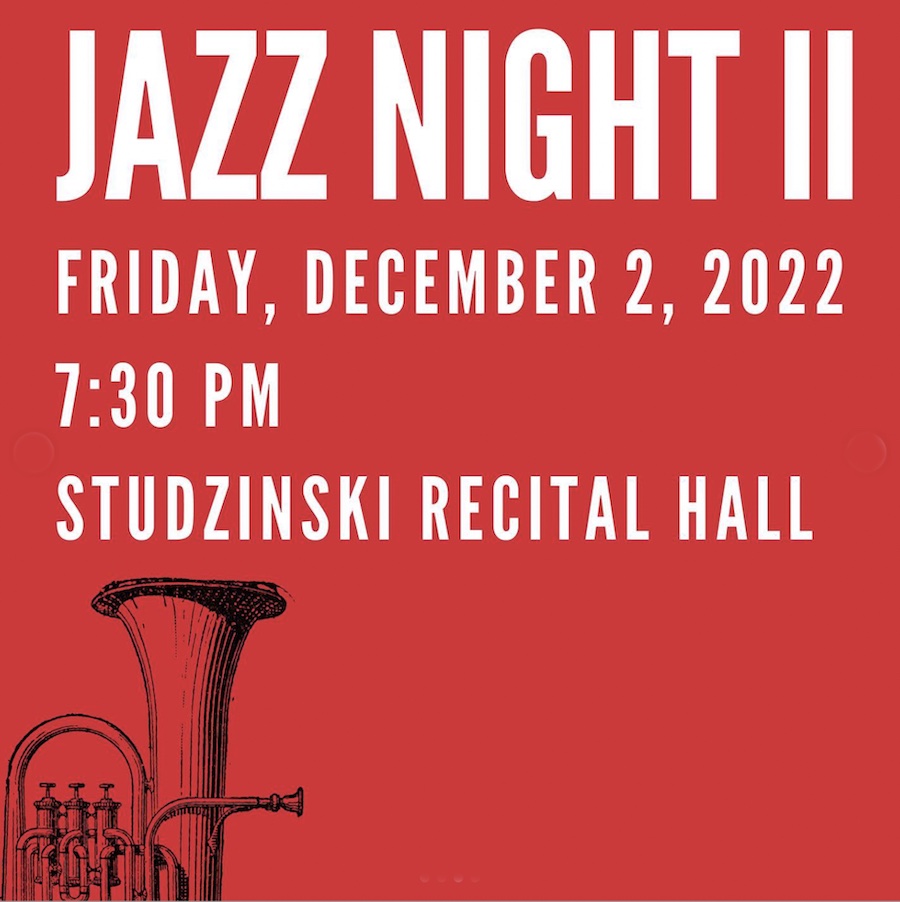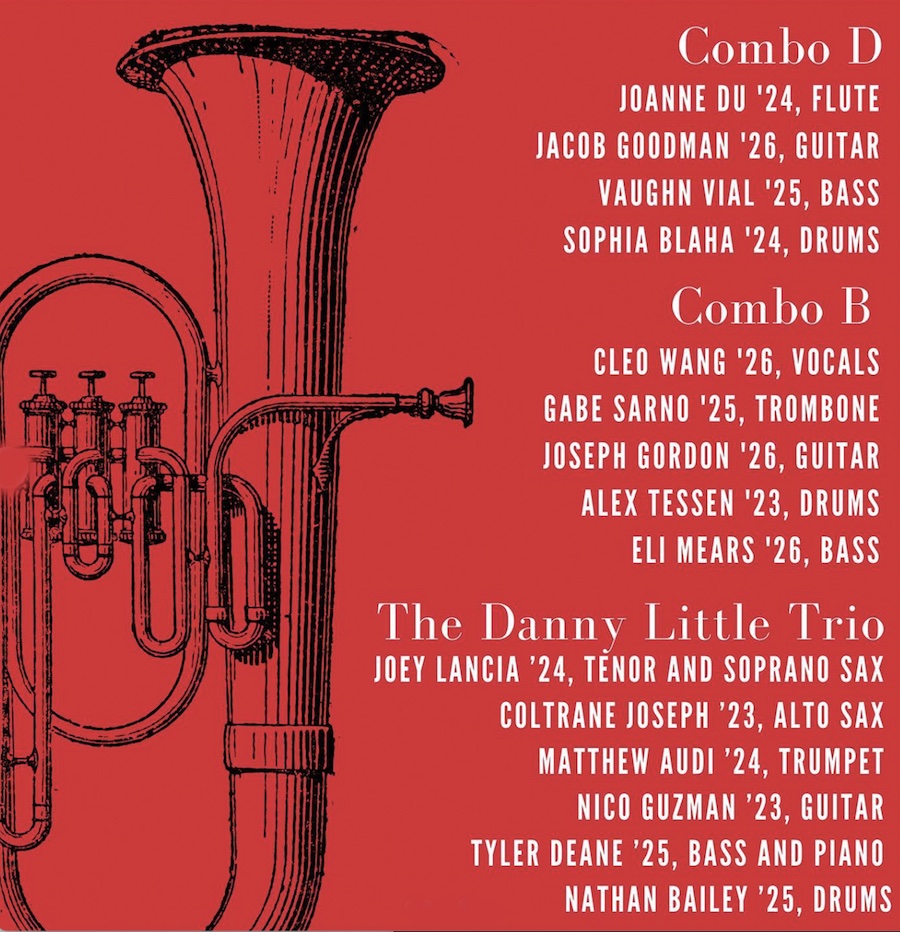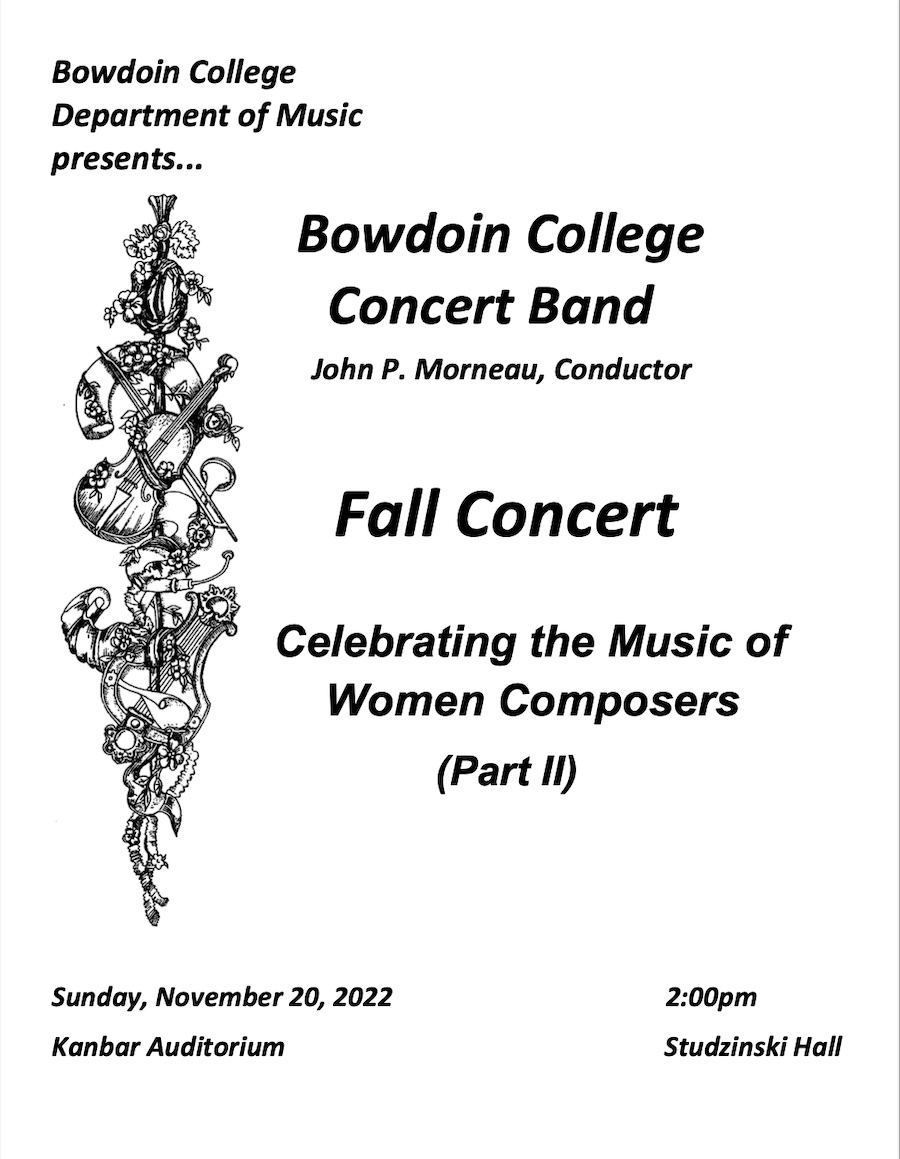 Bowdoin College Concert Band, conducted by John P. Morneau
The band combines student players and community musicians—even some high schoolers.
Piccolo: Alicia Scott
Flute: Elizabeth Chmielewski '26, Lily Janas '26, Subi Kalra '26, Katie King '23, Logan Mulkerin '26, Vanny Nelson '23, Caroline Daigle '20
Oboe: Robin Kenison
Bassoon: Maddie Wilkin '26, Noah Dsouza
Clarinet: Caity Berry '23, Daniel Chi '24, Mer Feero '23, Ayanna Hatton '24, Eleanor Hoff '26, Kayla Kulzy '26, Graham Lucas '26, Evan Lucca '25, Brady Nichols '24, Alec Rothkowitz '26
Bass Clarinet: Jean Quinn 
Trombone: Julia Dickinson '26, Sebastian Perez '25, Jesse Robertson '23, Edie Salzig '24, Wyatt Stone
Euphonium: Miles Benson '26
Tuba: Bella Tucci '23
String Bass: Sara Coughlin '26
Percussion: K Zhan '25, Anne‐Marie D'Amico, David Doyon, Hailey Francouer, Rusty Quinn, Will Wohler 
Piano: Ceren Sengun '26