From Soul Saving to Character Building: The Transformation of International Service at Bowdoin College
Before the First World War, Christian missionary work characterized college students' and recent graduates' international service activities. At Bowdoin College, support for Christian missions in various forms, such as missionary prayer groups and monetary support, was prevalent on campus from the early part of the nineteenth century until the beginning of the First World War. During the period between World Wars I and II, however, missionary activity dissolved mostly because of a national focus on the war effort and economic turmoil within the United States during the Great Depression. By the late 1950s, participation in international service once again became an increasingly popular undertaking for recent college graduates. By this time, though, the independent organizations they tended to serve with had few, if any, religious purposes. Instead, this form of secular international service was epitomized by the Peace Corps, which quickly recruited thousands of young volunteers, including many Bowdoin College graduates, following its establishment in 1961.
Why was the type of international service that emerged after the Second World War so different from the religious missionary activity that characterized this form of service prior to the war? One simple answer can be found in the secularization of higher education and American society more broadly, between the early part of the twentieth century and the 1950s. A more nuanced, and probably more accurate answer to this question, however, lies within changes that occurred in the field of international service prior to the period of secularization. Taking Bowdoin College's support for Christian missions as its central case, this study illustrates changes in ways that missionaries both approached their work and conceived of its purpose, paving the way for the emergence of secular international service in the post-World War II era.
As this 1967 letter from Joseph Chapon, the Peace Corps' northeast region director, highlights, Bowdoin alumni's participation in international service was not restricted to missionary work. Indeed, Chapon's claim that students "could both contribute to and benefit from a Peace Corps experience" provided Bowdoin graduates with a compelling rationale to engage in international service.
Article 12 of the Praying Society's constitution recommended that Bowdoin join other colleges with similar societies in their monthly concert of prayer for both the wellbeing of missionaries and the successful salvation of the "benighted heathens" with whom the missionaries worked. Members of the Praying Society frequently communicated with students from other colleges and were encouraged to spread the Christian message of salvation to their peers. Many students perceived missionary work as an extension of this form of evangelism.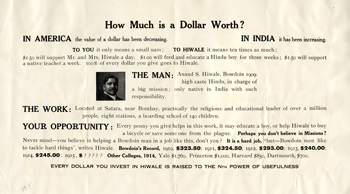 students pose with other members of the 1907 Maine State delegation to the YMCA's annual Northfield Conference. Historian David Setran notes that "the greatest legacy of the Northfield conferences related to their nourishment of the foreign missionary emphasis of the movement." Nevertheless, by the 1880s evangelism had begun to take the form of social activism while missionary work became focused on service and character development.
The Bowdoin YMCA distributed copies of this pamphlet in an effort to foster support for Bowdoin alumnus and missionary Anand S. Hiwale. In addition to demonstrating the YMCA's commitment to aid missionaries, the pamphlet also provides evidence of the association's emphasis on character development and service. Further, references to tangible contributions such as bicycles and medical assistance reflect the changing undertone of missionary work from pure evangelism to direct service.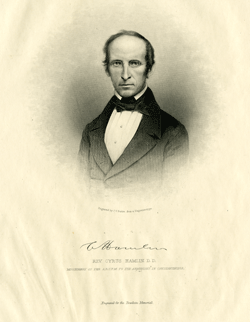 An active participant in Bowdoin's Praying Circle, Cyrus Hamlin (Class of 1834) pursued missionary work in Turkey following graduation. At first establishing a progressive school for Armenian boys, Hamlin later founded Robert College, one of the most prestigious institutions of higher learning in the Middle East.
Appearing in the February 18, 1910, issue of the Orient, this article named Bowdoin graduates who pursued missionary work throughout the world. It also encouraged current students to contribute financial support to the missionary cause. Finally, the article advertised the YMCA's mission study course, which was designed to increase students' understanding of missionary services.
Story by Suzanne Heller '09
Sources: Buttre, J.C. "Rev. Cyrus Hamlin D.D.," Images. Cyrus Hamlin Papers: Undated [M83.4], Bowdoin College Special Collections and Archives; "Maine Delegation to Northfield Conference," Images: 1907 [7882.1], Bowdoin College Special Collections and Archives; Joseph Chapon, Peace Corps "Letter to Pres. Coles from Chapon, 15 Feb 1967," James Stacy Coles Administrative Records: 1952-1979 [1.2.9.4], Bowdoin College Special Collections and Archives; "YMCA Dollar Worth Pamphlet," Bowdoin Student Groups and Organizations Records: Circa 1914 [4.8.10], Bowdoin College Special Collections and Archives; "Praying Society Constitution," Bowdoin Student Groups and Organizations Records: 1815 [4.8.17], Bowdoin College Special Collections and Archives; "Bowdoin In the East" The Bowdoin Orient, 18 February 1910.