Joseph McKeen Biography
The concept of "the common good" as a guiding principle for Bowdoin College was framed by Joseph McKeen, the College's first president, in his inaugural address on September 2, 1802:
"… It ought always to be remembered, that literary institutions are founded and endowed for the common good, and not for the private advantage of those who resort to them for education."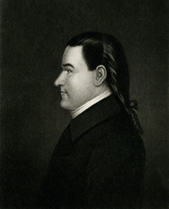 McKeen was born in 1757 in Londonderry, New Hampshire, the son of Irish emigrants.  He was graduated from Dartmouth College in 1774 and spent the next eight years teaching school in his home town and serving briefly as a volunteer during the American Revolution.  Subsequently, he moved to Cambridge, Massachusetts, to pursue private studies in mathematics, astronomy, and theology.  Then, in 1785, after a few terms teaching at Phillips Academy in Andover, McKeen was called to minister to the large and wealthy Congregationalist Parish of Lower Beverly, Massachusetts.  He presided over that congregation for sixteen years, simultaneously pursuing his scholarly interests.
In the same year that he began his ministry in Beverly, the Rev. McKeen was married to Alice Anderson.  They had three sons, Joseph, John, and James (two eventually went to Bowdoin—John [Class of 1811] and James [Class of 1817]), and two daughters, Alice and Nancy.
McKeen's reputation as erudite, moderate in his political and theological views, affable but commanding, and a capable administrator made him an attractive candidate to Bowdoin College's Governing Boards as they sought a president for their nascent institution.  Successful negotiations ($1,000 per year in salary, 1,000 acres of land, moving expenses, and a campus residence) culminated in 1802 with the McKeen family's moving into the partially completed Massachusetts Hall—the only college building at the time, which also served as chapel, student housing, and classroom—until the President's House (located near what is now Searles Hall) was completed.

McKeen's presidential appointment put in motion the actual being—the prescribed teaching and learning—of the College, realizing the goal that the Governing Boards had sought for more than a decade.  As president, McKeen set not only a tone for the character of the College, but also high standards for admission and for the curriculum.  McKeen's emphasis on mathematics, and a teaching style that introduced examples into what previously had been a purely recitative process, set a progressive trend that peer institutions adopted only later.
The day after President McKeen delivered his inaugural address in September of 1802, eight students were admitted to the College's first class; four years later, he presided over the College's first commencement.  Soon after, however, what by all accounts had been an exemplary presidential administration came to a premature end.  On July 15, 1807, McKeen, who had suffered from "dropsy" [edema] during the previous year, succumbed to that disease.  His remains are interred in Pine Grove Cemetery, adjacent to the College campus, while his legacy at Bowdoin in applying higher education for the public good endures.
Further Readings
Calhoun, Charles.  A Small College in Maine.  Brunswick, Me.:  Bowdoin College, 1993.
Cleaveland, Nehemiah, and Alpheus Spring Packard.  History of Bowdoin College.  Boston:  Osgood, 1882.
Hatch, Louis C.  The History of Bowdoin College.  Portland, Me.:  Loring, Short & Harmon, 1927.
Little, George T.  "Historical Sketch."  General Catalogue of Bowdoin College and the School of Maine, 1794-1894.  Brunswick, Me.:  The College, 1894.
McKeen, Joseph.  Administrative Records [1.2.1].  George J. Mitchell Department of Special Collections & Archives.  Bowdoin College. Brunswick, Me.
McKeen, Joseph.  Collection [M117].  George J. Mitchell Department of Special Collections & Archives.  Bowdoin College. Brunswick, Me.
Sills, Kenneth C. M.  Joseph McKeen (1757-1807) and the Beginnings of Bowdoin College, 1802.  New York:  Newcomen Society, 1945.
Text and images courtesy of the George J. Mitchell Department of Special Collections and Archives.