Public Engagement in the 21st Century
In 1972, a group of Bowdoin students who volunteered in the Brunswick community sought to make service opportunities available to other students.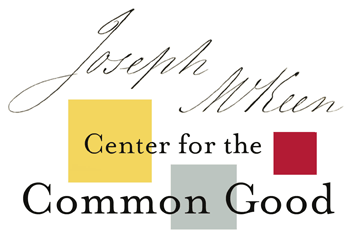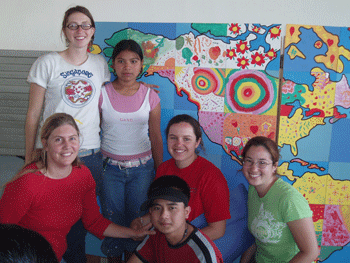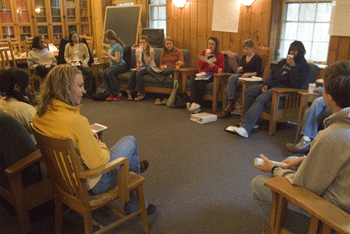 With Professor of Education Paul Hazelton and Department Coordinator Ann Pierson, they created the Voluntary Services Program (VSP) Committee. Comprised of student leaders and advised by Pierson, VSP increased the visibility of community service opportunities. As a result, the number of students participating in service activities increased dramatically. After Pierson retired, Elsa Martz, physics department coordinator, became the students' adviser, and remained so through 1995 when administrative changes led to the dissolution of VSP.
Several years later, Bowdoin's first AmeriCorps*VISTA member Lydia Bell (Class of 2000) gathered student leaders of service organizations from across campus and brought student volunteerism together with oversight of Common Good Day and the America Reads tutoring program. In 2001, the College allocated space in Coles Tower as a central meeting place for students and community members; Bell and student leaders decided to call it the Community Service Resource Center (CSRC). Bell accompanied students to Peru for the first Alternative Spring Break (ASB) trip and piloted the Common Good Grant Committee.
Concurrently, faculty members became interested in the pedagogy of service learning as a way to connect course learning objectives to community needs. A committee of faculty and staff from Geology, Sociology, and Environmental Studies worked to establish an annual symposium to highlight service learning course projects and to provide support for other interested faculty.
In 2003, with Susie Dorn's appointment as director of the CSRC, multiple one year VISTA volunteers (all Bowdoin graduates) helped build capacity within the CSRC to accommodate a significant increase in student volunteers and the growing number of faculty interested in service learning, while simultaneously introducing a leadership development program. During this time, ASB trips rose from one to six annually, student involvement in the community tripled, and the number of service learning courses increased from five to nearly twenty a year.
By establishing the Joseph McKeen Center for the Common Good, Bowdoin College has once again recognized the importance of both student leadership and faculty initiative in its commitment to advancing the common good, as first articulated by Joseph McKeen in 1802.
Since 2002, student members of the Common Good Grant Committee (pictured above) and the Common Good Grant Extension Committee have contributed over $90,000 to fund 57 different projects in local non-profit organizations.
The mission of the Joseph McKeen Center for the Common Good is to provide opportunities for students to discover the ways in which their talents, passions, and academic pursuits can be used for the benefit of society through public engagement.
In 2003, the CSRC partnered with the organization Safe Passage to hold Bowdoin College's second Alternative Spring Break trip. Founded by the late Hanley Denning (bottom, left), a member of the Class of 1992 and recipient of the Bowdoin College Common Good Award, Safe Passage provides education and health services for children living in the Guatemala City dump.
Working in partnership with Big Brothers Big Sisters of Bath/Brunswick, approximately 200 Bowdoin students currently serve as mentors to local children through eight student-led mentoring programs.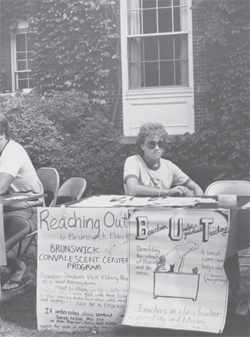 This photo (circa 1983) depicts student volunteer programs advertised at the Student Activities Fair. At the time, seven student-led volunteer organizations addressed a variety of community issues. Today, 30 student-led service programs partner with community organizations to meet dozens of local and regional needs.
Many thanks to the following people for their support in developing this project:
- James Baumberger (Class of 2006), Dustin Brooks (Class of 2008), Megan Brunmier (Class of 2008), Bobby Guerette (Class of 2007), Suzanne Heller (Class of 2009), Luke McKay (Class of 2008), Mary Helen Miller (Class of 2009), Cati Mitchell (Class of 2009), Allie Ruane (Class of 2009), and Elyse Terry (Class of 2011) all graciously agreed to contribute their research to the display.
- The Bowdoin College Office of the Dean for Academic Affairs, the Community Service Resource Center, and Information Technology (through the Gibbons Summer Research Program) generously provided financial resources to accomplish this project.
- Susie Dorn (Director, Joseph McKeen Center for the Common Good), Craig McKewen (Senior Faculty Fellow, Joseph McKeen Center for the Common Good), and Jennifer Snow (Information Technology Educational Research Consultant) provided important guidance and support.
- Richard Lindemann (Director, George J. Mitchell Department of Special Collections and Archives) and Caroline Moseley (Special Collections Processing Archivist) were flexible, patient, and generous with their time in developing both this display and an accompanying archival exhibit located on the second floor of Hawthorne-Longfellow Library.
- Angela Fabunan (Class of 2011) provided the technical expertise necessary to design and implement this display's layout. She also assisted in identifying and writing captions for many of the images used in this project.
- Elyse Terry (Class of 2011) deserves special recognition for her commitment and excellent work in bringing this project to fruition. Without her diligence, efficiency, and attention to detail, this project simply would not have been completed.
Sources: "Community Service," Images: Undated, [7644], Bowdoin College Special Collections and Archives; Photographs courtesy of Bowdoin Magazine and the Joseph McKeen Center for the Common Good.