Academic Technology and Consulting
Through our Academic Technology & Consulting department, we engage with students, connect and collaborate with faculty, to enhance their academic work and research with technology.
Our AT&C (ATC) Guiding Principles
ATC enhances the educational experience with new and innovative technologies.
We tighten the connection between faculty and students through technology.
ATC drives technological collaboration among academic departments, the Library, and IT.
We expand the reach of the college (e.g. by enabling and promoting faculty and student research)
Academic Support
From data mining to multimedia production, opportunities to explore and develop cutting-edge skills are here. Learn more about support for technical projects available on campus.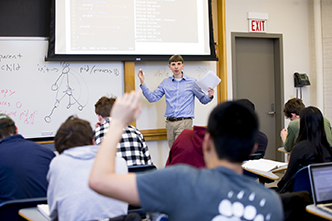 Project Showcase
When technology is used to engage students in new ways, the results are striking. See examples of extraordinary work being done at Bowdoin today.
Throughout the year Academic Technology and Consulting offers a variety of workshops and open labs for faculty in support of technology tools used in teaching and learning.