Resources
A range of technology resources encourage innovation, independent thinking, and creativity, both inside and outside the classroom.
Media Commons and Computer Labs
Digital learning shapes physical spaces. With student and faculty input, Bowdoin rethinks how classrooms should function, change, and develop. Learn more about the Media Commons and computer labs on campus.
High Performance Computing
If you think high performance computing (HPC) seems like an unusual resource to find at a liberal arts college, you're right. But, faculty and students see it as a natural fit. Learn more about the HPC environment, aka "The Grid".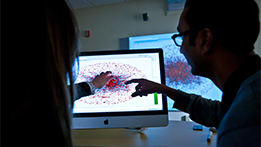 Innovation Lab
Find "outside-the-box" projects such as 3D printed objects, virtual reality, or an augmented reality sandbox that demonstrates hydrological and geological concepts in the Innovation Lab on the first floor of Jewett Hall.