A commitment to financial aid isn't just about the kinds of families we want to help—it defines the kind of college that we strive to be.
"This is not a video about financial aid."
---
Roughly half of Bowdoin students now receive financial aid, and the College will distribute more than $41 million in aid this year. Every economic and demographic forecast suggests that both of these numbers will continue to rise.
With endowment distribution providing almost three-quarters of the financial aid budget, $200 million in new aid endowment is not a luxury, but an imperative.
---
There is no single type of student who receives aid at Bowdoin. Aided families send their children from rural and urban areas, from five miles to five thousand miles away. The students who benefit from Bowdoin's generous financial aid policies are gifted scholars, musicians, athletes, artists, and poets.
There is only one thing that they all have in common: limitless potential.
This is our promise: that family income will never be a barrier to attending the College, or to a full Bowdoin experience.
The campaign will provide $200 million in new endowment for financial aid. This funding will enable the College to honor its commitment to admit the most accomplished students and meet their full demonstrated need with grant packages, rather than loans.
---
FY2018 Endowment Per Student
Source: FY 2017–2018 Audited Financial Statements
---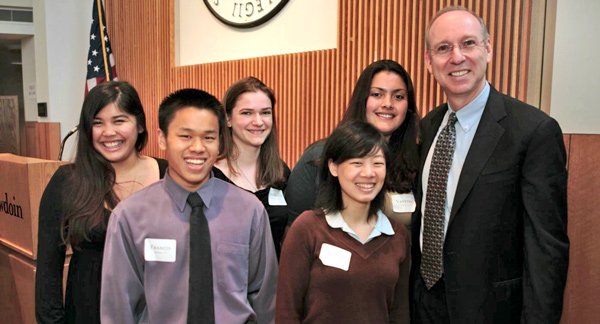 "Scholarships, at least for me, have been the way to give back to Bowdoin. Having received one, I am now in a position where I can afford to provide money so that others can enjoy this type of education."
—Sheldon Stone '74, H'19