50th Anniversary

Join us as we celebrate our 50th anniversary! Throughout the year, we will be reflecting on the past half-century of environmental studies at Bowdoin, as well as looking at the progress—and setbacks—of the environmental movement at large. We also will direct our attention to the future and consider the important ways a liberal arts college can contribute to the complex but critical protection of our natural world.
Upcoming Events
Keynote Address with Teona Williams '12
"'We're Gonna Be Okay Now': Lessons Learned from a Bowdoin Environmental Studies Alumna"
Thursday, April 13 at 7:30 p.m.
Kresge Auditorium, Visual Arts Center
Teona Williams is a Presidential Postdoctoral Fellow in the Department of Geography at Rutgers University and will be Assistant Professor of Geography beginning in Fall 2024. Her work revolves around Black Geographies, 20th century African American and environmental history, and Black feminist theory. She completed her doctoral degree at Yale University in the Departments of African American Studies and History and a master's degree in Environmental Justice at the University of Michigan Ann Arbor.

In 2018, she won the Clyde Woods Prize for best graduate paper in Black Geographies, for her essay "For Peace, Quiet, and Respect': Race, Policing, and Land Grabbing on Chicago's South side," published by Antipode in March 2021. She is also the author of the essay, "Islands of Freedom: The struggle to desegregate Shenandoah and Great Smoky Mountain National Park 1936-1941," in the forthcoming edited collection Not Just Green, Not Just White: Race, Justice, Environmental History, which will be published in 2023.
Before her current career as a scholar, Teona Williams was an Environmental Studies-History coordinate major and Africana Studies minor and a Mellon Mays Undergraduate Fellow at Bowdoin. In her keynote address, she will trace her journey to, through, and beyond the college—from her home in Washington D.C. and her four years in Brunswick to her environmental justice activism in Flint, Michigan and Jackson, Mississippi—and explore how her work as a scholar, activist, and teacher is rooted in the liberal arts. She will also discuss her research on a cadre of rural Black feminists, including Fannie Lou Hamer and June Jordan, who articulated expansive visions of environmental justice that encompassed food sovereignty, disaster relief, universal basic income, radical land reform, and access to food and clean water.

Please join us!
Register on CampusGroups here (registration preferred, but not required to attend)
50th Anniversary Symposium: Alumni Panels
Friday, April 14 | 9:00 a.m.- 3:45 p.m.
Smith Auditorium, Sills Hall
Join us for panels on Environmental Storytelling, Climate Change and Sustainability, and Urban Environments and Planning. Symposium Details
---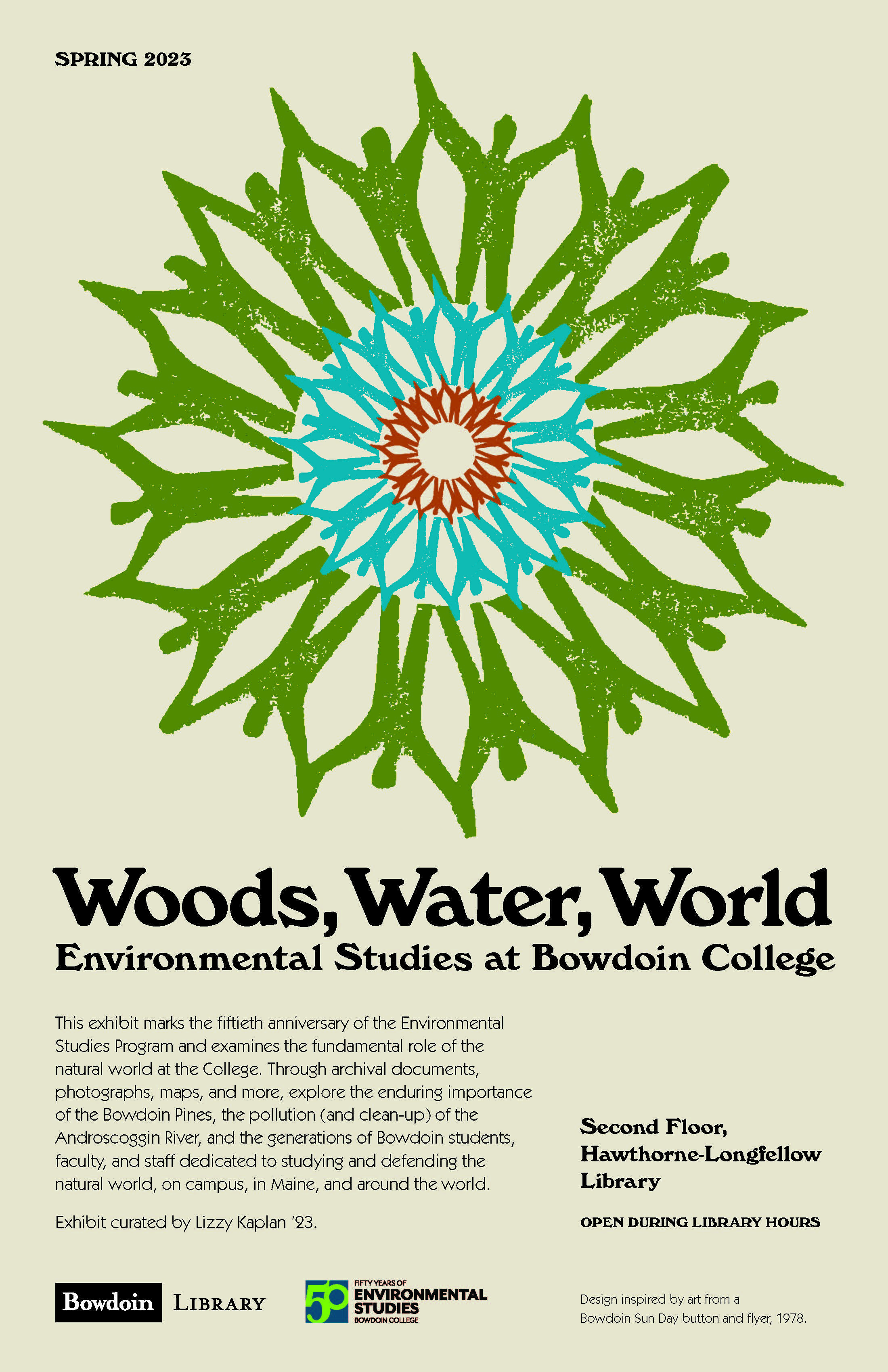 Exhibitions
Woods, Water, World: Environmental Studies at Bowdoin College
Curated by Lizzy Kaplan '23

Exhibit Open House: Friday, April 21, 2023 | 12:30 p.m.-2:00 p.m. Remarks at 1:00 p.m.
On display January 24-June 4, 2023
George J. Mitchell Department of Special Collections & Archives
Through archival documents, photographs, maps, and more from George J. Mitchell Department of Special Collections and Archives, this exhibit marks the 50th anniversary of the Environmental Studies Program and examines the fundamental role of the natural world at the College. Topics include the Bowdoin Pines, the pollution (and clean-up) of the Androscoggin River, and the generations of Bowdoin students, faculty, and staff dedicated to studying and defending the natural world, on campus, in Maine, and around the world.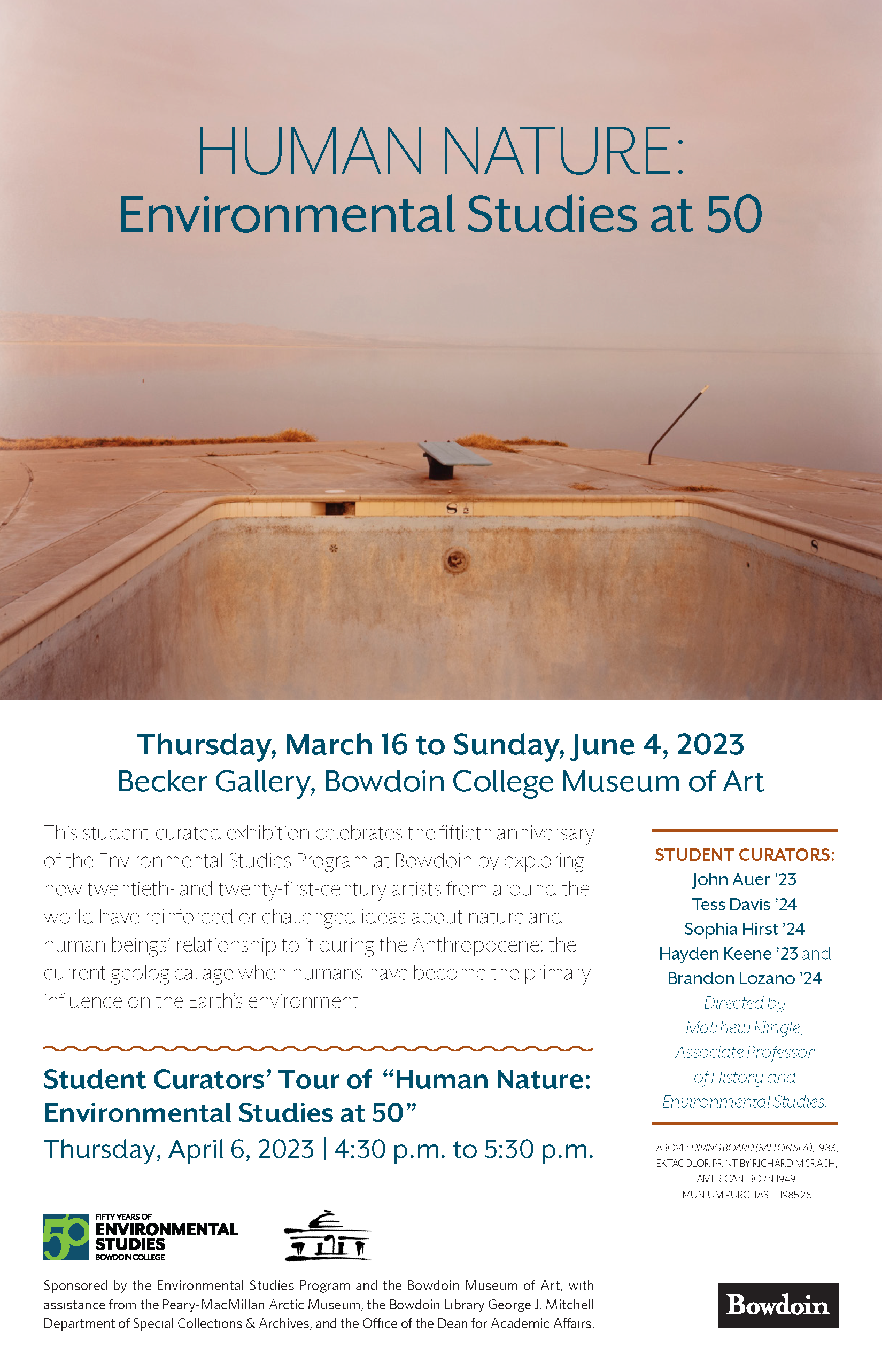 Curated by John Auer '23, Tess Davis '24, Sophia Hirst '24, Hayden Keene '23, Brandon Lozano '24, and Associate Professor of History and Environmental Studies Matthew Klingle
Student Curators' Tour of the exhibit, Thursday, April 6, 2023 | 4:30 p.m.-5:30 p.m.
On display March 16, 2023–June 4, 2023
Becker Gallery, Bowdoin College Museum of Art
This exhibition explores how twentieth-century artists have reinforced or challenged ideas about nature and human beings' relationship to it.  Drawing from works by a diverse range of artists from collections in the Bowdoin College Museum of Art, the George J. Mitchell Department of Special Collections and Archives, and the Peary-MacMillan Arctic Museum, Human Nature investigates such themes as race, labor, gender, consumption, technology, indigeneity, and migration and illuminates the contradictions and complexities of the Anthropocene: the current geological age when human activity has been the primary influence on the planet's climate and environment.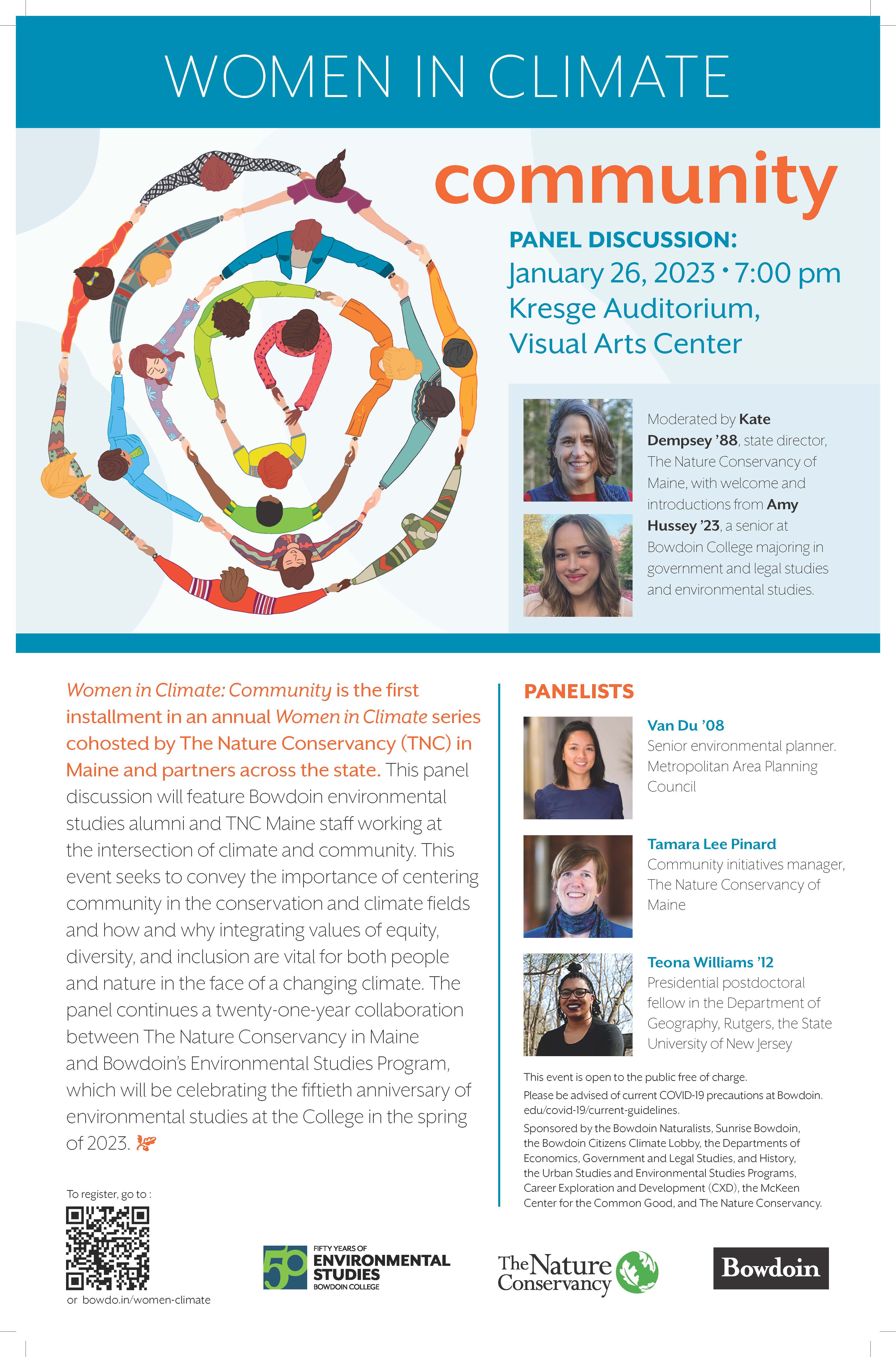 Past Events
Thursday, January 26 at 7:00 p.m.
Kresge Auditorium, Visual Arts Center
Women in Climate: Community was the first installment in an annual Women in Climate series for The Nature Conservancy in Maine. This panel discussion featured Bowdoin Environmental Studies alumni and TNC Maine staff working at the intersection of climate and community. This event sought to convey the importance of centering community in the conservation and climate fields and how and why integrating values of equity, diversity, and inclusion are vital for both people and nature in the face of a changing climate. Read more about this event in this story.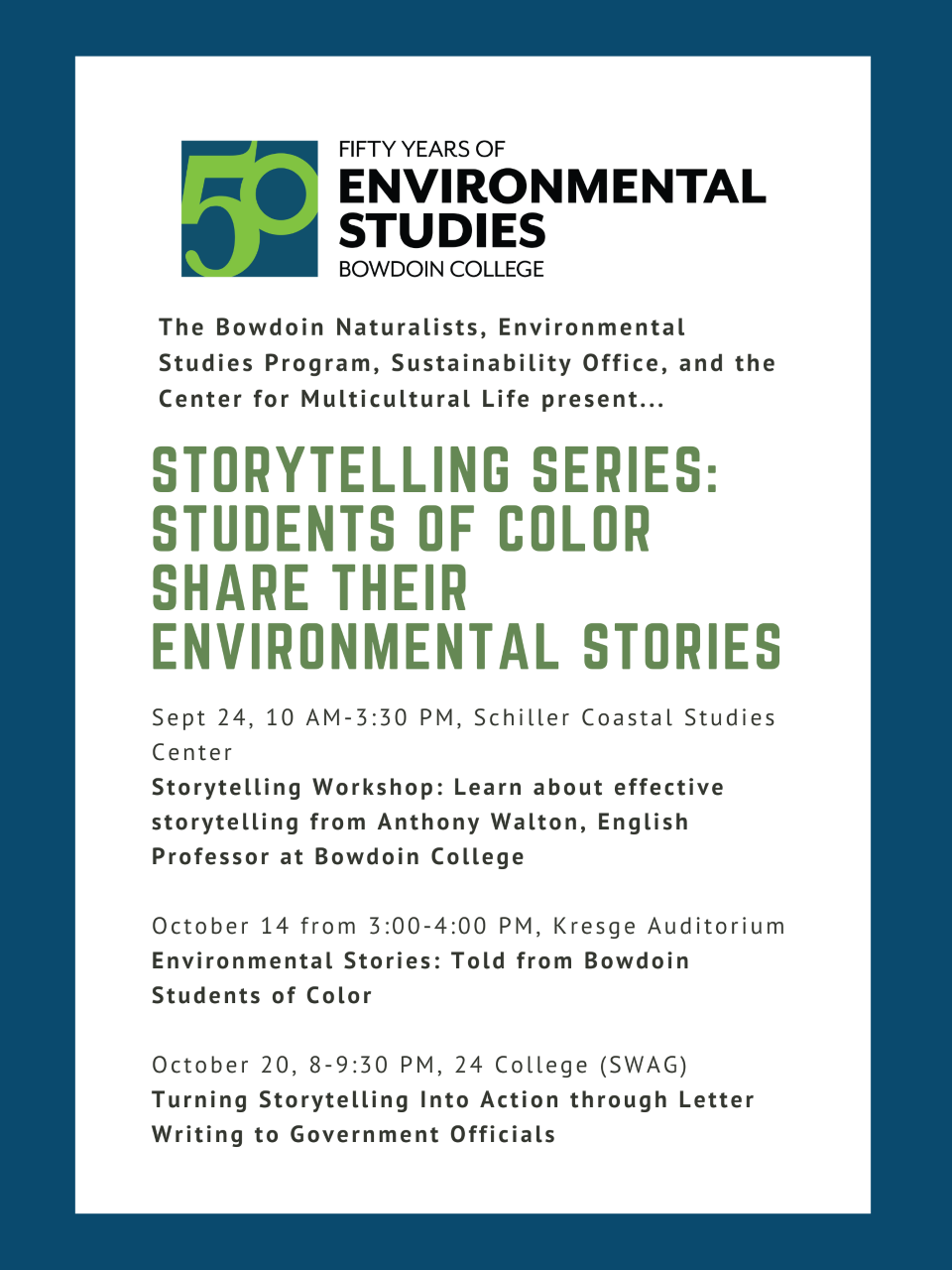 Environmental Storytelling Series
November 5, 10, and 17

The Bowdoin Naturalists, Environmental Studies Program, Sustainability Office, and Center for Multicultural Life present the series "Students of Color Share their Environmental Stories." The three-part program consists of a writing workshop taught by Senior Writer-in-Residence Anthony Walton, an evening of sharing stories, and a letter-writing event where students turn their personal stories into action by composing letters to political representatives.
Event Series Recap: Kellie Navarro '23 Launches Environmental Storytelling Series for Students of Color