50th Anniversary Symposium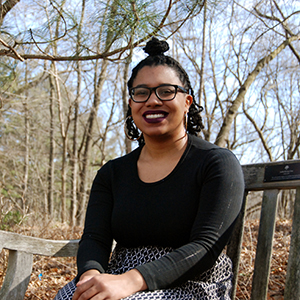 Keynote Address with Teona Williams '12
Thursday, April 13, 7:00 p.m.
Roux Center for the Environment Lantern

Teona Williams is a Presidential Postdoctoral Fellow in the Department of Geography at Rutgers University. Her work revolves around Black Geographies, 20th century African American and environmental history, and Black feminist theory. Her current work explores the role of disaster and hunger, in shaping Black feminist ecologies from 1930-1990s. Specifically, she follows a cadre of rural Black feminists who articulated visions of food sovereignty, overhauled antiblack disaster relief, and vigorously fought for universal basic income, radical land reform, and food and clean water access as a human right. Prior to Rutgers, she received her doctoral degree at Yale University in the departments of African American Studies and History. She also completed a master's degree in Environmental Justice at the University of Michigan Ann Arbor, and a bachelor's degree in Environmental Studies and History, and a minor in Africana Studies from Bowdoin College in 2012.
In 2017, she won the Clyde Woods Prize for best graduate paper in Black Geographies, for her paper "Build A Wall Around Hyde Park:" Race, Space and Policing on the Southside of Chicago 1950-2010, published by The Antipode in March 2020. She is the author of the essay "Islands of Freedom: The struggle to desegregate Shenandoah and Great Smoky Mountain National Park 1936-1941" in the forthcoming edited collection Not Just Green, Not Just White: Race, Justice, Environmental History, which will be released in 2023.
Environmental Storytelling Panel
Friday, April 14, 9:15 a.m.–10:45 a.m.
Location TBD
Moderator: Eileen Johnson, Senior Lecturer of Environmental Studies
Panelists
Erica Berry '14 (ES/English major, History minor): Writer, teacher, researcher, editor
Emily Guerin '09 (ES/History major, Spanish minor): Senior podcast producer at LAist Studios, part of the Los Angeles NPR-member station KPCC
Nat Herz '09 (ES/History major): Reporter, Alaska Public Media
Corbin Hiar '05 (ES/Government & Legal Studies, Economics minor): Business reporter, E&E News, Politico
Climate Change and Sustainability Panel

Friday, April 14, 11:00 a.m.–12:30 p.m.
Location TBD
Moderator: Phil Camill, Rusack Professor of Environmental Studies and Earth and Oceanographic Science

Panelists
Hannah Berman '18 (ES/Econ major, Education minor): Senior Manager, Sustainability and Philanthropy, Aspen Skiing Company
Payton Deeks '99 (ES/Biology): Evaluation Specialist at Asian Development Bank, Bangkok Metropolitan Area
Alison Flint '05 (ES/History): Senior Legal Director, Wilderness Society
Greg Goldsmith '05: Assistant Professor, Schmid College of Science and Technology at Chapman University
Brooks Winner '10: Senior Clean Energy Specialist at the Metropolitan Area Planning Council, the regional planning agency for the 101 cities and towns of Metro Boston 
Environmental Design and Planning Panel
Friday, April 14, 2:15 p.m.–3:45 p.m.
Location TBD
Moderator: Jill Pearlman, Senior Lecturer of Environmental Studies
Panelists:
Dr. Sam Brody '92 (ES/Anthropology): Professor of Marine and Coastal Environmental Science, George P. Mitchell Endowed Chair in Sustainable Coasts; Director of the Center for Texas Beaches and Shores, Texas A&M University, Galveston
Grace Cho '05 (ES/ History): Transportation Planner at Metro, Portland, Oregon
Adrienne Heflich '05 (ES/ Visual Art): Senior Associate, Michael Van Valkenburgh Associates, Inc.
Symone Howard '15 (ES/ Sociology): Environmental Protection Specialist, US DOT Volpe National Transportation Systems Center
Networking Mixer 

Friday, April 14, 4:00 p.m.Roux Center for the Environment, Lantern

Environmental Studies student and alumni gather for an informal networking meet & greet. Refreshments will be served.