Student Research and Honors Projects
Examples of student research, including fellowships and honors projects.

Harry Cooper '22: Forest Carbon Sequestration at the Schiller Coastal Studies Center
After taking a geographic information system (GIS) class last year with Eileen Johnson in which he worked on a community-based project for a local land trust—as well as ENVS2201: Perspectives in Environmental Science —Cooper decided to look deeper into the subject this summer. With Bowdoin's sustainability office and environmenal studies, he undertook the arduous task of calculating the amount of carbon being absorbed by trees at the Schiller Coastal Studies Center in Harpswell.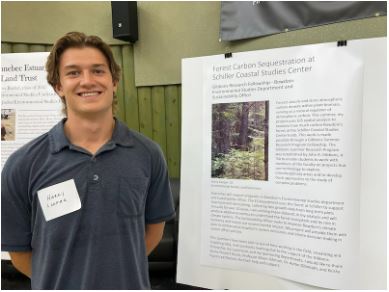 "I thought it would be a fun idea, and I would learn a lot of GIS and statistics I wouldn't get exposed to in my coursework," he said. "I felt like I was stepping out of what I know—I'm an economics-focused student. And I have learned a lot about forest management and how the industry is using GIS."

He spent much of his summer in four long-term research plots at Schiller, taking new measurements of trunk diameters. Additionally, he used lidar—light detection and ranging—data to model the canopy height and other forest characteristics. Then he used his data points to extrapolate across the rest of the forest at the 118-acre center to estimate the total amount of biomass and how much carbon is held in that mass.

It is too early to reveal his results yet, as he is running his model now. The purpose of gathering this information is to potentially consider the forest as an offset for carbon emissions, and as a creative talking point, he said. "So we can say Bowdoin emits this many Coastal Studies Center's worth of emissions," he explained. "It's a way to make the idea of carbon, which is an abstract, more tangible."
Advisors: Shana Stewart Deeds, Keisha Payson, Philip Camill

Lauren Caffe '22: Unnatural Disaster Story 3.0: Documenting how Climate Change Continues to Take its Toll on Wildlife and Human Communities

In the midst of a historic summer of wildfire, drought, and extreme heat, the National Wildlife Federation has released the third iteration of Unnatural Disasters, an interactive story map that illustrates how recent extreme weather events are affecting wildlife and human communities across the United States.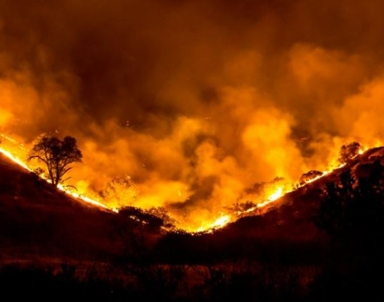 We call these "unnatural" disasters because they have been worsened by human-caused climate change. This new version adds dozens of new examples to the map that have occurred over the last two years, a reflection of how increasingly common they have become.
This year, alone, has offered plenty of examples so far. Much of the West is currently suffering through a historic wildfire season, record-breaking heat waves and drought are damaging fragile ecosystems and killing wildlife, and the current hurricane season could rival last year's devastating pace.
The map makes clear that no part of the country remains untouched by the impacts of climate change, nor the planet as a whole. Yet, some areas and communities bear the burden more than others. The latest version acknowledges this, including for the first time a discussion of how climate-fueled disasters disproportionately impact the same low-income or communities of color that have historically suffered from environmental injustice.
Mariah McKenzie '23: Charge Delocalization of Heterocyclic Amines and their Sorption to Soils

"In both the environment and material world, pesticides, pharmaceuticals, and personal care products(PPCPs) have become more prevalent. Many of these PPCPs contain heterocyclic amine functional groups that become cationic within environmentally relevant pH of 3-9.
 I am focusing on once these PPCPs find their way into water (whether through run-off or wastewater), how do these cationic heterocyclic amines transfer or sorb onto the soil? This sorption informs us of their potential harm and environmental fate.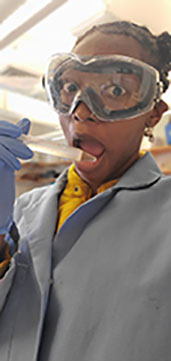 Given the extensive differences in amine order, size, shape, and other structural components between all cationic heterocyclic amines, it is important to model how each of these compounds would sorb to the soil. The most current model uses a mechanism specific probe, phenyltrimethyammonium (PTMA), and scaling factors to account for structural differences. PTMA was determined as a good probe for determining the sorption of non-heterocyclic amines, though I am working to determine if PTMA is a good probe for heterocyclic amines.
 To do this, my research delves into the underlying factors that drives sorption and the greatest driver is the positive charge delocalization of the amine through its aromatic rings. I have found that compounds that are more positive charge delocalized have a higher affinity to stay within the soil and its mechanism to do so can be adequately modeled with PTMA. 
I am specifically looking at the effect of charge delocalization using three heterocyclic amine substructures - isoquinoline (ISQN), 1,2,3,4-tetrahydroisoquinoline (1,2,3,4-THIQ), and 5,6,7,8-tetrahydroisoquinoline (5,6,7,8-THIQ). Isoquinoline is the most charged delocalized, 5,6,7,8-THIQ is the second most charge delocalized, and 1,2,3,4-THIQ is the least charged delocalized. I have found that between ISQN and 5,6,7,8-THIQ, the sorb to soil through the same mechanism to similar sites, so ISQN having a greater positive charge delocalization affords it greater sorption to the soils. I also found that PTMA is a good probe for both ISQN and 5,6,7,8-THIQ since all three sorb to similar sites through the same mechanism. 1,2,3,4-THIQ sorbs to different sites according to my preliminary data, thus the effects of charge delocalization increasing sorption is less clear as of now." 
This research, conducted in the Vasudevan 'Dirt Lab', is the focus of Mariah's honors project in chemistry. Mariah is working under the direction of Stanley F. Druckenmiller Professor of Chemistry and Environmental Studies Dharni Vasudevan.
Professor Phil Camill and Ana Gunther travel to Baffin Island for clues of climate change impacts on landscapes 

In July of 2022, professor Phil Camill and Ana Gunther '23 (Environmental Studies/Earth & Oceanographic Science major) traveled to Canada's Baffin Island, searching for color amid its remote and rocky terrain. What they discovered far exceeded their expectations.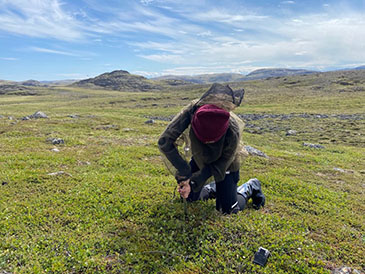 Soon after arriving in Iqaluit, Baffin's main town, Camill and Gunther knew they were in a land changing more quickly and dramatically than they had anticipated.
With colleagues and students, Camill frequently travels to the Arctic in the summertime to collect soil samples, which provide clues about how warming is affecting landscapes and their carbon dynamics, and how landscapes in turn are feeding back on climate change.
Each time he heads north, he collects more data and publishes new findings, adding new pieces of knowledge to our understanding of how global warming is progressing.
But on this trip, the finding was on a grander scale than usual. "As a scientist, this is kind of a special discovery, to be able to say, 'Wow, there is a really important peat moss group in an area that no one has really talked about." Read the full story here.