Mail Center
The Mail Center handles all of the primary incoming and outgoing mail and most of the domestic and international shipping needs for the Bowdoin community. Students, faculty and staff can use the Mail Center services.
The Mail Center Annex will be open on Labor Day from 9am - 5pm for student package pickup ONLY.
The campus mail run and the main Mail Center office for outgoing shipments will be closed on Labor Day. Mail Center operations will continue as usual on Tuesday, September 5th.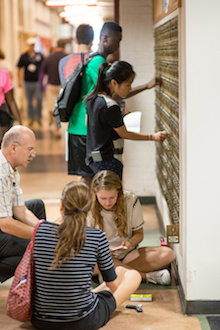 The following is general information about mail and shipping services at Bowdoin:
Student mail (packages, letters, etc.) is received daily with item receipt notifications emailed to students Monday–Friday.
Faculty/staff mail is delivered to and picked up from departments daily, Monday–Friday.
Both ground and express shipping is available through a variety of carriers.
Packaging materials including boxes, padded mailers, small, medium and large envelopes, bubble wrap and packing tape are available. A limited size range of free packing materials are available when shipping via FedEx (express) and U.S. Postal Service Priority Mail.
In our commitment to help the environment, we also keep an ever-changing assortment of free, gently used boxes and packing material available to staff and students.
Stamps are available in a variety of commonly used denominations.