Published March 17, 2023 by Jane Godiner '23
Lucia Gagliardone '20 Prepares for New York City Dance Piece Debut
Lucia Gagliardone '20, a dance and sociology major during her time at Bowdoin and a dancer since she was three years old, has put on eleven of her own choreographed dance works—and is now preparing for her twelfth.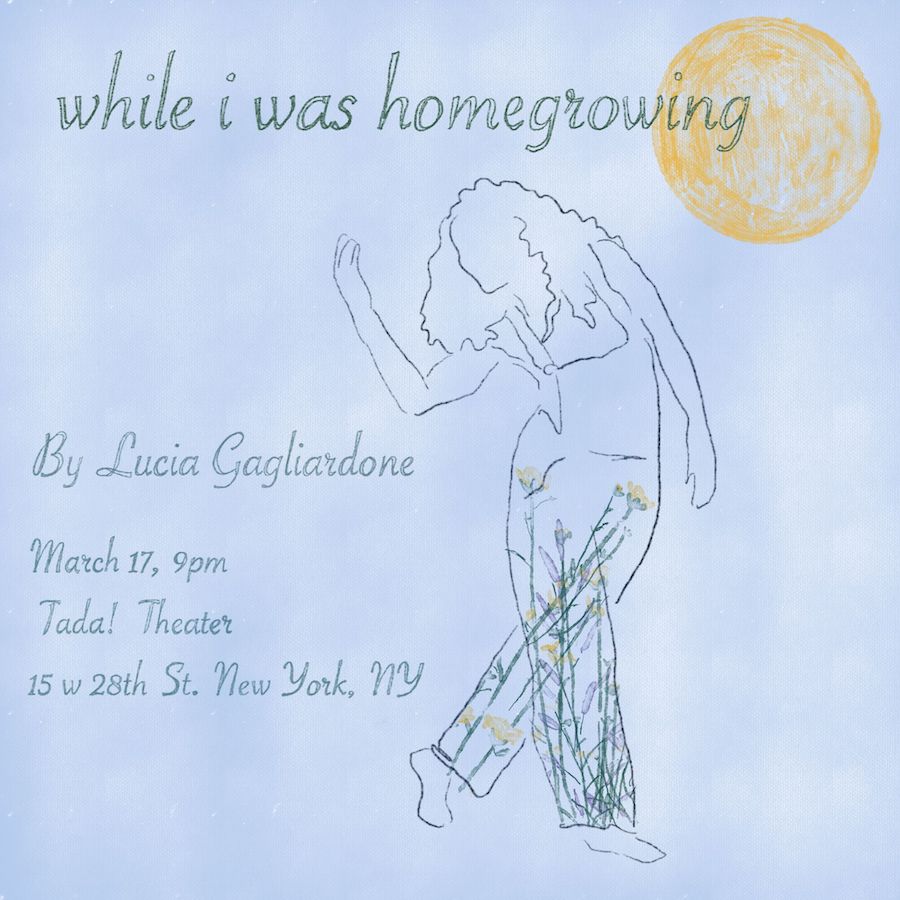 Gagliardone will premiere her original, two-person dance piece, "while I was homegrowing," at the Spark Theater Festival by the Emerging Arts Center on Friday, March 17. The piece, which Gagliardone describes as "gently biographical," will be her debut in New York City.
Although this is far from her first project, Gagliardone believes that "while I was homegrowing" is especially significant—especially because of its genesis points.
"I have been making choreographic work since 2018, but I was really inspired by [Assistant Professor of Dance]
Aretha Aoki
, who is my longtime mentor, as well as Reggie Wilson of Fist and Heel Performance Group," Gagliardone said. "I was feeling inspired by these choreographers, who were making work that had historical context or were thinking about ideas of history and ancestry in the past."
While these ideas resonated with Gagliardone, she struck inspiration for her upcoming piece while having intimate and emotional conversations with—and about—family.
"I started talking with my father about his mother, who is named Margaret Gagliardone. She died from breast cancer before I was born, so I never met her and I never had a relationship with her," Gagliardone said. "My dad was around the same age as me now when she died, so I was feeling really connected to him over that. This woman…had a really big and beautiful presence in everyone's lives that she knew—but I never knew her."
As Gagliardone continued these conversations, she began brainstorming how she might be able to fit them into a meaningful piece of choreographic work.
"I started thinking about engaging in a movement process that unpacks how I have developed memories of this person, even though I never knew her, and where those memories are stored in my body," she said. " I was really interested in what it means to make a dance piece about someone who passed away. Her story has a lot of grief, but what does it mean to celebrate, rejoice and remember someone along with that grief?"
Once she had firmed up the concept for her piece, Gagliardone found herself faced with the challenge of making it come to life. "In the beginning was when I had all these ideas. I really just spent a lot of time moving with myself and trying to emphasize, with this particular process, moving away from productivity and staying for a long time in the space of play and discovery," Gagliardone said. "I wanted to see what came out after a durational amount of time, rather than trying to start building the piece too soon."
Gagliardone put on her first rendition of the piece, which featured recorded oral history along with her solo performance, at the Northampton School for Contemporary Dance in November. From there, she made the decision to grow the scope of the performance—as well as its reach.
"I was like, 'Okay, I want to start adding other artists into the work,' so I cast three other artists from New York," she said. "We are performing in New York, and then an hour-long production in Vermont in June."
Since growing her team, which includes Bowdoin alum Lou Sydel '22, Gagliardone has valued the now-collaborate creative process for her piece.
"I have five months of having done this on my own, but since January, we've been working with those ideas and building the piece together," Gagliardone said. "I've been trying to allow the work to develop on its own and the ideas to emerge as we're all creating together, rather than come in with too many prescribed ideas. It's exhilarating to have a piece that feels very alive and very generative."
As she prepares for opening night, Gagliardone looks forward to seeing her work take shape onstage—and to continue forging a bond to her grandmother's memory.
"It's been really impactful and nourishing to actually build this relationship with my grandmother, and then, furthermore, to share that with other artists," Gagliardone said. "They've carried the story in such a generous way, and also contributed their own stories to the space. It feels really exciting and rewarding to me."
"while I was homegrowing" will premiere at the 28th Street Theater in New York City on Friday, March 17. Tickets are available for purchase online.