New Solar Array is Live
By Rebecca Goldfine
The 17,000-panel solar array on Bowdoin land in Brunswick, a mile from campus, is now generating enough renewable electricity to meet approximately 45 percent of the College's annual electrical energy consumption.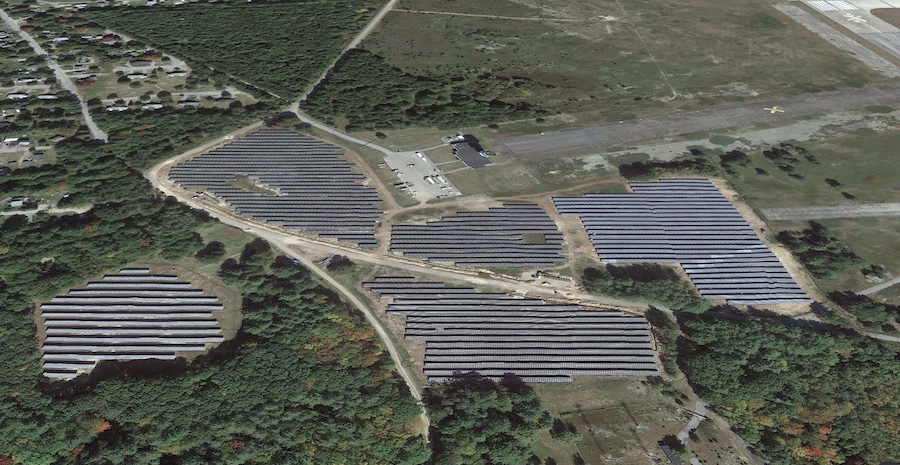 The latest solar field, which is sited close to Bowdoin's original solar field at the former Brunswick Naval Air Station (BNAS), became fully operational in late August. The project is part of the College's effort to support renewable energy production in Maine and reduce its carbon footprint.
More than 90 percent of Bowdoin electricity is now being generated by Maine-based solar power, pushing the College closer to its 2042 goal of being a fossil fuel-free campus. Along with the two fields at the former navy base and panels on the rooftops of some campus buildings, Bowdoin has invested in a collaborative solar facility in Farmington and in smaller projects across the state.
Bowdoin partnered with the renewable energy company Sol Systems to build the new array on 19.5 acres of College land. Sol Systems owns the installations—which they designed, constructed, and will maintain—but Bowdoin buys all the power it pushes into the Central Maine Power grid based on a meter readout.
The project is one mile as the crow flies from the Hyde Plaza granite polar bear in front of Smith Union. The College wanted to develop the site close to campus for educational purposes, according to Director of Sustainable Bowdoin Keisha Payson. "The site will be used for research and learning by many disciplines," she said.
45 percent: Amount of Bowdoin's annual electricity use offset by the new BNAS solar mount.

38,000 metric tons of CO2: Amount of CO2 emissions offset over twenty years.
Recently, students in the class Ecology—taught by Assistant Professor of Biology Patty Jones and Laboratory Instructor Shana Stewart Deeds—did a survey of plants in the grassland meadow below the panels.
The class is comparing new plant growth, post-installation, with areas of less disturbance in the pitch pine sandplain that makes up much of that area's ecosystem.
So far, Deeds said the class has observed many native species and pollinators, as well as some invasive species that should be removed. Based on a preliminary visit, she also recommended reseeding areas with little bluestem and poverty oatgrass, two beneficial native species common in the sandplain grassland habitat.
"Bowdoin is assessing what is happening out there to make good management decisions," Deeds said, adding that not many scientific studies of native plantings underneath solar panels have been undertaken so far, making it an exciting area of research for students. "It's helping students learn about ecology and data collection and analysis," she added.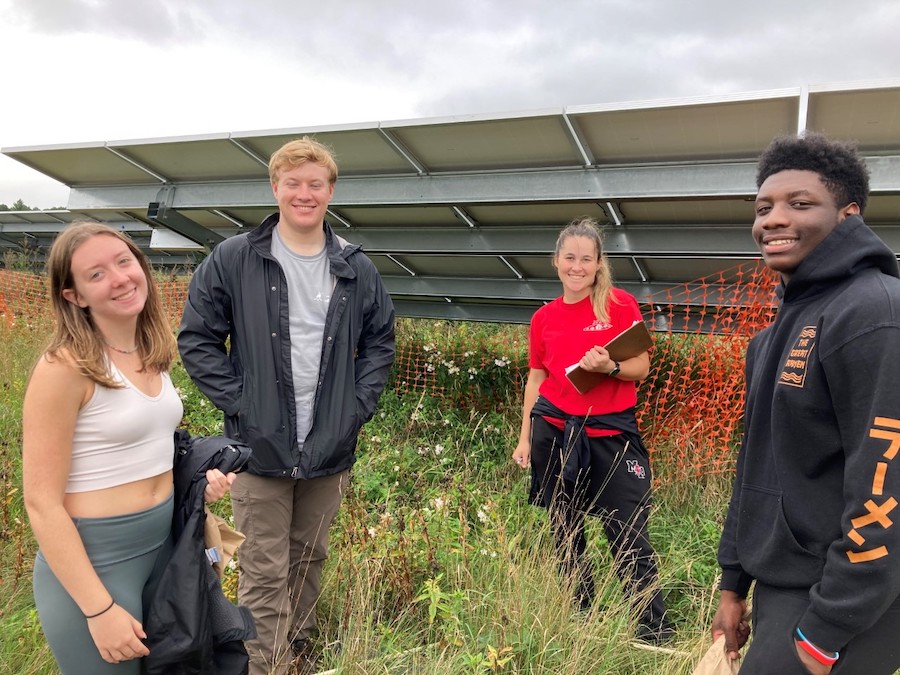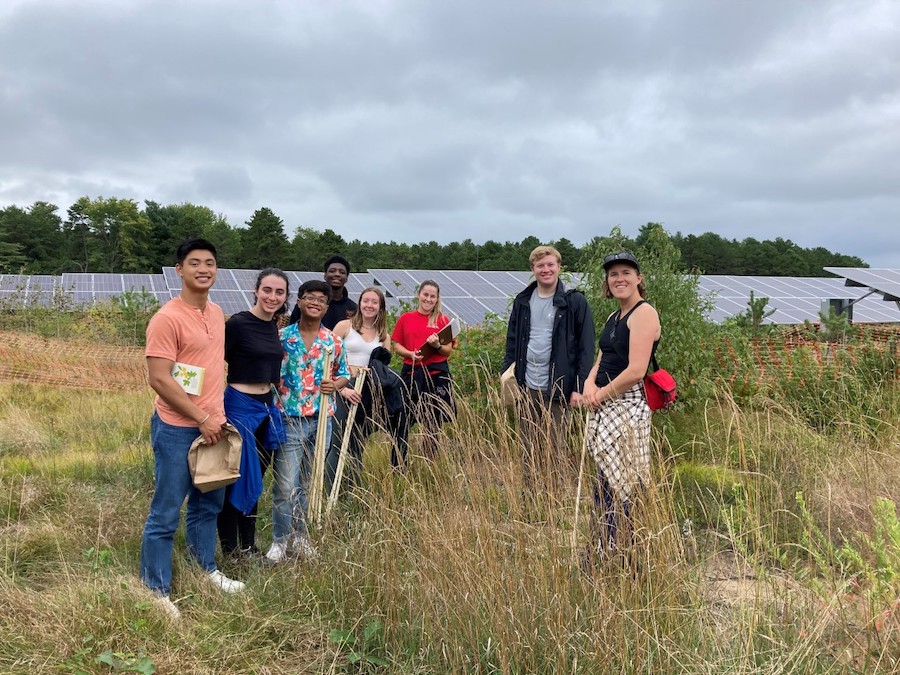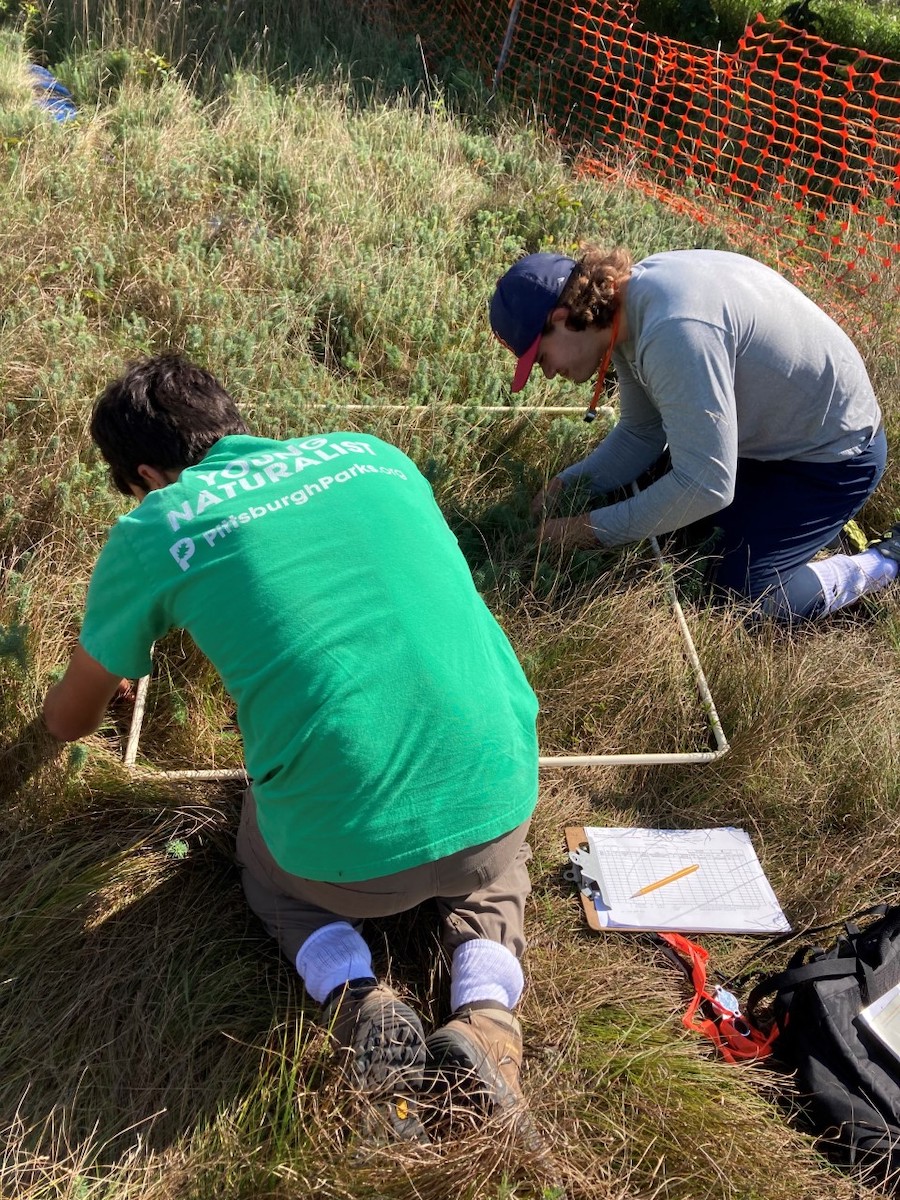 Published September 29, 2022