Published May 10, 2022 by Bowdoin News
Bowdoin Launches Ambitious Plan for a Fossil Fuel-Free Campus by 2042; Includes $100 Million Investment in Campus Infrastructure
"Sustainable Bowdoin 2042" builds on Bowdoin's environmental leadership to achieve 100 percent renewable electricity, creates a clear transition to a fossil fuel-free campus, and enhances existing academic programming.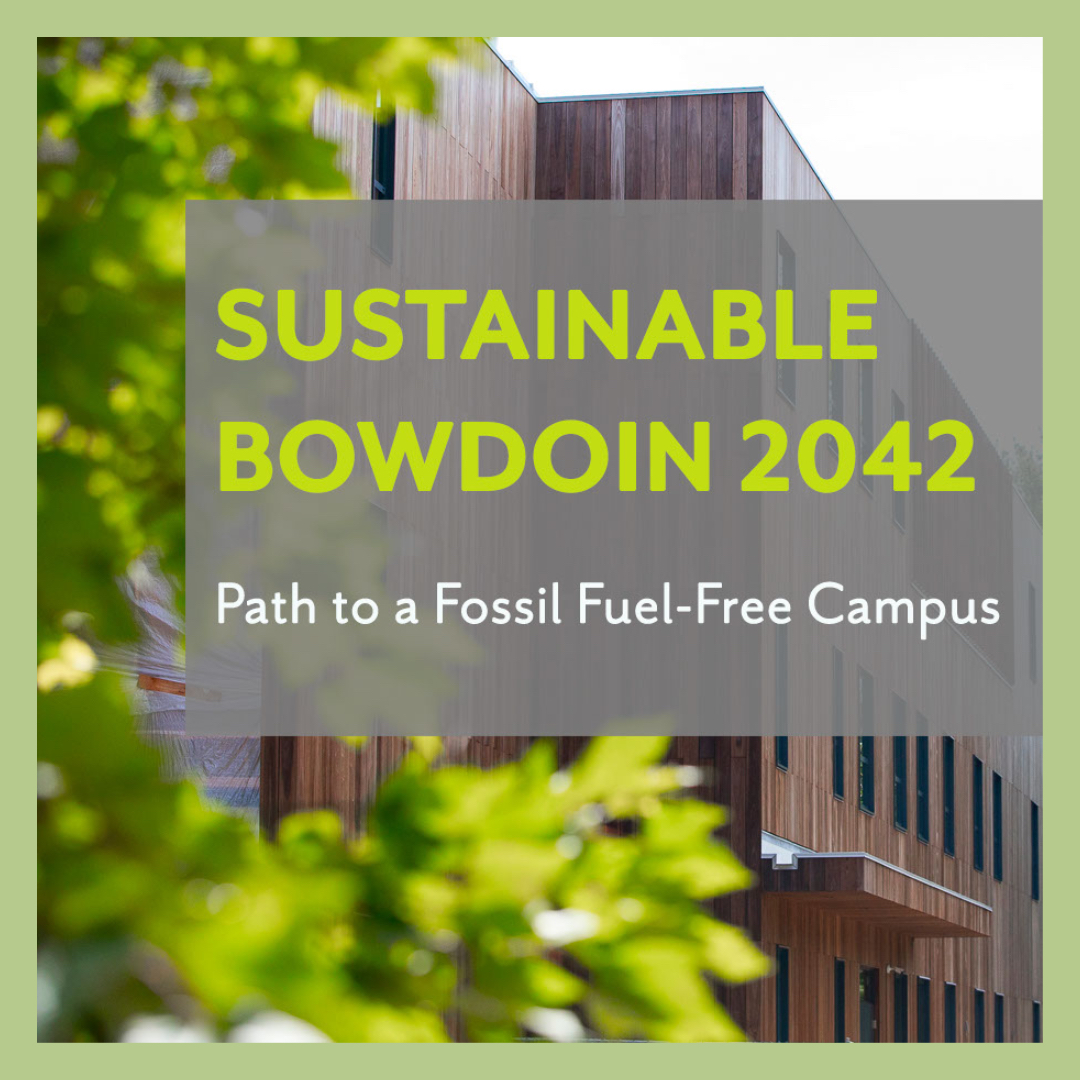 Building on decades of leadership on environmental stewardship and in the teaching and study of the environment, Bowdoin College today launched "Sustainable Bowdoin 2042," a clean-energy plan that invests a minimum of $100 million in campus infrastructure between now and 2037 with the goal of utilizing carbon-free clean energy by 2042.

The detailed plan for a decarbonized campus within two decades focuses on producing renewable electricity, increasing the efficiency of the College's building stock, and transitioning to a fossil fuel-free heating system, while maintaining flexibility to adapt as newer technologies evolve.
"Sustainable Bowdoin 2042" features the following key elements:
Clean electricity
Based on existing efforts to end reliance on fossil fuels, the College already produces solar power matching 88 percent of its electricity needs. With new contracts for additional electricity sourced from new solar photovoltaic and hydro projects located in Maine, 100 percent of campus electrical usage will be supplied by renewable sources by the end of 2023.


Clean heat
With heating during the Maine winter currently responsible for 75 percent of the College's carbon emissions, Phase I (2022–2037) of the plan creates tighter building envelopes and completely rebuilds the heating infrastructure. Phase II (2038–2042) replaces the gas-fired central heating plant with an alternative energy station.


Other sources
The College will expand efforts to make the entire campus net-zero, furthering efforts to reduce waste, improve commuting options, and make environmentally responsible procurement choices.


Academic programming
The College will build on existing academic, research, curriculum, and career-training opportunities to advance student and faculty learning and innovation in the areas of renewable energy, energy efficiency, and sustainability.
For more than fifty years, Bowdoin has embraced an interdisciplinary approach for the teaching and study of the environment that focuses on environmental issues affecting not only Maine but also the entire globe. Its unique environmental studies program, with a coordinate major, allows students to merge their interest in the environment with other disciplines.
In April 2010, the College created the Department of Earth and Oceanographic Science (EOS), transforming the former geology department with a new focus on earth system science and adding faculty strength in oceanography.

These and other programs—along with the unique combination of Bowdoin's nearby Schiller Coastal Studies Center on the Gulf of Maine, the Bowdoin Scientific Station on Kent Island in the Bay of Fundy, and the central campus's Roux Center for the Environment and the soon-to-be completed John and Lile Gibbons Center for Arctic Studies—set Bowdoin apart from every other liberal arts college and provide students with the opportunity to study some of the most challenging environmental, political, cultural, economic, and scientific questions facing the world, including climate change.
"Climate change is one of the most pressing issues of our lifetimes," said Bowdoin President Clayton Rose. "'Sustainable Bowdoin 2042' is about securing the future for our students, and for the world beyond our campus, through living our commitment to sustainability, and in the education we provide. It is the result of a comprehensive, multiyear planning effort that involved all facets of our community. Though it is anchored in planning for a decarbonized future at Bowdoin, the classroom, research, and hands-on learning opportunities taking place today will continue to grow and evolve."
The College's aging steam-based central heating system is one of the biggest challenges to overcome at Bowdoin, which has one of the oldest college campuses in America (1802).

The College will inventory and update all fifty-two campus buildings currently using steam and high-temperature hot water to transition to a low-temperature hot water (LTHW) system that works effectively with a variety of low- or zero-carbon sources (such as heat pumps, heat recovery, solar, geothermal, and likely yet-to-be-developed technologies).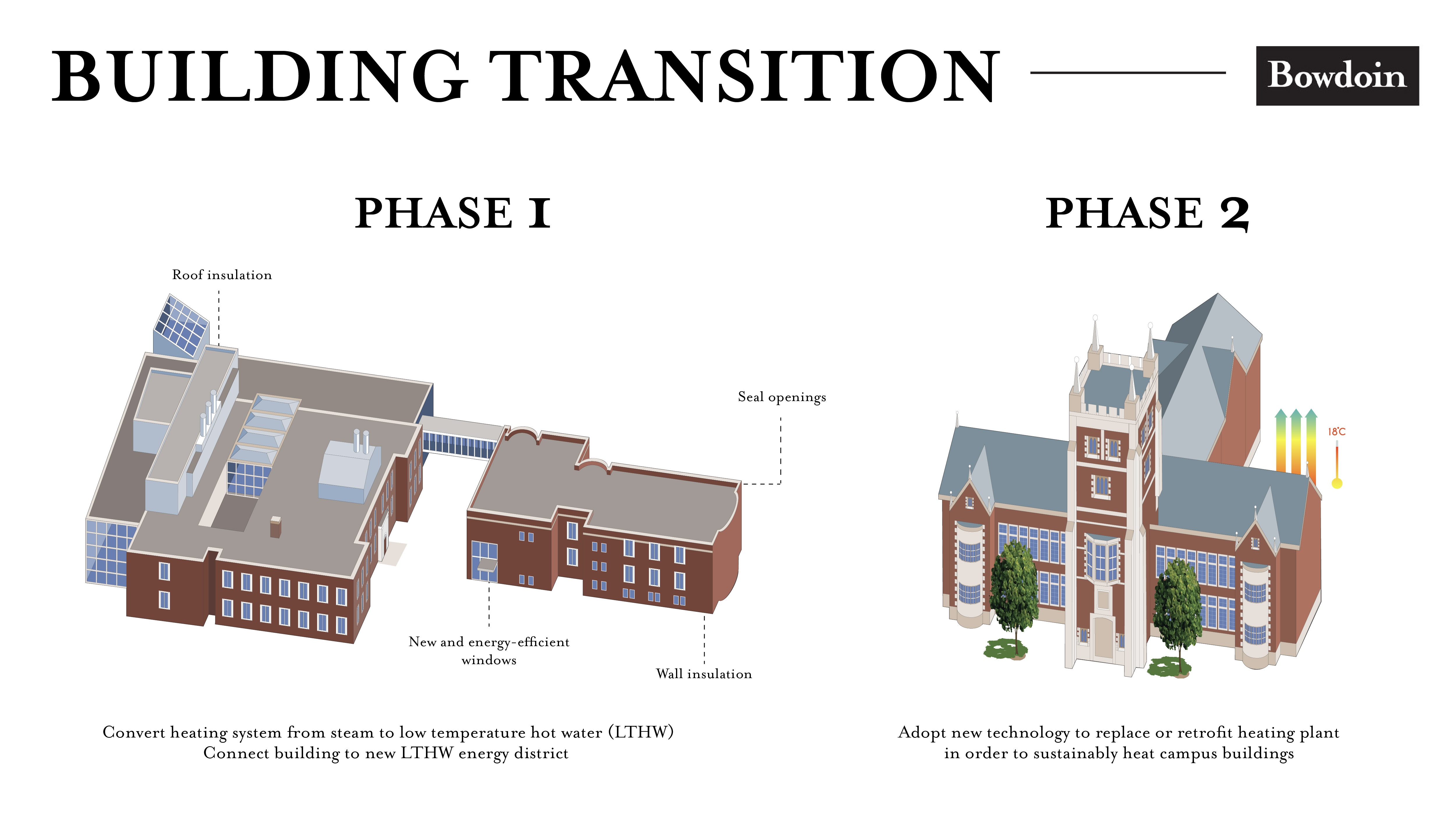 Simultaneously, the College will tighten building envelopes to work effectively with a LTHW system through added insulation, triple-glaze window replacements, sealed openings, and beyond.
Notably, the College is conducting Phase I activities to enable a transition to a variety of central heating sources in the future. Though Bowdoin studied several existing options, including biomass and biofuels and geothermal exchange systems, the team ultimately determined that the best path forward will almost certainly include not-yet-developed technologies.
"Given the unprecedented investment globally in decarbonization technologies, alternative energy solutions that exist today to heat campus will, at a minimum, be vastly improved or, much more likely, surpassed by zero-carbon energy systems that have yet to be patented," said Matthew Orlando, senior vice president for administration and finance.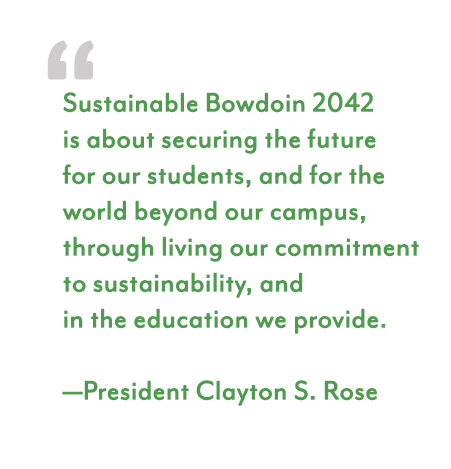 "Until then, we have a clear path that will allow us to make meaningful progress every day and assure that we can take advantage of the best strategies and technologies as they become available. Our team is poised to be aggressive in implementing this plan for immediate impact, and we will accelerate the timeline if the right opportunity presents itself."
Although transportation and waste make up a relatively small component of Bowdoin's carbon emissions, the College expects to transition to electric vehicles, reduce trip generation, and consider new strategies to reduce single-vehicle employee commuting.

In addition, faculty and staff will be encouraged to seek online opportunities for conferences and professional development to reduce the impact of air travel. Continued efforts at waste reduction also offer an opportunity for creative thinking and community engagement.
"It is exciting to be 'walking the talk' on the issues of climate mitigation and resiliency that students are learning about in the classroom," said Keisha Payson, Bowdoin's associate director of sustainability.

"The work in this plan will provide great opportunities to connect our real-world energy transition to Bowdoin's curriculum." 
"Sustainable Bowdoin 2042" includes among its goals raising the visibility of existing climate and sustainability curriculum, facilitating additional curriculum development in this area, advancing interdisciplinary research, and assuring that the community has access to understandable data and information on sustainability efforts—both at Bowdoin and beyond.

It also aspires to build upon the College's substantial track record as an early adopter of sustainable building designs (e.g., Passive House, mass timber, net-zero) and set an example for others in the state of Maine and beyond to follow.

These are the kind of innovative and high-impact sustainability efforts that earned the College top recognition in the Association for the Advancement of Sustainability in Higher Education (AASHE) 2021 Campus Index report.
Bowdoin will report out on progress against the plan on a periodic basis and will update both the goals and implementation tactics as progress is made and as new technologies emerge.