New Collaborative Solar Facility Goes Online in Farmington, Maine
Published by Bowdoin News
An innovative solar energy project undertaken by Bowdoin and four other leading New England liberal arts colleges has come online in Farmington, Maine.
Launched in 2018, the New England College Renewable Partnership is a first-of-its-kind collaboration among  Amherst, Bowdoin, Hampshire, Smith, and Williams.


Over the past three years, the colleges have partnered with a subsidiary of NextEra Energy Resources, a leading clean energy company, to construct a utility-scale solar power facility that annually will create enough electricity to power about 17,000 New England homes.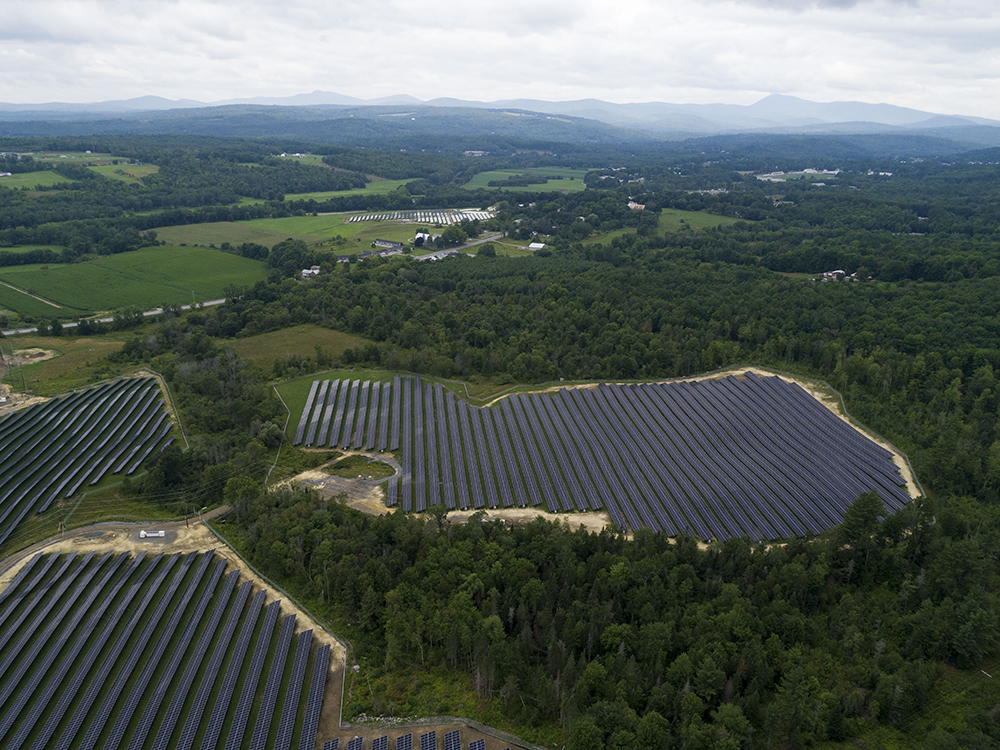 Competitive Energy Services acted as an adviser on the project, which is the one of the largest planned solar project in New England.
Each of the colleges is purchasing zero-carbon electricity from the Farmington facility to reduce carbon emissions from campus electricity use.
The Impact at Bowdoin College

The NEC Renewable Partnership enables Bowdoin College to deepen its long-standing commitment to renewable energy solutions.

As part of the Farmington solar project, Bowdoin will purchase five percent of all energy and the environmental benefits (renewable energy credits) generated by the 76.5 MW project—enough to power roughly 1,000 homes in the Northeast and equivalent to 40% of Bowdoin's current annual electric usage.
"Bowdoin celebrates this important milestone with our partner colleges from Massachusetts," said President Clayton Rose.

"We're proud to be part of a project that stands as an important example of how collective actions at institutions like ours can make a meaningful difference in reducing greenhouse gas emissions. It's an especially exciting time for Bowdoin, as our involvement in this solar project is part of a larger effort to source 100 percent of Bowdoin's electricity purchases from Maine-based renewable energy."
While the Farmington project launched this effort in 2018, the same year Bowdoin achieved carbon neutrality two years ahead of schedule, the college has since signed agreements with numerous other Maine solar photovoltaic (PV) facilities scheduled to come online between 2021 and 2023, including a second large solar array on college-owned property at Brunswick Landing, the former Naval Air Station in Brunswick.

The first, developed in 2014 with Solar City, was at the time the state's largest solar array and includes rooftop PV systems on Bowdoin's major athletic facilities. 
By the end of 2023, all projects contracted by Bowdoin are expected to be online and producing power, covering 100 percent of current electric usage with Maine-based renewable energy.

These efforts are laying the foundation for the college's longer-term goal of electrifying the campus heating load and thus significantly reducing, if not eliminating, the use of fossil fuels on campus.
The New England College Renewable Partnership is important both for what it does, and for what it represents. On a practical level:
The Farmington facility is creating new solar electricity in New England—not an easy accomplishment, given the area's geography and terrain.
The partnership helps each school manage costs by "locking in" the price of electricity for the next 20 years.
The new solar energy generated by the facility will have a significant impact on sustainability, moving each of the five campuses closer to their climate action goals. 
The Farmington project has already had a significant economic impact, as well:
The project created approximately 500 temporary construction jobs.
It has generated capital expenditures of approximately $150 million.
It will generate tax revenue of nearly $17 million over its 30-year lifespan.
At a strategic level, the New England College Renewable Partnership—the first such collaboration among New England schools—is consistent with collaborations occurring in the corporate sphere.
The colleges collaborating around the Farmington effort hope that their partnership will inspire other institutions to work together on similar projects, allowing them to take advantage of shared efficiencies and economies of scale.
The Association for the Advancement of Sustainability in Higher Education (AASHE) recently recognized Bowdoin as a top performer in the "air and climate" and "public engagement" categories and includes the College among institutions earning an overall gold rating in AASHE's 2021 Sustainable Campus Index.
Read more.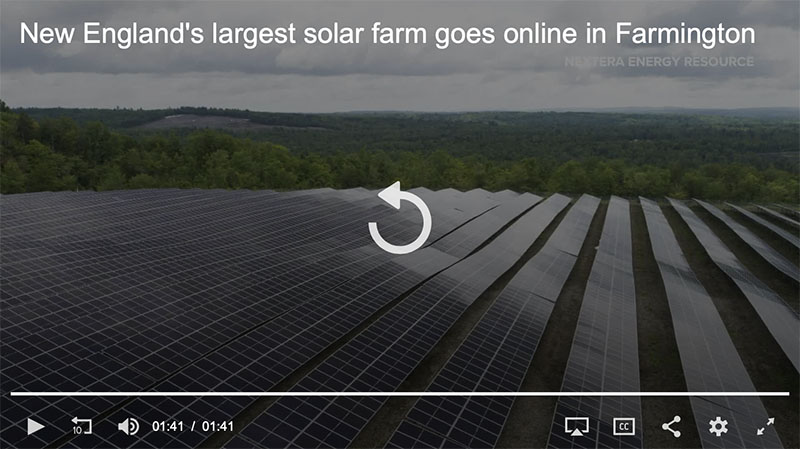 Click any image below to view a slideshow of the Farmington solar project.
Images: NextEra Energy Resources