Published May 05, 2023 by Rebecca Goldfine
On Arbor Day, Students Plant a Tree and Celebrate Bowdoin's New 'Tree Campus' Status
Students and staff gathered at the
Bowdoin Organic Garden
on May 4, Arbor Day, to plant an organic peach tree and to appreciate those who helped Bowdoin earn national recognition for its trees.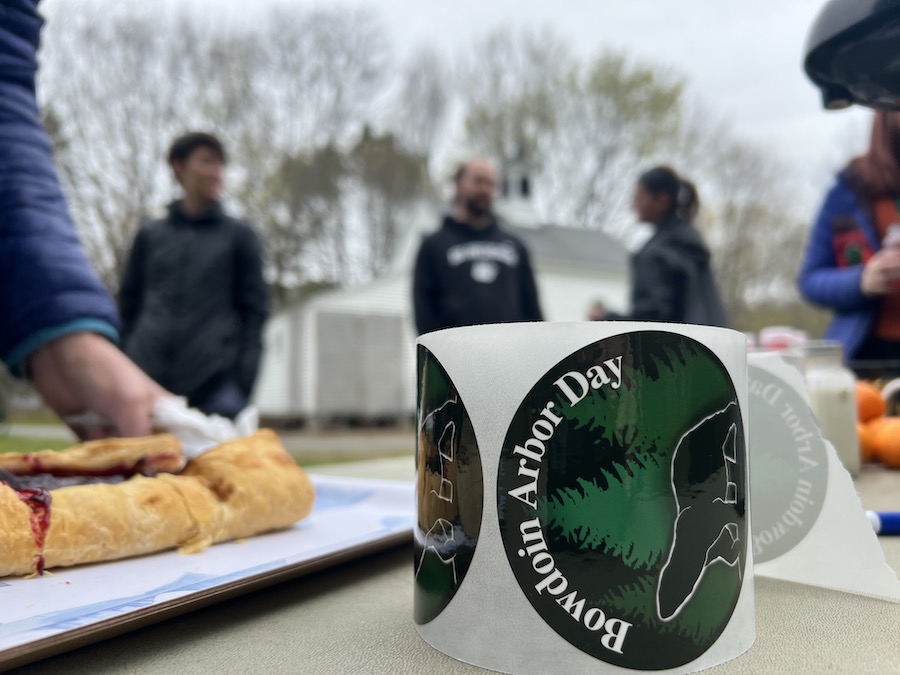 "Happy Arbor Day!" Keisha Payson, director of Bowdoin's sustainability office, greeted the group who had congregated at the Bowdoin Organic Garden on Harpswell Road. Arbor Day is a worldwide day of observance when people are encouraged to plant trees. 
Jan Santerre from the Maine Forest Service stopped by to join the ceremonial tree planting. She was the first at the state level to approve Bowdoin's Tree Campus Higher Education application before sending it to the national Arbor Day Foundation for final review. "Bowdoin did an outstanding job," she said. "Well done!" 
Tree Campus Higher Education recognizes efforts by colleges and universities to plant and maintain trees "for the many benefits they provide," Santerre said, including carbon dioxide absorption and making environments livable, healthy, and beautiful, benefiting both humans and wildlife.
Over the past two years, Maya Chandar Kouba '23 and the Bowdoin Office of Sustainability have worked closely with Bowdoin arborist and grounds specialist Shawn Gepfert to put together a plan to meet the Tree Campus criteria. This includes forming an advisory committee to oversee campus trees, developing a tree care plan, and organizing annual service-learning projects for students.
Every Tree Campus plan also needs regularly updated goals and targets. Payson said the main objective for the first year is to work with Dylan Petrillo '26, who will use a GPS and GIS software to create a tree inventory of the entire campus this summer.
Following Payson's and Santerre's remarks, Lisa Beneman, supervisor of the organic garden, oversaw the planting of the semi-dwarf Reliance peach tree. It joins other peach, apple, pear, and plum trees planted around the gardens. Several eager students grabbed one of the provided shovels and took turns scooping dirt.
"I'm so excited to plant a tree!" one remarked.