Published September 12, 2022 by Tom Porter
A New Academic Year, a New Location
As Bowdoin moves into the second half of a seven-year campus redevelopment plan, two academic disciplines are beginning the year in new locations.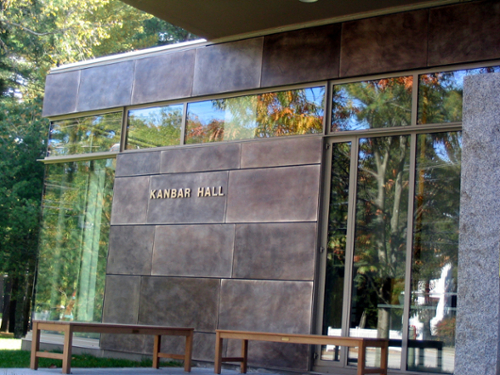 The Department of Asian Studies has moved to Kanbar Hall from its former offices at 38 College Street, while the Latin American, Caribbean, and Latinx Studies Program (LACLaS), along with the Hispanic studies section of the Department of Romance Languages and Literatures, is now located in Copeland House, which formerly provided space for the Office of Development and Alumni Relations.
The move to Kanbar Hall enables Asian studies to be more a part of the academic cluster on the northern edge of campus. To accommodate the department, the Hazelton Room will be converted into three faculty offices and the computer lab on the first floor will become the new Hazelton Room for seminars and meetings.
The improvements to Copeland House, meanwhile, will provide LACLaS with twelve offices for faculty and staff, a seminar room, a first-floor lounge area for students, and a pathway to connect the building's accessible entrance to Bath Road.
The aim of these moves is to create more cohesion between departments and enhance learning with the introduction of large, flexible classrooms.

"The moves of Asian studies to Kanbar and LACLaS and Hispanic studies to Copeland House provide one means of addressing curricular as well as geographic marginalization on the Bowdoin campus," said Senior Vice President and Dean of Academic Affairs Jennifer Scanlon, who is also the John S. Osterweis Professor of Gender, Sexuality, and Women's Studies.
"Thinking about campus spaces through a lens of diversity, equity, and inclusion has been a priority for us, even in the context of too little space for offices, student hangout spaces, and suitable classrooms. I'm thrilled for what these moves mean for our faculty, our students, and our inclusive community," she added.
These goals will also benefit from Bowdoin's Digital Excellence Commitment (DExC), which was launched this semester.

The program provides every student a thirteen-inch MacBook Pro, iPad mini, and Apple Pencil, enabling faculty and students to make any space tech-enabled and allowing the College to rethink the idea of computer labs.

The Larger Plan

The two moves are part of a larger seven-year development plan launched by President Clayton Rose in 2018. "We work to balance the timeless beauty and unique character of our campus with the ever-changing needs that come with providing a great Bowdoin education," he commented. "We couple this with our enduring commitment to sustainability and renewal to drive our campus planning efforts."

The plan focuses on six areas:
Academic and administrative office realignment. This involves renovations and relocations to create a more cohesive alignment of academic departments, reducing the number of faculty separated from their departments and accommodating the needs of expanding programs and offices such as THRIVE and counseling services.


Sustainability. These efforts support Bowdoin's Sustainable 2042 Plan to reduce campus carbon emissions and, wherever possible, to implement sustainable building designs (e.g., passive house) to maximize building efficiency.


Teaching and learning initiatives. These projects, which include the two relocations mentioned above, increase the availability of large, flexible classrooms to foster active learning and create more space for research labs in the sciences, with an emphasis on the interdisciplinary teaching and study of the environment.


Renovation and adaptive reuse. This supports the College's objective to repurpose existing space to support emerging programmatic needs and to address a backlog of deferred maintenance.


Student life initiatives. These involve expansions and renovations to replace outdated housing and meet the demand for independent, apartment-style living with single bedrooms for upper-class students. This will relieve the pressure on existing athletic fields and facilities from increases in athletic and recreational activities, and increase opportunities for social interaction.


Accessibility and inclusion. This aims to eliminate barriers to inclusion for community members with disabilities, meeting applicable design and accessibility standards under the Americans with Disabilities Act and incorporating universal design thinking.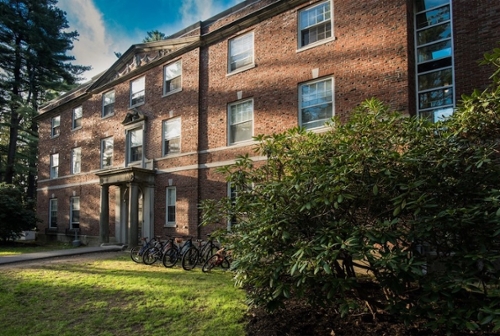 2023 Highlights

The John and Lile Gibbons Center for Arctic Studies and Barry Mills Hall are both due to be completed in early 2023.
Ladd House—currently one of nine College Houses—will change from being a residence into the headquarters for five College offices that serve and support student accessibility, belonging, inclusion, and diversity.
They are the Center for Multicultural Life, the Rachel Lord Center for Religious and Spiritual Life (both currently housed at 30 College Street), the Sexuality, Women, and Gender Center (SWAG), the Student Accessibility Office (both at 24 College Street), and THRIVE (currently in Banister Hall), which will all move into Ladd in 2023, when renovations are expected to be completed. Read more.