Bowdoin's New Center for Arctic Studies to Be Named for John and Lile Gibbons
Published by Bowdoin News
A new center dedicated to the broad multidisciplinary study of the Arctic at Bowdoin College will be named the John and Lile Gibbons Center for Arctic Studies in recognition of Bowdoin trustee emeritus John A. Gibbons Jr. '64 and his wife, Lile R. Gibbons, of Old Greenwich, Connecticut, who have made a significant gift in support of the project.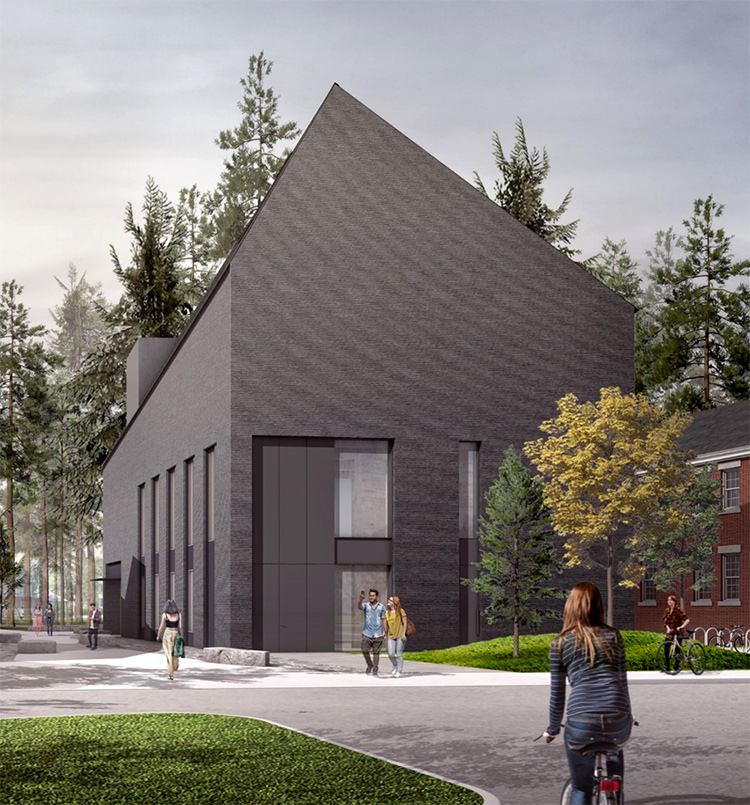 Designed by HGA Architects, the new 16,426-square-foot center will include a new home for Bowdoin's Peary-MacMillan Arctic Museum. The center is part of a two-building project to be constructed on a portion of the former Dayton Arena site, east of the David Saul Smith Union and across College Street from the Roux Center for the Environment.
The project's other building is Barry Mills Hall, an academic building named in honor of Bowdoin's fifteenth president. Construction was set to begin in 2020 but was put on hold during the COVID-19 health crisis. Site work is now underway.
John and Lile Gibbons are the parents of four Bowdoin graduates (Jay '88, Adam '91, Jenny '96, and Amanda '03) and part of long and storied connections to Anchorage, Alaska, where Lile grew up after having been born in New Jersey. Her father, Elmer Rasmuson, was born in Alaska and ran the National Bank of Alaska. With his mother, Jenny Olson Rasmuson, he established the Rasmuson Foundation in 1955 to honor his father, E. A. Rasmuson. Today, it is the largest foundation in Alaska, one that focuses on serving the varied communities that make up the state. Elmer Rasmuson served as mayor of Anchorage from 1964 to 1967 and also guided the creation of the Alaska Permanent Fund, with assets today of $55 billion. The family's deep connection to the state and its people continues, with each of its members working, touring, hunting, fishing, and kayaking throughout Alaska.
"This transformative gift from John and Lile is yet another example of their longstanding devotion to Bowdoin and, in this case, their deep passion for the Arctic."
—President Clayton Rose
"It is a gift that recognizes Bowdoin's historic and enduring multidisciplinary dedication to the study of that critical region, one that will benefit students and scholars for generations to come."
The couple has a long history of great support for the College and its programs. For example, in 2005, they established the John and Lile Gibbons Arctic Studies Fund in support of the Peary-MacMillan Arctic Museum and its programming. They also created the Gibbons Summer Research Internship Fund and the Gibbons Family Scholarship and have been supporters of the Bowdoin College Museum of Art, the Philip H. Soule Memorial Fund, and the Jean and Raymond Troubh Scholarship Fund.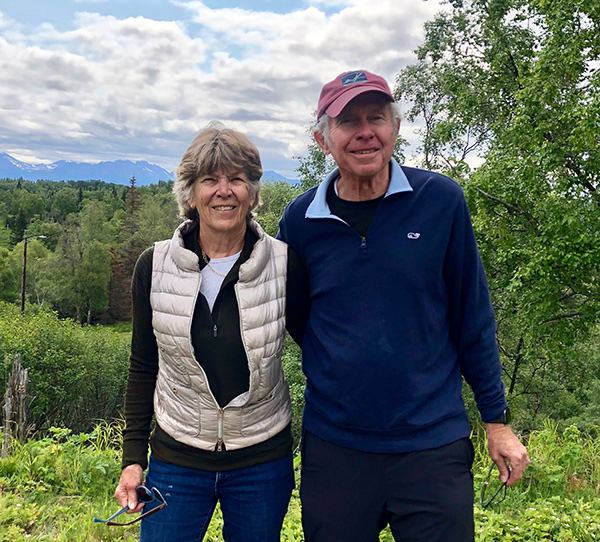 About John A. Gibbons Jr. and Lile R. Gibbons
John A. Gibbons Jr. is owner and managing partner of Odin Partners, an investment management firm based in New York City. He previously served as a senior vice president and portfolio manager at Lord, Abbett & Co., LLC. After graduating from Bowdoin with a major in government, Gibbons went on to earn an MBA at New York University.
During his time at the College, Gibbons was a member of Zeta Psi Fraternity and Masque and Gown, the College's student-run theater organization. He was the recipient of the Percival Wood Clement Prize for scholarly writing on the US Constitution, an award previously won by former Bowdoin trustee and board chair Paul Brountas '54, P'91, H'97. He also founded and served as president of the Bowdoin chapter of the International Association of Students in Economics and Commerce (AIESEC) and spent a summer in Zurich doing an AIESEC-sponsored internship in the investment department of the Union Bank of Switzerland.
Since graduating, John Gibbons has served as a BASIC representative, planned giving chair, class agent, campaign volunteer, Bowdoin Club president, and Alumni Council representative. He chaired the Board of Trustees Information Technology Advisory Committee from 2003 to 2006 and from 2008 to 2014 and served on the board of trustees itself from 2002 to 2017.
John Gibbons is a trustee of the Orvis Foundation and of the Charlotte Palmer Phillips Foundation. He also serves on the boards of the Jackson Laboratory in Bar Harbor, Maine, and the Greenwich (Conn.) Emergency Medical Service, for which he is also treasurer.
Lile Gibbons is a graduate of Smith College, where she serves currently on the board of trustees. She served in the Connecticut Legislature, representing the 150th district, from 2001 to 2013, and was ranking member on numerous committees. Before that, she was on the Greenwich Board of Education for nine years, serving as chair of the board from 1997 to 2000. She also served on the Connecticut Board of Education from 1991 to 2000. In 2006, she received the first Agewise Advocate Award from the Connecticut Commission on Aging. She also served as a trustee of the Hartford Foundation, with its focus on gerontology.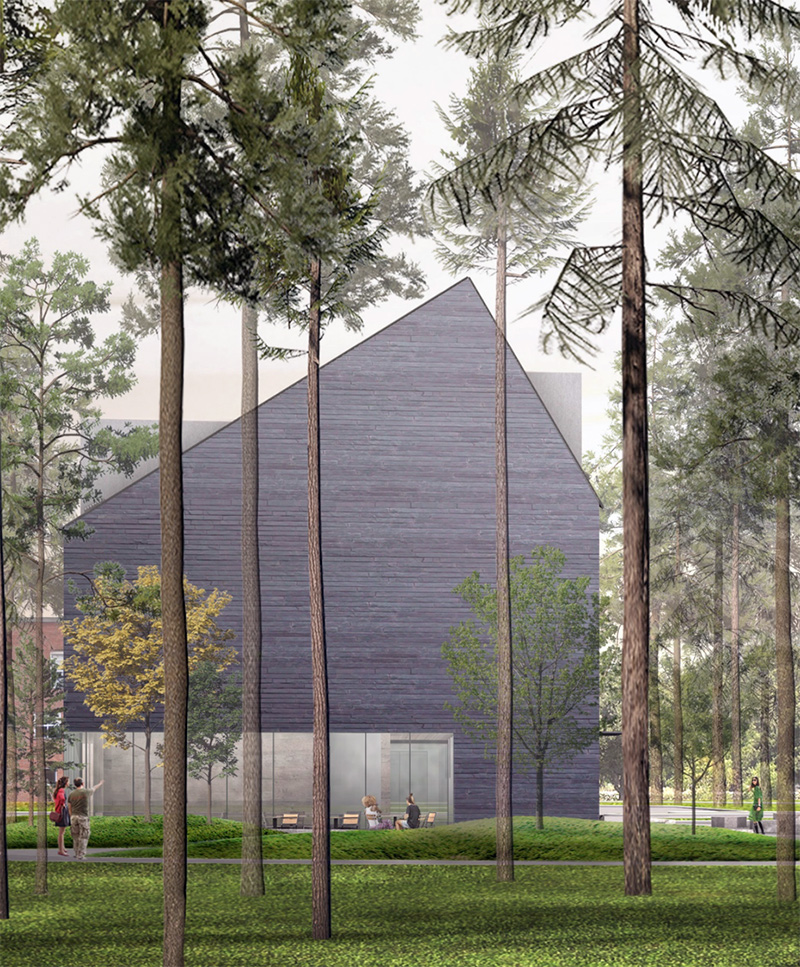 Bowdoin and the Arctic
The study of the Arctic has a long and broadly multidisciplinary history at Bowdoin. It includes the work of faculty teaching and conducting scholarship in areas such as government and legal studies, environmental studies, earth and oceanographic science, marine science and ecology, anthropology, economics, art, history, and physics.
The John and Lile Gibbons Center for Arctic Studies will stand with Bowdoin's Roux Center for the Environment and the Schiller Coastal Studies Center in Harpswell as critical and unique facilities for the multidisciplinary teaching and study of the Arctic and the environment. It will provide new teaching and laboratory spaces to encourage, enhance, and expand collaborative work among faculty, students, and visiting researchers focused on this increasingly important region of the world.
The center will also provide modern galleries and support spaces for the Peary-MacMillan Arctic Museum currently located in Hubbard Hall.
The museum's collection includes films, journals, photographs, and material artifacts that chronicle Arctic expeditions by Admiral Robert E. Peary (Bowdoin Class of 1877) and Admiral Donald B. MacMillan (Bowdoin Class of 1898). It also includes exemplary art, artifacts, and cultural objects.
The John and Lile Gibbons Center for Arctic Studies will provide a new home for the collection and dramatically improve the opportunities for students to work with the museum's holdings, for Bowdoin faculty to teach using the museum's resources, for the general public to explore and learn from the museum's exhibitions, and for visiting scholars and others to engage with the Arctic Studies Program.